Court action to force political parties to disclose their funding
My Vote Counts has approached the Western Cape High Court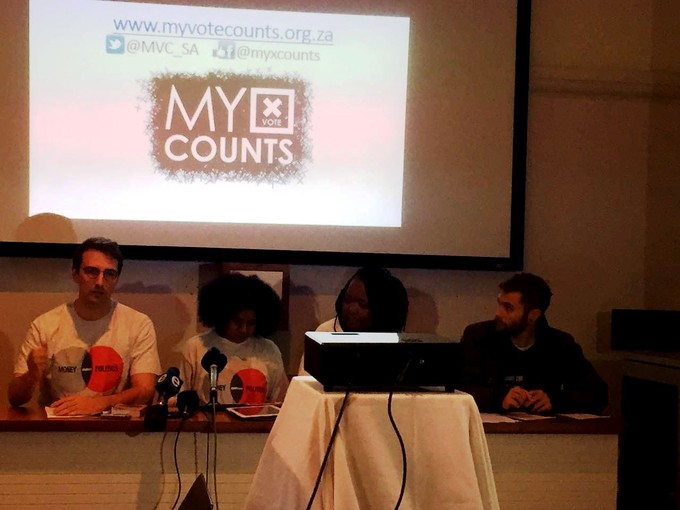 My Vote Counts (MVC) is taking its fight for transparency on political party funding to court.
Today, the organisation made an application in the Western Cape High Court to have the Promotion of Access to Information Act (PAIA) declared invalid and unconstitutional.
This follows a failed attempt to get political parties to provide "basic information" about their major private funders.
Only four political parties — the DA, IFP, FF+, and African Independent Congress — met the civil group's 1 July deadline to respond to its request. They refused to supply financial information.
Thirteen registered political parties are also respondents in MVC's High Court application.
At a briefing announcing the court action, MVC national coordinator, Janine Ogle, said the PAIA fails to afford citizens with funding information of political parties contesting elections.
MVC wants political parties to be obliged to create and provide records of private funding information without having to be asked to do so.
"Where political parties are getting their money from is a much clearer indication of what they stand for, of what their policies really are, beyond the three words we see on the campaign posters," said Ogle, adding that there was no need to justify why the information should be available.
"In (isi)Zulu we say 'Sifun'ukwazi!' and you say it cheekily. When you say to someone 'ngifun'ukwazi' you don't have to explain why, you're saying you want to know.
"So, beyond linking it to your vote, it's the public's right to know because of the nature of political parties in South Africa, because they're quasi-public. We have a right to have that information," she said.
MVC's direct challenge to the PAIA comes after an application to the Constitutional Court was dismissed in October 2015.
The group asked the court to compel parliament to pass legislation to force political parties to disclose their private funders.
A majority judgment ruled that such legislation had already been passed in the form of the PAIA.
The ruling held that MVC should have challenged the constitutional validity of the PAIA in the High Court instead.
In its refusal to provide private funding information, the DA said, as a non-profit company, My Vote Counts has no right to vote and "thus no right to the information itself".
Ogle said this was not a fair criticism. "The work we do is in the public interest on behalf of the South African public. All our work is done with public funds and in the public interest, and that's the basis on which we move forward."
Activist group Right2Know said it supported MVC's fight against a "problematic regime of secrecy".
Right2Know representative Karabo Rajuili said political parties' relationships with private donors had hugely influenced corruption in the country.
"Without the ability of knowing who funds our political parties, we as voters are kept in the dark about the potential conflict of interest which occurs.
"We have no way of knowing how the policies of our different political parties are being shaped and what is driving the activities of different political parties," said Rajuili.
Ogle said MVC was aiming to have information on the private funds of political parties at least by 2018, a year before the next general election.
Dodgy people are suing us. Please support us by contributing to our legal costs and helping us to publish news that matters.
© 2016 GroundUp.

This article is licensed under a Creative Commons Attribution-NoDerivatives 4.0 International License.
You may republish this article, so long as you credit the authors and GroundUp, and do not change the text. Please include a link back to the original article.