Corporal punishment is like daily bread in our school, says student
Survey finds students fear violence from teachers and each other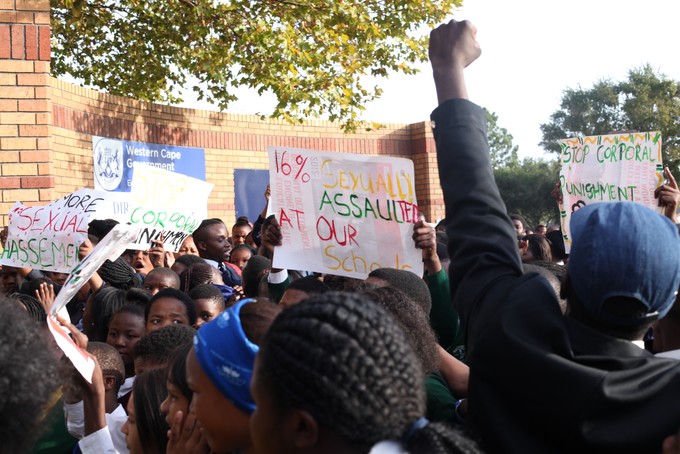 "In our school most of the children especially boys, carry weapons like knives. They smoke dagga in school so we do not know how safe we are. We are always in fear," wrote one student in an audit on safety in 244 Western Cape schools.
The audit was performed between September and November 2015 by Equal Education.
The 16-year-old Grade 10 student at a school in Mfuleni said she felt unsafe at school and on the way to school. She said she had been verbally harassed at school and had seen fellow students threatened with violence.
"We were in a classroom and some teachers here at school started to assault us verbally. A boy in my class was beaten with a pipe. We even took a video of what happened. Teachers often beat us with a board duster," she said.
She said corporal punishment was a regular occurance at the school.
An 18-year-old grade 11 student at school in Kraaifontein shared a similar story. He said he had been sexually assaulted, threatened with a weapon, and assaulted with a weapon.
He said corporal punishment was a daily event at the school and he did not feel safe at school or on the way to school.
"Corporal punishment is like daily bread in our school, it happens every time," he said.
The survey questionnaire was completely anoymously by the school children.
On 26 April, students marched to the Western Cape Education Department offices to hand over the findings of the audit. According to the study, 16% of administrators and 16% of learners felt unsafe at school and over 80% of schools surveyed were subjected to corporal punishment, even though it is illegal.
The students gave the department two weeks to respond to the audit. Last week, about 80 learners elected to represent their schools held a protest outside the home of Western Cape Education MEC Debbie Schafer, demanding a response to the audit.
Yesterday, the head of EE in the Western Cape, Nishal Robb, said the organisation had not yet received a response and planned to set up a meeting with the Western Cape Department of Education.
The WCED hopes to meet representatives of Equal Education this week to discuss their social audit.
Response of the education department
Paddy Attwell, director of communications in Schafer's department, said  EE had not provided a consolidated report to the department.
"They provided masses of individual survey forms to certain districts where officials have endeavoured to summarise them manually. EE also provided Excel spreadsheets containing massive amounts of information with no interpretation."
He said for instance in the Metro Central Education District, EE had provided a spreadsheet with information on 26 schools spread over 225 columns. "You will see that it is difficult to extract meaningful conclusions from this data."
"We will be happy to meet EE to discuss the audit and their concerns, as we have done in the past," said Attwell.
Dodgy people are suing us. Please support us by contributing to our legal costs and helping us to publish news that matters.
© 2016 GroundUp.

This article is licensed under a Creative Commons Attribution-NoDerivatives 4.0 International License.
You may republish this article, so long as you credit the authors and GroundUp, and do not change the text. Please include a link back to the original article.