Controversial youth website dodges censorship
|
Mary-Anne Gontsana
News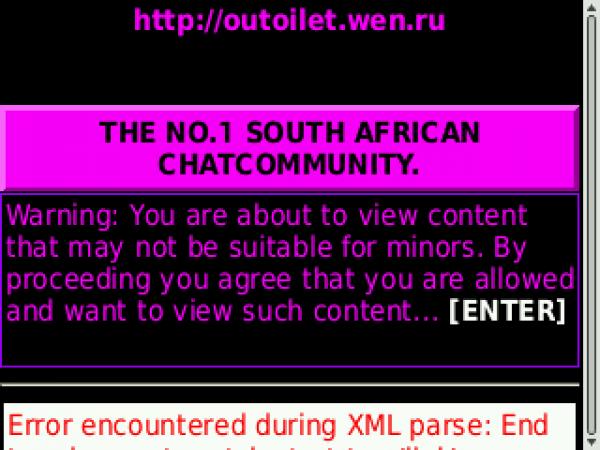 "Outoilet" is an Afrikaans word meaning "old toilet", but it also refers to a cellphone chat site, aimed mainly at Cape Flats youth. Its URLs are blocked by several service providers, but the site frequently re-emerges with different URLs.
Outoilet, probably unintentionally, raises difficult questions about the limits of free speech and censorship. The site's ability to resurface, despite attempts to block it, shows that banning content in the age of the Internet is extremely difficult, perhaps even futile.
The latest URL for the notorious site is Chatsa.biz. Previously it was outoilet.wen.ru. But the old URL was blocked by Vodacom, Cell C and MTN in 2010. In 2011 it appeared under a different URL. After adverse publicity in the media the site was quiet for a while, but it has now re-emerged and appears to be very popular with new messages, mainly from school children, appearing every few seconds. Although most of the site's users appear to be from the Cape Flats, it is also popular in other provinces.
The chat site can be accessed on a WAP enabled cellphone. Users chat about people's sexual and gang related activities. Chatters often give out their numbers and BBM pins so they can arrange "hook ups".
As you enter the self-described "number one South African chat community" and scroll down, you are given a choice of chat rooms to enter. The site makes it easy to join a chat based on a user's college, university, school or province.
Many of the messages are from people trying to meet others. A typical message is, "Tht sexy bra wif the green eyez in 10f, need his contact pretty plz!!" But the site also contains abusive, bullying and humiliating messages that identifies other school children. This is a typical example, "did you hear?? [NAME REMOVED BY GROUNDUP EDITOR] did lekker suig [NAME REMOVED BY GROUNDUP EDITOR] piel! she like naaieng around" (Translation: Did you hear? X likes to suck Y's penis. She like's fucking around.)
On Monday, concerned parents took to the site with the hope of talking some sense to the teenagers who were attacking each other on the site.
One parent wrote: "You guys on this site are vile … your intelligence is clearly at an all time low, therefore you seek attention on this site … why don't you join fun groups for good clean fun at a more intellectual level."
Another said: "I am utterly disgusted and disappointed in all these remarks that are being said about your classmates. One of your school's motto is integrity and clearly nobody is displaying it. You should be ashamed of yourselves."
A post last week on chatsa.biz written by a user who goes under the name of G.Unit, referred to the shooting and killing of 17-year-old Enrico "Jimmy" Martin.
The Grade 12 learner was fatally wounded inside the grounds of Spes Bona High School on Wednesday morning by a suspect wearing a school tracksuit top. He was shot in the head and died in Groote Schuur Hospital.
Just hours after that incident, at 18:20, a user identified as G.Unit wrote: "Hos julle HL naaiers voel hoe voel it om n brut e verloor julle naaiers nd we just started der still gonna fall alot in dis week raak soe wys is nog g.unit vi julle." (Yes you HLs, now you know how it feels to lose a brother and we've just started, many will still fall in this week. Wake up G.Unit is coming for you.)
The post has since been removed.
HLs stands for Hard Livings. The Hard Livings and the G.Units are well-known gangs in the Cape Flats. But the police will not say whether this incident was gang-related.
Three teenagers we spoke to from Bonteheuwel told GroundUp that they did not really "use" the chat site, but only went to it to read through the posts because "they were interesting and sometimes you find that they are talking about someone we know." But all of them said they thought it was bad and there were no boundaries.
Vodacom spokesperson Richard Boorman confirmed that they had blocked Outoilet. "The challenge with blocking sites is that they can reappear under different URLs. I'm not aware that this has happened in this specific case but if people have any information I'll very happily pass it through to the right department."
Cell C's Karin Fourie said, "The site is still blocked on Cell C. In addition, we blocked a variation of the site, outoilet.mobi, in June 2011. However there may be further variations of the site that are mirrored at different locations which would mean a different URL from the ones we've blocked. If we get these new URLs we can have them blocked as well."
Professor Jane Duncan is the Highway Africa Chair of Media and Information Society, School of Journalism and Media Studies at Rhodes University. She is an outspoken proponent of free speech. She said providing the chat site was not harmful, had hate speech, distribution of pornography and propaganda for war, there was not much that could be done. She said in terms of network service providers blocking the site, it was like them doing their own little censorship.
According to Arthur Goldstuck, from World Wide Worx, an independent internet technology organization, which had a campaign to block the site, in 2011 Outoilet's host was an innocent-sounding mobile content server called WAP Explorers Network, or WEN, hosted in Russia. The owners of WEN may not even know what content Outoilet carries, since they define themselves as a hands-off service provider, allowing anyone to create content or a chat site free. In turn, they allow the sites to be accessed from cellphones anywhere in the world. The cellphones need only be WAP-enabled, which covers more than two-thirds of the phones in the South African market.
"The creator of Outoilet only needed to sign on anonymously as a site builder, create the chat rooms, generate the traffic, and make ad space available to international online advertising networks, who are concerned only with how many eyeballs view an ad, and not the context of the ad," according to Goldstuck. Most of the ads on the site are for dating sites.
GroundUp was unable to find out who runs Outoilet. Their domains are registered via a company called Domain Privacy Service, which makes the owners difficult if not impossible to trace. This service is often used by people who want to run sites and avoid being identified or prosecuted. Therefore we could not get comment from the site's owners.
A correction was made to this article.
© 2016 GroundUp.
This article is licensed under a
Creative Commons Attribution-NoDerivatives 4.0 International License
.