Close down deadly tavern, demand protesters
|
Nombulelo Damba-Hendrik
News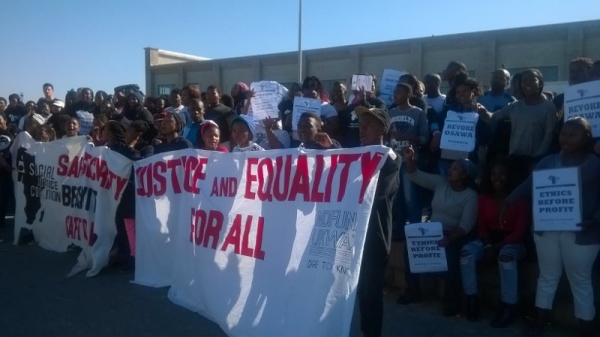 Over 200 young people in Khayelitsha marched to Harare Police at 11am today (6 July 2015) to demand the closure of Osi's Place, a local tavern.
At about 3am on Sunday 28 June, eight women aged 15 to 23 were killed when a staircase broke at the tavern, apparently during a stampede to exit the venue, a situation that was compounded by a gunshot according to witnesses. Two of the dead women died in a car accident on the way to hospital. Six people were injured.
The march, led by the Social Justice Coalition (SJC), carried a strong message to teenagers not to drink alcohol underage.
Protestors carried placards saying "Education First", "No under age youth in taverns" and "ethics before profit". The protesters demanded that the Western Cape Liquor Authority revoke Osi's Place's liquor license permanently (it has been suspended pending an investigation). They also demanded that whoever fired the gunshot should be arrested. The tavern has been closed since the tragedy took place.
Chumile Sali from the SJC said the organisation is aware that some of police are bribed by tavern owners. "They get in there to do their job but when they come out they are hiding something under their arms," he said.
Sali said the SJC is against the selling of alcohol to underage children underage and that Osi should take responsibility for breaking the liquor regulations.
The march was also supported by the Way of Life Church, ANC Women's League, Treatment Action Campaign (TAC) and other Khayelitsha stakeholders. Representatives of the various organisations spoke out against selling alcohol to young people.
Sizwe Musa from TAC said that each and every weekend young people are being killed because of alcohol. "We always hear about young people being shot or stabbed at our taverns. It is time we stop drinking alcohol because we are the ones who are being killed," he said.
Inathi Madyunga (13), who was part of the march said it saddens her to hear how the young people died. She said she takes the tragedy as a lesson to other young people.
Madyunga said that according to her understanding of the incident, the young people were at Osi's to release exam stress. In Xhosa this is called kuphi phepha. She said the incident is a wake-up call. "I prefer to braai meat at home when I celebrate than going out and drinking alcohol. The alcohol is not for kids," she added.
Last week there was a meeting between deceased families and the tavern's owner. The families asked to be assisted. However the owner said he cannot afford to bury eight people. On Sunday an emotional memorial service organised by the Khayelitsha Development Forum was held in Chris Hani High School to remember those who died.
Madyunga said Osi's must be closed especially now that he has refused to bury the deceased.
Harare police asked the young people of Khayelitsha to work together with the police to close down illegal taverns. Spokesperson Lieutenant Siyabulela Vukubi said the challenge they face is that the community protects the illegal shebeens. He said there are legal taverns that stay open until late and there are also small shebeens that run illegally. He said none of them follow the liquor regulations, and it is the community's duty to report those who open until late. "Sometimes we go to these taverns to close them. Next thing we found our car tyres punctured which makes it difficult for us to do our job," he said. Vukubi said if young people can work together with the police, they can avoid such incidents.
A memorandum was handed to Harare acting station manager Lieutenant Colonel Achmat Adam. It had several demands besides calling for Osi's Tavern's license to be revoked. It stated, "The City Of Cape Town's Law Enforcement component, its liquor enforcement unit and its building and health inspectors, need to inspect the 34 other legal on-consumption liquor traders in Khayelitsha as a matter of urgency. Government is unlikely to make inroads into reducing the number of unlicensed liquor outlets in Khayelitsha (currently there are around 1400) if the licensed outlets are perceived to be unsafe."
The memorandum also noted that the Khayelitsha Commission of Inquiry into policing "concluded that the abuse of alcohol is a key driver of violence."
Dodgy people are suing us. Please support us by contributing to our legal costs and helping us to publish news that matters.
© 2016 GroundUp.
This article is licensed under a
Creative Commons Attribution-NoDerivatives 4.0 International License
.