Classrooms torched in protest at Khayelitsha school
Police fire rubber bullets as students protest about fines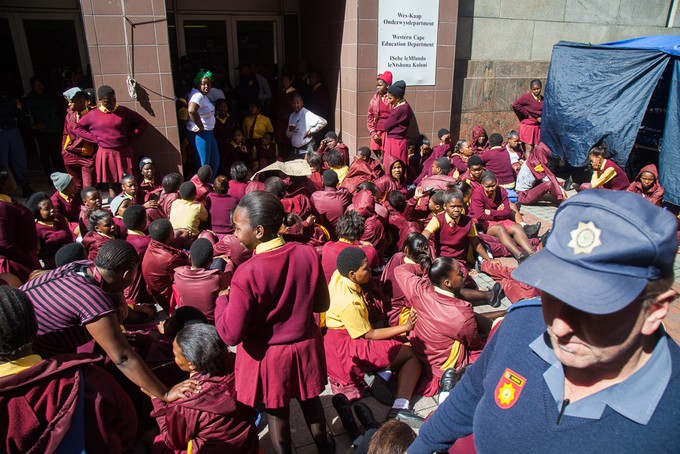 Storerooms and classrooms were torched during two days of protests at Joe Slovo High School in Khayelitsha. Police were called in and fired rubber bullets.
For the second day in a row today, students protested about fines imposed by the school. They said they had to pay fines of R5 for arriving late, R100 or more for the possession of cellphones in class, R500 for missing school. They said the principal, Majiel Parker, had failed to explain what he had done with the money from the fines.
In a statement, Western Cape MEC for Education Debbie Schafer condemned the "violent action" of the students but said the school was not permitted to fine students for being late.
"Schools can take various disciplinary approaches when dealing with latecomers, such as detention, compulsory after-school activities, or physical activities such as picking up litter.
"Learners cannot, however, be charged a monetary fine for being late".
She said "serial late-coming was unacceptable", but students could not be fined.
Masimange Mkosana, the provincial deputy secretary of the Congress of South African Students (Cosas), addressed students at the school today, urging them not to damage the school further, after classrooms were torched yesterday.
"Don't vandalise or burn down the school," he said. "Where are you going to learn if you destroy your school?"
But his call fell on deaf ears and students damaged the windows of some of the school buildings and set alight another classroom.
A large contingent of of SAPS and municipal police arrived and a police officer told students in IsiXhosa: "Hambani, godukani phambi kokuba ndinidubule (You must leave the school before I shoot you with rubber bullets)".
The officer later opened fire with rubber bullets. Students said several of them had been injured by rubber bullets in the two days of protests, but police denied that there had been any injuries.
Police and Cosas said the students had thrown stones at several Golden Arrow buses.
Mkosana said Cosas was trying to resolve the students' complaints by meeting community leaders, the Western Cape Department of Education and students.
Student Wanga Koyana said, "We are paying R5 for late coming, R400 for school fees and another R500 for bunking. We are very concerned about this."
Grade 12 student Sibulelo Rhodolo said matric prelims had been disrupted by the protest action. "We were writing an accounting paper when other pupils disrupted our exams. I don't know what will happen because we were supposed to continue with our exams today."
Another grade 12 student, Phelokazi Tsoko, said "I am worried about the situation because it has affected our exams." 
Tsoko said that their Student Representative Council was fighting for their rights, but was not getting co-operation from Parker.
Later today, about 70 students marched to the offices of the Western Cape Education Department in the city to hand over a memorandum of grievances.
Schafer said the students' behaviour was "simply unacceptable".
"While there are ways and means of raising issues that learners are concerned about, resorting to violence and destroying public property is not one of them. Nor will it achieve the outcomes they desire."
Schafer said in the memorandum handed over at WCED head office the students had referred to several other fines. This was a matter for concern and was being investigated by district officials.
© 2016 GroundUp.

This article is licensed under a Creative Commons Attribution-NoDerivatives 4.0 International License.
You may republish this article, so long as you credit the authors and GroundUp, and do not change the text. Please include a link back to the original article.