City's young soccer stars compete in Rocklands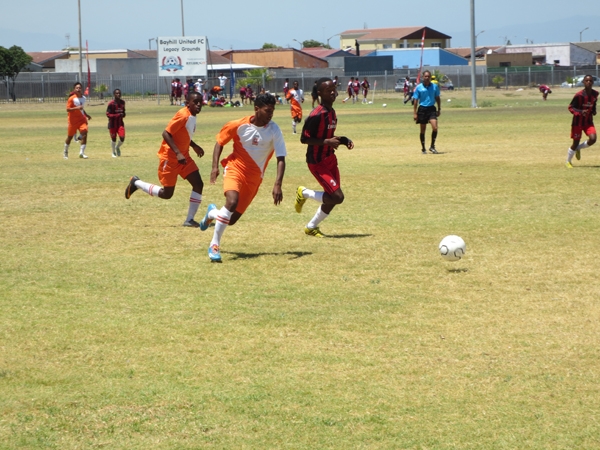 Bayhill United Legacy Grounds in Rocklands was abuzz at the weekend as teams from across Cape Town competed in the play-offs of the 2015 U19 Metropolitan Premier Cup, also known as the Bayhill Cup.
The games started at 9:00 in the morning with each team playing a home and an away game.
Fans were entertained by the skills displayed by the under 19 players, with some taking out camp chairs and braai stands in spite of the scorching heat.
MPCE took on PPG Langa in the first home game and won by a single goal. PPG players looked disappointed after losing the first game and their coach kept on shouting "it is not over boys, we still have to play them again, and we can do it".
In the second game which was PPG's home game, the home team took the lead early in the first half and won the game by two goals to zero. PPG advances to the next round of qualifying for the Bayhill Cup while MPCE is out of the play offs.
Seventeen year old Bevan Page from MPCE looked very disappointed after losing the second game.
Page said, "I feel very bad that we lost this game and now we are out of the competition. We let ourselves down because we didn't play as a team. We must just work harder next time. Things didn't go our way this year."
MPCE coach Henkel Cane said: "We did the right thing in the first game which is why we won, but all of that changed in the second game. We need to go back to the drawing board now and rectify our mistakes. Credit to PPG coach - he used our techniques against us and that worked well for his team."
PPG goalkeeper 18 year old Lwando Landzi said: "We were very disappointed that we lost the first game, but our coach told us to keep our heads up and focus on the second game. We played with our hearts in the second game because we wanted it more than them and that showed, because we won."
Gareth Ncacha coch of PPG said, "My boys worked very well as a team in the second game and they were motivated by the fact that if they win they stand a chance of playing in one of the country's biggest Under 19 tournaments. Now that we are a few steps closer to achieving that, we need to prepare well for our next games."
Here are the other results of the day:
Kensington FC 1 - 2 FC Tygerberg
Leeds United 1 - 2 Stephanians Ottery
Sunningdale 1 - 1 Leeds Lentegeur
MPCE 1 - 0 PP Langa
RC Athletico 1 - 1 Crusaders AFC
Steenberg United 0 (Def) - 3 Cape Town Fusion
Geelbooi Sporting 1 - 0 Oasis FC
PPG Samora 1 - 1 Young Stars
Eastern Rovers 1 - 0 Clover FC
Liverpool Portland 1 - 1 Ikapa Sporting
Ashford Athletico 1 - 3 Everton Spurs
Rock-A-Fellas 0 - 3 Tafelzught
J.L Zwane 2 - 1 Greenhaven Spurs
Kraaifontein FC 4 - 2 Valhalla United
Barcelona 0 - 1 Invincible Cravenby
PP Langa 2 - 0 MPCE
Leeds Lentegeur 1 - 2 Sunningdale
Stephanians Ottery 0 - 2 Leeds United
FC Tygerberg 4 - 0 Kensington FC
Vrygrond Young Stars 0 - 3 PPG Samora
Oasis FC 1 - 4 Geelbooi Sporting
Cape Town Fusion 3 - 0 (Def) Steenberg United
Crusaders AFC 1 - 0 RC Athletico
Tafelzught 5 - 1 Rock-A-Fellas
Everton Spurs 0 - 0 Ashford Athletico
Ikapa Sporting 1(5) - 1(4) Liverpool Portland
Clover FC 0 - 1 Eastern Rovers
Invincible Cravenby 3 – 0 (Def) Barcelona
Valhalla United 3 – 1 Kraaifontein FC
Greenhaven Spurs 1 - 2 J.L Zwane
Dodgy people are suing us. Please support us by contributing to our legal costs and helping us to publish news that matters.
© 2016 GroundUp.
This article is licensed under a
Creative Commons Attribution-NoDerivatives 4.0 International License
.