City demolishes occupied shacks using court interdict
Councillor says eviction order not required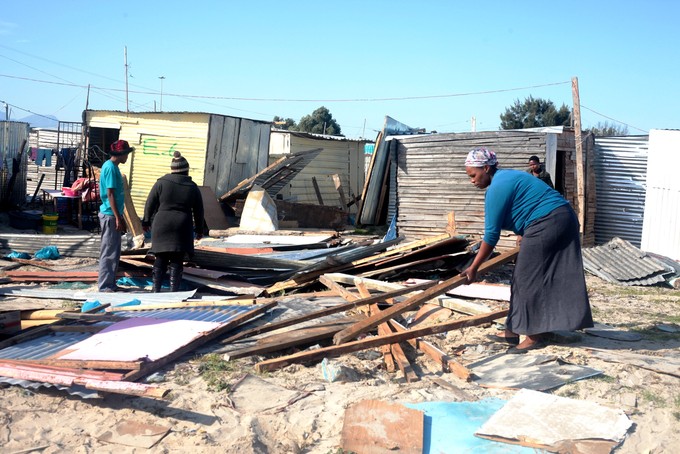 Over a dozen residents of an informal settlement in Mfuleni were left homeless and with many questions after officers of the City of Cape Town's Anti Land Invasion Unit (ALIU) demolished their homes on Tuesday 31 May.
In a span of twenty minutes, ALIU officers tore down close to a dozen shacks and marked another ten for demolition. Officers appeared to merely stroll through the settlement and begin demolitions with little discussion or forewarning. In at least one case, the resident of a particular shack was standing in front of her house when it was torn down.
Nonceba (who did not provide a surname) was one resident whose shack was demolished in her presence. According to her, no notice was given prior to the demolitions.
What she and other residents found most confusing was that only some shacks were destroyed.
Councillor Benedicta van Minnen, the City of Cape Town's Mayoral Committee Member for Human Settlements told GroundUp that the court authority came not from an eviction order, but from an urgent interdict obtained from the Western Cape High Court on 31 March. On 12 May, a final order was granted allowing the City to use ALIU units to conduct demolitions.
The order was filed against "those persons occupying and/or intending to occupy and/or erect structures on erf 1 remaining extent, Mfuleni, and erf 4896 remaining extent Mfuleni" and prohibits them from being upon the land, building any structures, occupying any structures, or interfering in any way with law enforcement at the property. The order prevents anyone from occupying the land. The interdict allows the City to immediately remove anyone violating the order and demolish any structure created since the grant of the order.
The distinction between an eviction order and an interdict is an important one to the City. In 2000, the landmark ruling of the Constitutional Court in the Grootboom housing case held that evictions required a court order that must balance property rights with the recognition of housing as a fundamental human right, as does Section 26 of the Constitution.
The Prevention of Illegal Eviction from and Unlawful Occupation of Land Act 19 of 1998 (PIE) set out the requirements and factors a court needs to consider before any eviction takes place.
If the City had wanted to obtain an eviction order they would have had to prove to the court that alternative accommodation could be provided and meaningful prior engagement with the community had been attempted. According to Van Minnen, "where the structures are viewed by law as being occupied, an Eviction Order (which is a completely different process of law) must be embarked on through a separate legal process."
But in this case, an interdict was used to legally bar "those occupying or intending to occupy" that portion of Mfuleni from being present or having any structures there.
By presenting the legal issue as a continuous land invasion that is not related to squatting on another's property, the City's Van Minnen said that ALIU officers have the legal authority to destroy what they see as "vacant or unoccupied structures".
By using an interdict, the City is not required to provide accommodation or any form of support for those that end up losing their shacks, unlike under an eviction order.
However, residents viewed the ALIU demolitions as evictions.The residents are aware that the land they were living on is not theirs. They also moved onto the land after the interdict was granted. They claim to have contacted the City and learned that only ten people were registered to live on that particular land. However, there are currently over 200 shacks clustered in the area, most of which, they say, were built at the same time as the demolished shacks.
They want to know why the ALIU only destroyed some of the shacks instead of destroying all those violating the interdict. Additionally, many residents were present when their shacks were being destroyed, throwing into question exactly what definition of "vacant and unoccupied structures" the ALIU officers were using.
The subtle legal differences mean little to those that lost their homes on Tuesday. Surveying the rubble that once was her shack, Nonceba said, "I don't know what to do now!"
Many others feel that they have no option but to try and rebuild in the same area, regardless of what further actions the ALIU and the City pursue.
© 2016 GroundUp.

This article is licensed under a Creative Commons Attribution-NoDerivatives 4.0 International License.
You may republish this article, so long as you credit the authors and GroundUp, and do not change the text. Please include a link back to the original article.