City councillor promises electricity for Zandspruit
But no budget or timeframe has been provided for this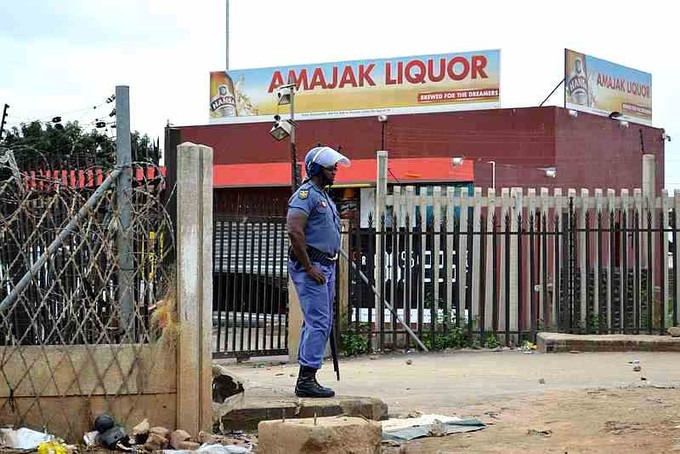 The deaths of four people by electrocution is the reason why illegal connections were cut in Zandspruit. This is according to Matshidiso Mfikoe, a member of the Johannesburg mayoral committee.
Zandspruit is a township of about 30,000 people (2011 census) in Roodepoort, about 30km from Johannesburg's city centre. Part of it, such as an area called Section 10, consists mainly of shacks with poor service delivery.
The cut-off of electricity is what triggered protest action last week. Residents protested when City Power, Eskom and officials from the City of Johannesburg arrived in the area last week Wednesday and cut connections. Protests took place again this Monday and yesterday. Protesters threw rocks and burnt debris. Police closed the road and it was still barricaded today. Police also fired rubber bullets yesterday.
GroundUp reported that Alphious Mashile, one of the protest leaders, said that residents endure poor sanitation and a lack of housing. Electricity, however, was residents' biggest concern currently.
Rainfall appeared to have dampened further protest action this morning. This was despite threats by residents to tear down a pedestrian bridge if Mayor Parks Tau did not come speak to them directly.
The Mayoral Committee's Mfikoe spoke to GroundUp earlier today. She said that several government departments were compiling a report that would see the provision of basic services for the community.
Mfikoe said presently, there was no budget to meet the requests of the community, because several areas in Zandspruit were still classified as informal. She said while the decision was taken to electrify informal settlements, there was no actual budget set aside to do this.
"It has never been budgeted for at any given time [because] they were not known… They [informal settlements] are not there in any map." She said based on site visits, her team took a decision to write to Council to address the needs of the area and to ask for budget approval to supply electricity, water and waste removal services.
Mfikoe said that extensive talks were held last year and the feedback she received was that informal settlements could be electrified, but criteria needed to apply. These are that the informal settlement will still be around in ten years, that residents are not being relocated to another area, and the settlement has existed for five years.
Mfikoe said these criteria are to prevent wasteful expenditure.
"We can electrify Zandspruit. Eskom has gone into the area to look at capacity. We asked them to look at the whole informal settlement, and not just certain extension, to tell us what exactly it is that they can do," she said.
She said about 250 shack stands that housed approximately 1,000 people were identified. The over-population of one area would mean some people would have to be relocated to other parts of Zandspruit.
The time frame for the rollout of electricity would need to be investigated further, Mfikoe said.
© 2016 GroundUp.

This article is licensed under a Creative Commons Attribution-NoDerivatives 4.0 International License.