Churches plead with residents to stop dumping rubbish
Illegal dumping costs Cape Town R350 million a year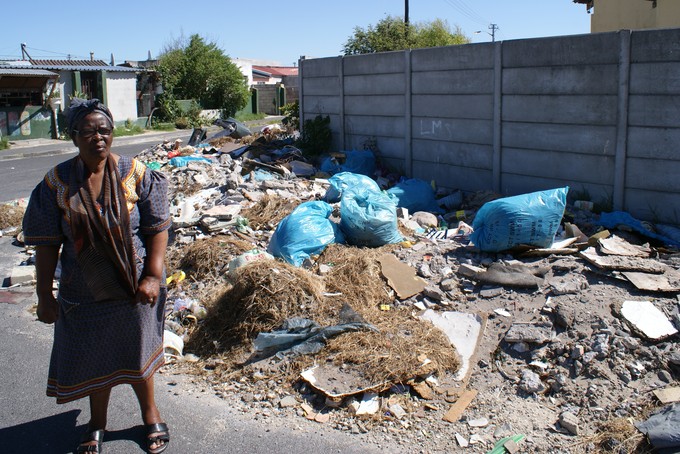 Two churches in Gugulethu have made an impassioned plea to residents of KTC and Gugulethu to stop dumping their rubbish against the walls of the church property.
Masonwabe United Methodist Church, on the corner of NY78 and NY102, and nearby Church of Christ Mission in NY102 say they are battling to curb dumping and vandalism at their churches.
Gang terms and rude words are scribbled on the walls of Masonwabe United Methodist Church and piles of rubbish accumulate against the vibracrete. Every week worshippers have to remove rubbish or repair damage.
In an interview with GroundUp, Leader of the Cape Town Circuit of Methodist Church, Nyaniso Mondleki, said the dumping of rubbish next to the church had started around 2009. The church leadership had tried to talk to leaders of both communities to find a solution. But in spite of efforts by community leaders some residents still dumped their garbage bags against the walls of the church.
"The residents dump nappies, rubble, garbage bags and damaged corrugated iron," he said, complaining about the smell.
Mondleki said the walls dirtied by the mounting rubbish had been repainted a few years ago but instead of discouraging residents from dumping, the repairs seemed to have encouraged them.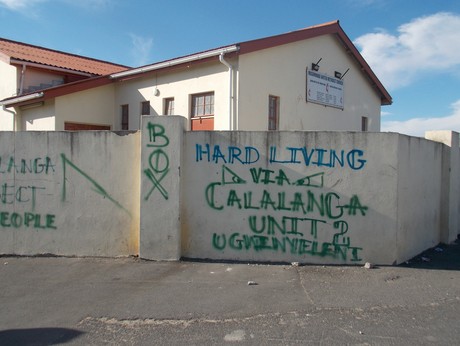 And when the City of Cape Town expanded the pavement next to the church we thought this would bring some relief, but people continued.
This week we will meet with other Methodist Circuit leaders in Cape Town and come up with a fundraising plan to revamp the walls of the church," he said.
Church of Christ Mission secretary Nombulelo Msingizane said the church had ran out of ideas on how to halt illegal dumping.
She said city authorities should install a sign next to the church urging residents not to dump their rubbish.
Msingizane said the residents' behaviour was strange because the church had encouraged residents to use the premises for functions.
Ward 41 councillor Maneli Msindwana said he had held several meetings with residents appealing to them to stop dumping rubbish illegally. " There are containers provided by the City of Cape Town for the residents to dump their rubbish and they should make use of them. I have spent R240,000 on cleansing the area because residents are just throwing rubbish wherever they want," he said.
He said the money could have been used on other projects.
Msindwana has given residents a toll free number to call the City of Cape Town when they saw anyone dumping rubbish illegally.
Mayoral Committee Member for Utility Services Ernest Sonnenberg said there were illegal dump sites in Gugulethu and KTC, as in most suburbs across the City. He said the City spent about R350 million a year clearing illegal dumps, money which could be better used for infrastructure and services.
"Churches are in a position to influence communities for good, and if their voices joined the City's in appealing to residents to change littering and dumping habits, our efforts would be that much stronger," Sonnenberg said.
© 2016 GroundUp.

This article is licensed under a Creative Commons Attribution-NoDerivatives 4.0 International License.