Children with disabilities grow old waiting for schools
Department has doubled placement but waiting lists are growing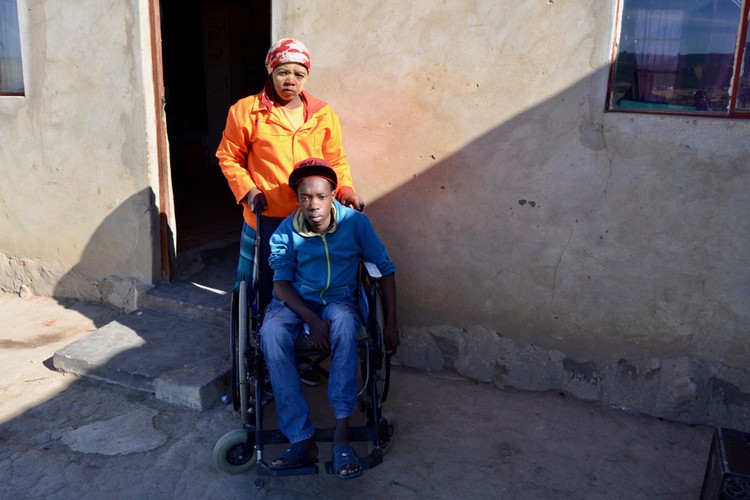 At a meeting of the Basic Education Portfolio Committee on the provision of education for children with disabilities, MP Sonja Boshoff (DA) raised serious doubts about the department's claim that there are 11,461 disabled learners waiting for schools.
Boshoff believes the department's figure does not come close, given that past figures place the number of  children not in school because of disability at 300,000. Waiting lists for special schools increase every year, and those still waiting are getting too old to attend school as there are age limits for admission to schools.
The committee had called in the Department of Basic Education for a progress report on delivery of inclusive education and special education for children with disability.
Boshoff said she had seen children with disabilities in Mpumalanga who are out of school, but the provincial education department informed her it had no waiting list. The province says all children with special needs have been placed in ordinary schools until space is found for them in special schools.
KwaZulu-Natal reports 2,769 children with disability on its waiting list. The waiting list in the Eastern Cape is 2,160.
The South African Schools Act says that no learner should be put on the waiting list; their names are supposed to be placed on a central database if schools cannot accommodate them.
The Constitution, the National Development Plan, the Sustainable Development Goals, and the Incheon Declaration of the World Education Forum were referred to in the committee meeting. They all confirm that the state has a commitment to provide schooling for children with disabilities.
The number of children with disabilities receiving some form of education has almost doubled over the last 15 years, according to the department.
It reported there are 464 special schools in South Africa and another 715 "full service" schools that make some sort of provision for children with disabilities.
The committee was satisfied to hear that the department had reached its target of placing more than 240,000 such learners in schools at the last count in 2015.
The numbers may have improved and R477-million was set aside this year to assist learners with severe to profound intellectual disabilities to access support and quality education, but even 11,461 is a lot of children awaiting intervention.
Recent evidence has also shown a number of the "full service" schools do not have the basic facilities required to qualify, such as ramps, suitable toilets and support staff.
Often little or no provision is made for children with disabilities in poor and rural areas. There are only 11 special schools in the Northern Cape and no units or special classes attached to ordinary schools throughout that vast province.
Other departments need to play their part
In response to questions from committee members who wanted to know when the last audit of special schools was conducted, Dr Moses Simelane, Director for Inclusive Education, said the official number of children living with disabilities who are out of school is close to accurate since the department has entered into a memorandum of understanding with StatsSA.
What also helps keep track is the department's cooperation with the departments of social development and health, Home Affairs, and the South Africa Social Security Agency.
The department said it cannot achieve anywhere near universal education for disabled children unless other government departments, like Health and Transport, play their part.
The provision of transport across the provinces is skewed. Provinces like Limpopo and Mpumalanga do not have enough school transport for special schools and fee-paying schools are required to fund their buses, which have to adhere to certain requirements.
Children with disabilities are kept at home for many reasons. These range from incontinence to the dire shortage of properly trained educators equipped to deal with possible medical emergencies.
But of most concern to the committee was that the majority of children with disability are stuck at home because there is not enough space to accommodate them.
Another concern was that special schools have not been declared "no fee" schools and many parents were unable to pay the fees.
Director General Mathanzima Mweli agreed that the time has come for special schools to be declared no fee schools. He said the department needs to prioritise this.
Letters
Dear Editor
The Department of Education should, as a matter of urgency, prioritize implementation of inclusive education and reasonable accommodation (including physical accessibility) for learners with disabilities in order to prepare them for integration in the workplace.
Once again, kudos to GroundUp for reporting on an issue in need of urgent attention. I would like to point out though, that it by referring to 'the disabled' as opposed to 'people with disabilities' is dehumanizing and perpetuates otherness.
Dear Editor
My son is in a LSEN school that primarily accommodates learners with cerebral palsy, and he was accepted with his diagnosis of Neurofibromatosis type 1. Neurofibromatosis is a genetic inherited condition, although, in my son's case, 50% of cases are spontaneous mutations. Neurofibromatosis is often accompanied by learning problems like dyslexia and ADHD, which is the case with my son.
Currently, he is not coping at school, due to behavioural problems that are as a result of his impulsivity, oppositional defiance and rigidity, which is as a result of being on the Autistic Spectrum.
The school he attends is not all inclusive and does not have the resources to provide him with a facilitator, which has resulted in a 2.5 hour day, this severely prejudicing his right to an education. We are required to supply an educational facilitator, but these do not exist in abundance, particularly when it comes to children with Autism and ADHD. We are expecting him to leave school. After this, he will not be able to attend school, as there is no place for him in another state LSEN school that is suitable for his learning requirements.
The fact is, is that the State needs to build many more schools, equip them, staff the schools and fund the needs of the children. Children with special needs, whether physically impaired, or mentally challenged, need specialised education with the resources to go with those specialised needs. The costs to parents of children with autism, for example, are crippling, to the point of bankruptcy for families. This has been our case.
I do believe that our children with special needs are having their right to an education being denied and their constitutional rights infringed. This is as a result of incompetence and indifference on the part of the State.
© 2017 GroundUp.

This article is licensed under a Creative Commons Attribution-NoDerivatives 4.0 International License.
You may republish this article, so long as you credit the authors and GroundUp, and do not change the text. Please include a link back to the original article.