Chief Justice candidates: Dunstan Mlambo – a strong proponent of modernising the courts
Mlambo has a reputation of being a people's person and says he would have an "open door" policy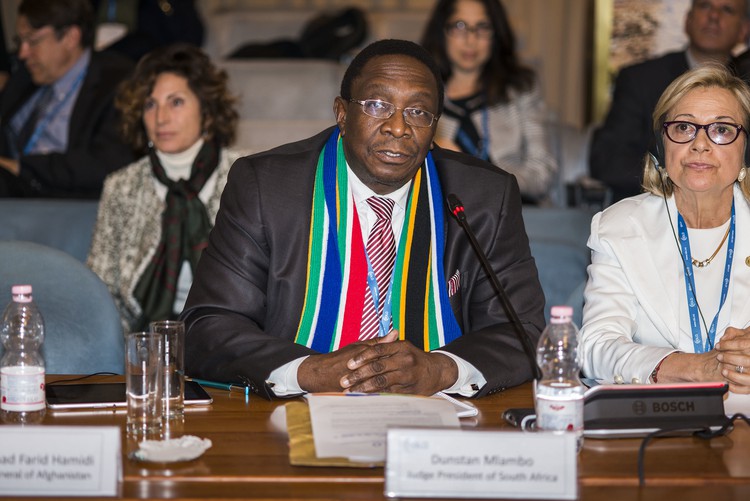 Gauteng Judge President Dunstan Mlambo, if appointed as Chief Justice, said he would adopt an "open door" policy and believes that visible and present leadership would inspire and motivate judges and magistrates to deliver on their Constitutional mandates.
Mlambo is one of four candidates nominated for the position by President Cyril Ramaphosa. He was interviewed by the Judicial Services Commission on Thursday.
At 62 years old, if appointed, he would serve seven years as the head of the Constitutional Court and the judiciary in South Africa.
He was first appointed as a judge in the Labour Court in 1997 and became the head of the Gauteng division, the biggest and busiest court in South Africa, in 2012.
He has a reputation of being a "people's person", for popping into judges' offices unannounced, and is a strong proponent of modernising the courts through technology, including the paperless "Caselines" project, which was piloted under his watch at the Pretoria and Johannesburg High Courts at the onset of the Covid-19 pandemic.
In describing his vision for the judiciary, he said he had conducted an environmental scan and had noted that there was a loss of confidence in the judiciary, the justice system and the rule of law.
"More worryingly, my scan revealed that the Judiciary operates in a toxic environment, in the sense that it is attacked on a number of fronts. Its independence and impartiality are always at stake because it operates in a polarised political space, which results in unfounded claims against members," he said.
He said there was "growing corruption"; not by judicial officers but in terms of the circulation of fraudulent court orders in matters which were never heard. This required serious attention.
Judge Mlambo presented his "vision" of the judiciary in terms of a seven-point plan, which, if he got the job, he would kick off with evaluating the institution of the judiciary, ensuring greater transformation and introducing efficiencies.
He said he believed there was an urgent need for a judge's colloquium to assert the rightful place of an independent judiciary as an essential arm of government.
The role of Office of the Justice needed to be assessed with a view to taking it forward to total independence and to include the magistracy.
There needed to be "consequence management" for judges who took years to deliver judgments.
Attention needed to be given to the worrying levels of part-heard cases in criminal matters, ineffective maintenance courts, and the fact that even newly-built courts were now "falling apart" because they were not being maintained.
He would develop a holistic transformation programme to ensure proper demographic representation and functional communication strategies to enable the judiciary to timeously respond to attacks and to communicate judgments properly.
He would "champion" modernisation of court processes through technology "without leaving anyone behind".
Poisonous questions
But then, during questions from commissioners, he was faced with a barrage of questions emanating from written objections to his possible appointment, "whispers", rumours, and what he described as "just poisonous gossip".
One of the objectors was Public Protector Busisiwe Mkhwebane who complained that he had refused to meet with her.
Judge Mlambo said it was a time when there were matters involving her before the court and "if you want to get in trouble as a judge, you meet one party without the other".
Democracy in Action, in its objection, had also raised two apparently "flip flopping" conflicting decisions Mlambo had given in matters relating to the powers of the Office of the Public Prosecutor, one favourable to the former incumbent Thuli Madonsela, directing action against former President Jacob Zuma for State Capture, and one against Mkhwebane, who wanted Parliament to take action against President Cyril Ramaphosa on allegations that he had personally benefited from CR17 funding.
Mlambo said the facts in the two matters were different and the law had been applied consistently.
"I have no soft spot for Ramaphosa and I have nothing against former president Zuma, as a judge," he said.
Commissioner Griffiths Madonsela then suggested that litigants were cherry picking the Gauteng division, as opposed to the Cape Division where Parliament was based, because Mlambo allocated judges to ensure adverse rulings in certain matters.
This was later referred to by Commissioner Dali Mpofu as a rumoured "judicial hit squad" and that Mlambo was pro-Ramaphosa.
Mlambo denied this. "It's not my function as a judge to keep a tally on who wins what … We approach cases on the facts and we apply the law. I value my independence and impartiality".
Mpofu said he was just trying to allay the "whispers" and asked why the same judges seemed to be allocated to full bench panels to hear certain high profile cases.
Mlambo said if that was true, then it was a mere coincidence. "I do not handpick judges."
Then came a sudden allegation that unnamed, aspirant woman judges seeking acting judge positions had accused him of sexual harassment.
Mlambo labeled this as a "poisonous rumour" which had only emerged after his nomination for the Chief Justice job.
"When this nomination process started, I got a call from a retired judge in the Western Cape who told me … I was shocked … I was never told who had made this claim. I feel pained that it has found its way into my interview. It gives credence to the poisoning of my candidature," he said.
After the lunch adjournment several commissioners questioned whether he had been warned that he was going to be questioned about the allegations.
He said usually if there was no complaint in writing against a candidate or if there was nothing in writing and the candidate had not been warned, the JSC would not raise it.
Mpofu asked if he accepted that questions about serious allegations which could lead to impeachable offences against a potential chief justice should be raised to "clear the air".
"I don't think you are guilty of it. But I will not be party to the suppression of any allegations and it's only fair … you were aware of these rumours. That is all that has happened here," said Mpofu.
Mlambo said it was a question of fairness and such issues should only be raised if they were documented properly and from an identifiable whistleblower.
JSC Chair Xola Petse then ruled that any question and answers on the issue of "rumours" of Mlambo being accused of sexual harassment be struck from the record.
Mpofu responded: "We will leave it to the deliberations".
To which Petse responded: "I have made my ruling. There is nothing to deliberate."
Dodgy people are suing us. Please support us by contributing to our legal costs and helping us to publish news that matters.
© 2022 GroundUp. This article is licensed under a Creative Commons Attribution-NoDerivatives 4.0 International License.
You may republish this article, so long as you credit the authors and GroundUp, and do not change the text. Please include a link back to the original article.
We put an invisible pixel in the article so that we can count traffic to republishers. All analytics tools are solely on our servers. We do not give our logs to any third party. Logs are deleted after two weeks. We do not use any IP address identifying information except to count regional traffic. We are solely interested in counting hits, not tracking users. If you republish, please do not delete the invisible pixel.