Cele promises action after Gqeberha violence
Minister says police will be on high alert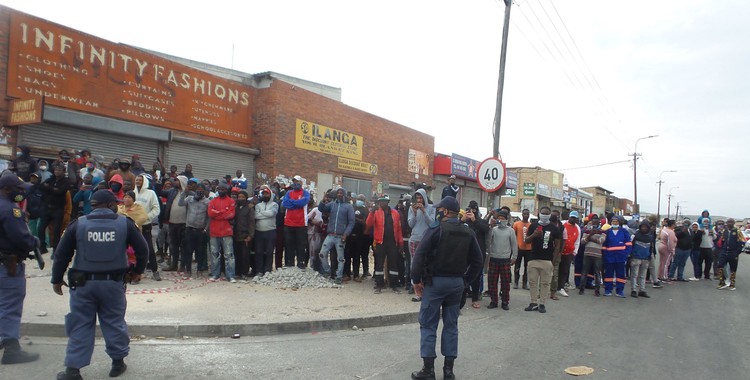 Minister of Police Bheki Cele has pledged tough action against those responsible for violence in Korsten, Gqeberha, on Wednesday.
The violence followed an altercation between a taxi driver and a businessman after a car accident.
Visiting the area on Thursday, Cele said police would deal with violence targeting foreign-owned businesses.
There would also be a clampdown on illegal immigration, he said.
Cele met taxi drivers' representatives and of the Somali community.
---
Police will be on high alert to deal with any attacks on foreign-owned businesses after the violence in Korsten, Gqeberha, police minister Bheki Cele said on Thursday. But there would also be a clampdown on illegal immigration in the area.
Cele was visiting the area after violence broke out following a fight between a taxi driver and a Somali businessman after an accident in Durban Road.
Eight taxis had been set alight, two damaged and a car was also set alight, said police spokesperson, Colonel Priscilla Naidu.

Cele said police would be on high alert to deal with any violence breaking out in the townships targeting foreign-owned businesses. But he would also enforce a clampdown on illegal immigration.
Cele said, "We are told that Durban Road is notorious. We will be flooding police so that people do legal things. We have to come with Home Affairs, South African Revenue Services and Customs so that all people who are here have papers to live in the country, and that all people doing business here pay taxes. We are going to be around here until things are normal."
Cele also pledged to bring to book perpetrators of the violence. He said warring factions were in discussions and shops would start operating again while negotiations continued.
"We have met the leadership of the taxi industry, the business sector and Somali nationals. We have drawn some few lines in the sand. Police will increase their capacity in the area. Property was destroyed, there was arson, and there were cars and taxis burned.
Some shops were burnt. There were guns and firearms brandished around here and some shots were fired."
Cele said police had video footage of what happened and would use that to prosecute perpetrators.
"Police will have to find all people who committed crimes and will have to look for those guns that were fired. We all know the Firearms Act - private citizens are not allowed to display their arms or fire in public. They must be found, those guns, and taken for ballistic processes," said Cele.
In a statement following the visit, police ministry spokesperson Lirandzu Themba said police top brass had met leaders of "the concerned groupings involved in the violence and destruction". "While they differed on the exact details of how the events unfolded, all parties agreed to foster a dialogue to ensure the tensions between the taxi industry and the local business people, who are mostly Somali nationals, don't escalate even further. "
The provincial representative of the taxi industry Mnikelo Ntantiso said, "The meeting was a success and I am now contacting all taxi operators to inform them about what came of the meeting. We will be engaging the Muslim community to end the misunderstanding that caused this.
"We have agreed that there will be a continuous engagement until everything is agreed."
A Somali businessman who did not want to mention his name said he had lost income as a result of the two days the shops were closed.
"If this is not controlled, I fear that blood will be shed. The problem is that people are interested in looting of shops and destroying property. We are arrested if we protect our businesses against looters. Shots were fired by property owners who were protecting their businesses from the mob that was led by taxi operators," said the businessman.
An employee of a takeaway shop said, "We haven't worked for the past two days and that means I have lost R200 of my weekly wage.
"I want the shop to open so that I can work and get money. There should be a long lasting agreement between the taxi associations and the businesspeople."
© 2021 GroundUp. This article is licensed under a Creative Commons Attribution-NoDerivatives 4.0 International License.
You may republish this article, so long as you credit the authors and GroundUp, and do not change the text. Please include a link back to the original article.
We put an invisible pixel in the article so that we can count traffic to republishers. All analytics tools are solely on our servers. We do not give our logs to any third party. Logs are deleted after two weeks. We do not use any IP address identifying information except to count regional traffic. We are solely interested in counting hits, not tracking users. If you republish, please do not delete the invisible pixel.