Capricorn residents accuse taxi association of inciting violence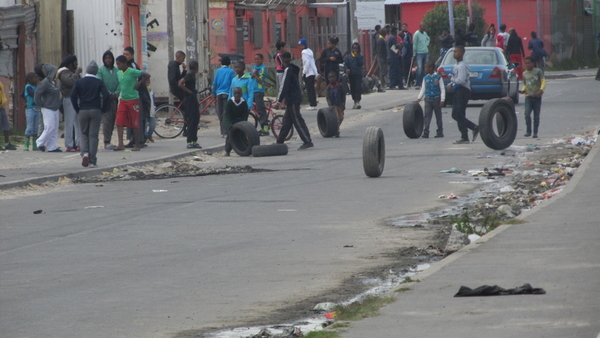 Violence over taxi routes erupted in Cape Town's South Peninsula yesterday morning. The South Africa Police Service (SAPS) reports that a 59-year-old taxi driver and his 20-year-old assistant were shot dead at about 5:30am this morning in Seawinds.
"A double-murder case was opened for investigation," said Captain FC Van Wyk of SAPS Western Cape Media Centre.
Yesterday, children in Capricorn, an informal settlement next to Seawinds, did not attend school. Libraries, crèches and shops were closed. There was smoke from burning tyres and grass patches along Prince George Road. The burning tyres and numerous emergency vehicles made access to the area difficult.
There are conflicting views as to the cause of the violence.
Some residents in Capricorn and Vrygrond accuse the taxi associations, CODETA Vrygrond and Retreat Taxi Association, of inciting violence against one another. The latter has permits to run the route between Retreat and Vrygrond — a lucrative route served poorly by other forms of transport — while CODETA does not.
However, the chairperson of CODETA Vrygrond Taxi Association, Makhosandile Tumana, distanced himself and the association from the violence. He said that angry residents caused the violence because his association's taxis were not operating after many of them were impounded by City authorities.
"Our taxis have been parked since yesterday. We do not want to be involved in crime. We have nothing to do with the violence. We are waiting for the City of Cape Town and the Ministry of Transport to address the situation. We will only take our taxis back to the road when the issue is resolved," said Tumana.
Tumana, who says he owns three taxis, said 19 taxis belonging to members of his association were impounded yesterday by Metro Police. "We then stopped operating because we were afraid all our taxis would end up being impounded. Residents came to us and asked why we are not operating. They became angry with metro police and started to burn tyres and stone vehicles in the streets," he said.
But a Capricorn resident who refused to be named claims her brother was narrowly missed by a stone thrown by one of the taxi drivers when he walked to work. He got scared and returned home.
"I also wanted to go to work, but because of what had happened to my brother, I decided to stay indoors. Yesterday, when they [taxi drivers] realised that people are walking to work, they burnt some short cut paths to the Retreat train station and Muizenberg. They are lying that they are not part of the protest. I know their faces; I have been living in this area since 2008. Today, on my way to work I saw them participating. I left the house with only R20 in my pocket, no handbag and disguised myself so that they cannot attack me," she said.
A crèche owner in Vrygrond said, "Since 4am, there has been violence and this is the first time I am coming out of the house. I heard everything, including shops and schools, are closed and the fight is about taxis not getting permits. Metro police impounded taxis and the taxi owners and drivers blocked the three main entrances and said if we can't work nobody else should. They stopped people going to work and children from going to school. What a selfish act! We can't even sleep. Surely, how can you sleep when violence is happening next to your house?"
Western Cape Minister of Transport and Public Works Donald Grant released a statement saying, 'disgruntled [taxi] operators have since levelled various allegations at both the City of Cape Town, and the provincial government, including claims that they are being specifically targeted by law enforcement officials', but operations targeted only illegal operators in the area. 'Any suggestion to the contrary is simply untrue,' he said.
The statement continued: 'The Department strongly condemns route invasions and any form of illegal operations. There have been discussions within local and provincial government regarding the Vrygrond situation and a number of interceding measures have been agreed upon. One of these interventions is an increase in joint law enforcement operations in and around the Vrygrond area. These joint law enforcement operations will be sustained until the situation is normalised'.
Under the National Land Transport Act, the minister may close routes or ranks, suspend operating licences and suspend associations.
© 2016 GroundUp.
This article is licensed under a
Creative Commons Attribution-NoDerivatives 4.0 International License
.