Cape Town gets clinic for sex workers
Facility aims to provide health care to people who are often stigmatised in the state system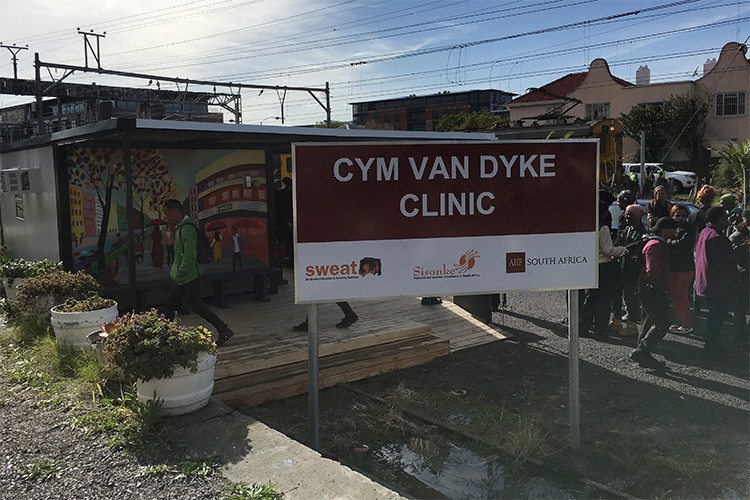 A new clinic to serve the healthcare needs of sex workers and their families opened at the Sex Workers Education and Advocacy Taskforce (SWEAT) head office on Thursday. SWEAT is an organisation working throughout South Africa to provide services and advocacy for the sex workers' community since the 1990s.
The facility itself is a brightly painted structure just behind SWEAT's headquarters in Observatory. In attendance were partners in the clinic's launch: AIDS Healthcare Foundation (AHF) South Africa, SWEAT, and national sex workers' movement Sisonke as well as community members. This is the first clinic of its kind in Cape Town.
Sally Shackleton, Director of Sex Workers Education and Advocacy Taskforce at SWEAT, explained that the goal of the clinic is to provide holistic general health care for sex workers, their families and wider communities. She also said that the success of the clinic is dependent on collaboration between stakeholders. Service users at the clinic will be the ones directing the services provided. "All of us in this room need to be committed to making this clinic work," said Shackleton.
Sex work remains illegal in South Africa. Sisonke representative Zukiswa Ngobo said that sex workers are often stigmatised or turned away from healthcare facilities used by the general public. She said, "So called nurses and doctors…fail to render us services, call us irresponsible and call us names. They don't know how it is like to be a sex worker." Ngobo expressed the community's gratitude to now have a space at SWEAT to seek treatment.
"This clinic is a milestone," said Hilary Thulare, Country Programme Director for AHF. Thulare said that though AHF's main drive was fighting the spread of HIV/AIDS, the organisation knows the disease "exists because of other issues" and reiterated the importance of treatment for sex workers' general health needs. She too appealed to sex workers in attendance: "You need to be leaders…we need to hear your voice."
Throughout the programme, members of SWEAT's trans support group Sistazhood Choir sang and danced to commemorate the opening of the clinic.
The clinic is named in memory of Cym Van Dyke, a trans sex work activist who was involved with SWEAT's mission to advocate for sex workers from the organisation's beginning. Diana Hoorzuk of AHF spoke about Van Dyke's life, remarking that because of the clinic's opening, Van Dyke was now surely "smiling down and saying Amen.''
A friend of Van Dyke's commented that a clinic to provide services to sex workers was "something [Van Dyke] longed for."
Dodgy people are suing us. Please support us by contributing to our legal costs and helping us to publish news that matters.
© 2017 GroundUp.

This article is licensed under a Creative Commons Attribution-NoDerivatives 4.0 International License.
You may republish this article, so long as you credit the authors and GroundUp, and do not change the text. Please include a link back to the original article.