Concerns raised over R52-million given to national orchestra
Cape Philharmonic turns down R3.2-million offered by Mzansi National Philharmonic Orchestra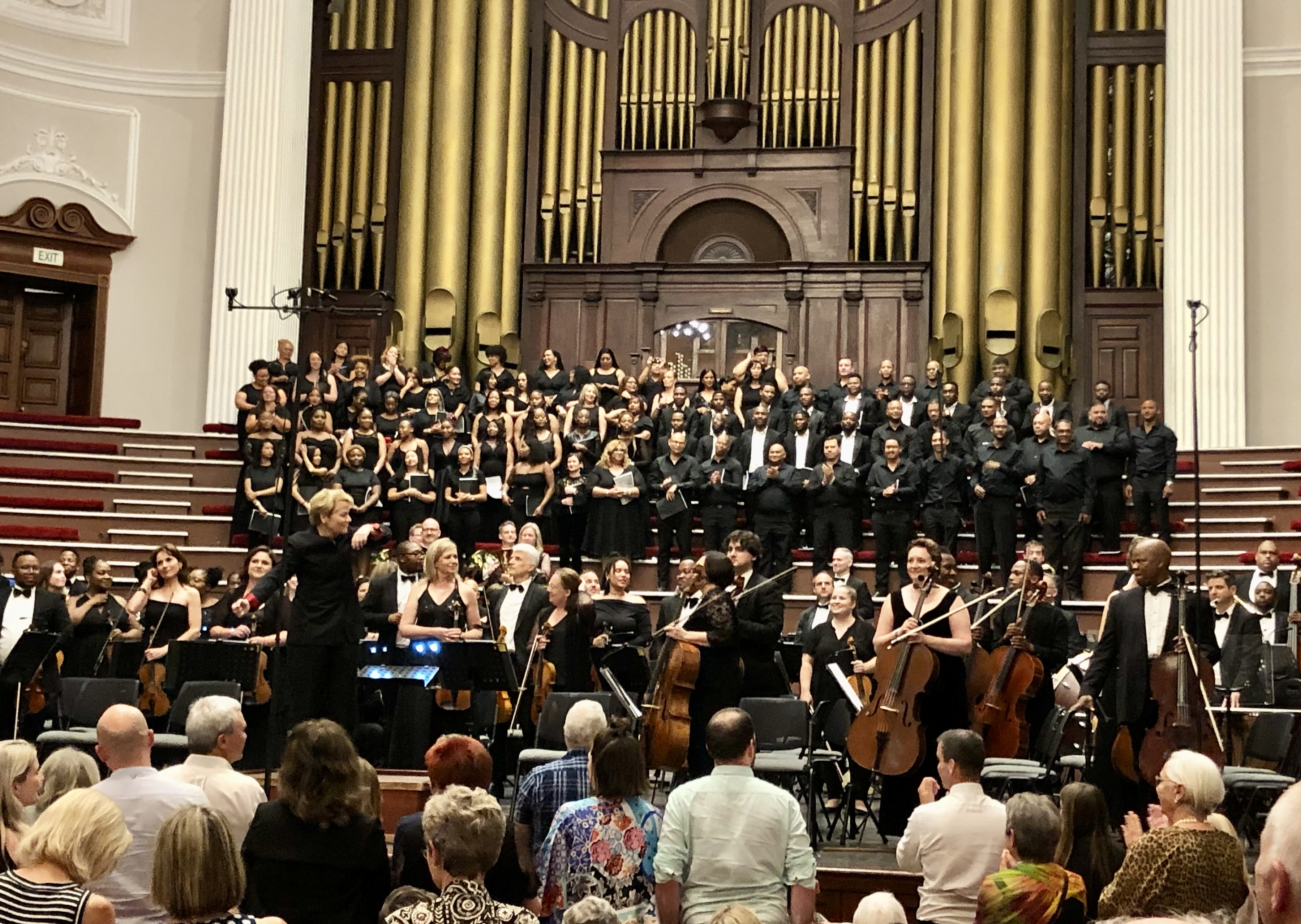 The new Mzansi National Philharmonic Orchestra has received R52-million in public funding but claims it does not need to make its finances public.
Regional orchestras which previously each received R10-million from national government will now receive funding from the new orchestra.
The Cape Philharmonic Orchestra has turned down the R3.2-million offered it by the Mzansi orchestra, citing concerns about governance and transparency.
The Cape Town Philharmonic Orchestra (CPO) has refused a R3.2-million grant from the new Mzansi National Philharmonic Orchestra, citing concerns about transparency and governance.
The national orchestra, launched in 2022, has so far received R52-million in government funding, taking over funding previously reserved for regional orchestras. In future it will receive an annual grant of about R20.5-million from the national Department of Sports, Arts and Culture (DSAC).
DSAC and the Mzansi orchestra, a non-profit organisation, have so far declined requests by the CPO and Members of Parliament for a detailed breakdown of how the public funds are being spent. There are also unanswered questions about the process that was followed to establish the orchestra.
The Mzansi orchestra was registered as a non-profit company in 2019 and launched in 2022. Its objectives include contributing to social cohesion, bringing orchestral music to more regions in the country, developing young musicians, and strengthening "cultural diplomacy".
It has since performed several concerts, including a tour of Beethoven's Ninth Symphony to Cape Town, Johannesburg and Durban. It has also recruited fellows and cadets to receive training and financial support.
According to the orchestra's draft annual report, which GroundUp has seen, R20-million has been allocated to fund 38 existing regional and local orchestras and music development programmes. Grants range between R100,000 and R3.2-million. Each of the country's three regional orchestras (Cape Philharmonic, KwaZulu-Natal Philharmonic and the Johannesburg Philharmonic) have been allocated R3.2-million. Previously they were each receiving R10-million.
While it appears that most of the beneficiaries have accepted the money, the CPO has refused the grant, claiming that the Mzansi orchestra is unsustainable and that the organisation is not adequately transparent about how it is spending public money.
CPO chief executive officer Louis Heyneman says that they will only accept the funds if they are provided with a clear, sustainable business plan for the Mzansi orchestra, and if all records of expenditure are made public and transparent.
The Mzansi orchestra's chief executive officer Bongani Tembe, who is also the CEO and artistic director of the KwaZulu-Natal Philharmonic and the Johannesburg Philharmonic, told GroundUp that the national orchestra is a public-private partnership and not a government agency. Therefore, he claims, it is under no obligation to release its audited financial statements or business plan to the public, nor does it have to disclose the salaries of its executives.
Tembe and DSAC insist that the national orchestra is well-governed, that it will achieve its objectives, and that checks and balances are in place to ensure accountability.
R1-million for a feasibility study
The concept of a national philharmonic orchestra was first introduced in a 2018 white paper from DSAC.
DSAC spokesperson Masechaba Khumalo says regional orchestras should seek funding mainly from their local and provincial governments, while the new national orchestra will receive funding from the national government to "benefit the entire country other than the three main urban centres" and "grow the orchestral experience for the entire country".
An initial meeting was held in February 2019 between Minister Nathi Mthethwa, DSAC officials, and representatives of the regional orchestras. Thereafter, a task team including representatives from regional orchestras was established and it was decided that a feasibility study would be conducted.
R1-million was allocated for the feasibility study. This money was paid to the bank account of the KwaZulu-Natal Philharmonic, of which Tembe is CEO, because the Mzansi orchestra had not yet been registered as a non-profit company. Tembe told GroundUp that the task team met at least three times but he does "not remember offhand exactly how many times it met".
The R1-million feasibility study has not been shown to the relevant Portfolio Committee.
Tembe insists the feasibility study was conducted. "This document belongs to DSAC and it is up to DSAC to decide whether to make it public or not, so this is not the responsibility of the national orchestra," he said.
"The expenditure of this R1 million was audited and handed over to the National Arts Council and DSAC, who confirmed in the portfolio committee of 16 September 2022 that they were satisfied with proper expenditure and that the funds were spent according to the purpose it was intended for. In fact, there is almost R500,000 still unspent from this fund."
In September 2019, the Mzansi orchestra was registered as a non-profit company. The non-profit company's board consists of Constitutional Court Justice Leona Theron, business executive Wendy Luhabe, and Professor Muxe Nkondo.
Tembe, a Julliard graduate with more than two decades of experience in the orchestra sector, was appointed as the CEO. The CEO and board were appointed by the DSAC.
What has Mzansi orchestra done with R52-million?
In November 2021, a Memorandum of Agreement was signed between the Mzansi orchestra and the National Arts Council (NAC). According to this agreement, R54.6-million, minus R2.7-million reserved by the NAC for "administration", would be paid to the Mzansi orchestra in two tranches. The full R52-million has since been paid to the orchestra.
When asked by GroundUp how the DSAC will ensure transparency and accountability, Khumalo said, "There are checks and balances entrenched in the agreement between DSAC and the NAC and in turn between the NAC and Mzansi Philharmonic, which ensure that money is spent appropriately."
To date, no annual financial statements or any detailed budget breakdown have been made available to Parliament or the public.
Asked by GroundUp whether he could share the financial statements and disclose his salary, Tembe said that the Mzansi orchestra is not a government agency but a section 30 non-profit company "exactly like all the other orchestras in the country", and it is under no obligation to make financial details public.
"Mzansi Philharmonic will submit its AFS [Annual Financial Statements] to the NAC and DSAC by 31 March 2023. This audited report will entail financial matters. We are not in a position to send you unaudited figures, which may well change after the audit," Tembe told GroundUp.
Tembe said engagements with the portfolio committee are led by DSAC.
Meanwhile, parliamentary committee member from the Democratic Alliance, Tsepo Mhlongo, told GroundUp that he has submitted a petition to Parliament to scrutinise the expenditure by the orchestra. It is on the committee's agenda and will be discussed after the recess, he says. Mhlongo believes that the Mzansi orchestra should be accountable to the portfolio committee.
Mhlongo and fellow DA MP Veronica van Dyk asked pointed questions during the 16 September committee meeting about the orchestra's expenses and the feasibility study, but most of their questions went unanswered.
Tembe told the parliamentary committee in September that the orchestra has an annual budget of R30-million, made up of the annual R21-million grant it receives from the national government and revenue from box-office sales and "partners". The government grant had been building up since the white paper redirected the department's orchestral funding, reaching a total of R52-million before being released.
The agreement between the Mzansi orchestra and the NAC allows for 25% of the government grant (R13-million to date) to be spent on operational costs, including administration, while the rest has to be spent on "the programs of the [non-profit organisation] as per the business plan." The business plan is not publicly available.
We know from the orchestra's draft annual report for 2022/23 that R20-million has been allocated to fund regional and local orchestras as well as youth and music development programs. How much of this allocated funding has already been paid to the beneficiaries, we do not know.
"Disbursing funds is a process, however, we will not be periodically updating the media on how much has been paid to date," Tembe told GroundUp.
Normally when public funding is distributed by a government agency, such as the NAC, funding applications are advertised. But there was no public call for applications for the grant funding offered by the Mzansi orchestra and instead the beneficiaries were "recommended by the Artistic Planning Committee" and then approved by the board.
The Artistic Planning Committee consists of established musicians Samson Diamond, Nina Schumann, and Karendra Devroop.
GroundUp Is also aware of at least one organisation that received funding from the Mzansi orchestra in its bank account before a final Memorandum of Agreement was signed between the beneficiary and the national orchestra.
Asked about this, Tembe said: "This process is being handled by two very experienced arts managers, and without proof and context, I would not assume that they are doing any thing irregular. All these figures will also be subjected to an audit, and we expect to have a clean audit."
It is also not clear how much of the orchestra's budget is spent on its fellowship and cadetship programmes. According to the draft 2022/23 annual report, the orchestra enrolled three fellows, who are professional musicians receiving "financial and artistic support", and five cadets, who are music students receiving support to complete their education.
The Mzansi orchestra's national tour, during which it performed Beethoven's 9th Symphony in three cities, was conducted by American conductor Marin Alsop and featured established musicians with successful international careers, such as Pieter Schoeman and Michelle Breedt. Tembe declined to disclose the fees paid to these musicians or the travel costs involved.
Tembe also did not disclose fees paid to filmmaker Francois Verster, who documented the national tour, or "artist in residency" Duncan Stewart, who made sketches of rehearsals and performances on the tour.
In addition to the national tour, the Mzansi orchestra collaborated with artist William Kentridge for a performance at Wits University in July and performed in Johannesburg with the Turquoise Harmony Institute in August. Members of the orchestra performed at the G20 Cultural Ministers Summit in Indonesia in September, and at the International Cultural Festival of the Symphonique Music in Algiers.
The Mzansi orchestra is a "pick-up" orchestra, making use of ad-hoc musicians rather than full-time salaried employees.
Tembe told GroundUp that he has expressed his willingness to the board of the Cape Town Philharmonic Orchestra to resolve the issues.
"Mzansi orchestra has a credible board, artistic planning committee and experienced management who have never been linked to any corruption or mismanagement. All have an outstanding track record. There are sufficient checks and balances in place," he said.
© 2023 GroundUp. This article is licensed under a Creative Commons Attribution-NoDerivatives 4.0 International License.
You may republish this article, so long as you credit the authors and GroundUp, and do not change the text. Please include a link back to the original article.
We put an invisible pixel in the article so that we can count traffic to republishers. All analytics tools are solely on our servers. We do not give our logs to any third party. Logs are deleted after two weeks. We do not use any IP address identifying information except to count regional traffic. We are solely interested in counting hits, not tracking users. If you republish, please do not delete the invisible pixel.