Call for action against abusive churches
Speak the Truth marches in Braamfontein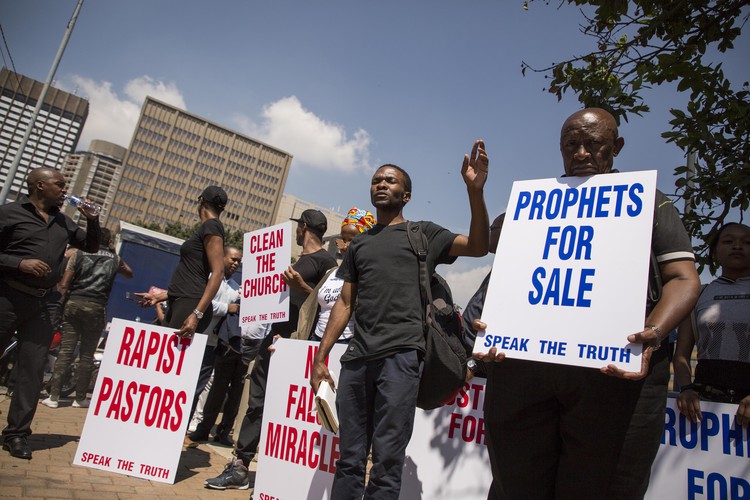 False prophets and pastors are extorting money from the poor and abusing vulnerable women. These are some of the claims made by an advocacy group called Speak the Truth. Its members protested on Wednesday in Braamfontein. They demanded that government and legislators deal with fake pastors.
There has been a proliferation of abusive churches across the country. Photos have circulated on social media of pastors ordering their congregations to eat grass and snakes, while others spray worshipers with insecticide promising to cure them of ailments. Some pastors have encouraged HIV-positive members to stop taking their medication and instead drink "holy water". In 2011 the Advertising Standards Authority — following a complaint from the Treatment Action Campaign — ordered e.tv to stop running a weekly Sunday morning advert by Christ Embassy. That church's pastor claimed to miracle heal a range of illnesses. Recently a church in the Eastern Cape was found to be a venue from which a group of men launched a murderous attack on a police station.
Solomon Ashoms, the founder of Speak the Truth, said that even though he and other members have been threatened for taking a stand against these churches someone needs to do something. He said that false prophets make a mockery of Christian values. "There are prophets who have invaded the church in South Africa that are criminals and are bastardising how church should be. They are taking advantage of women by sleeping with them and impregnating them. They abuse their power and have commercialised the church," said Ashoms. He said that the march was in honour of the victims of these churches whose voices need to be heard. "Normally in church we try to silence the victims, especially the women. We push them down, which is not the right thing to do."
Led by a group of bikers, the protesters went to the Commission for the Promotion and Protection of the Rights of Cultural' Religious and Linguistic Communities (CRL) in Braamfontein. The police allowed ten representatives from the protesters along with the media to enter the premises so that they could deliver a memorandum.
Thoko Mkhwanazi-Xaluva, the chairperson of the CRL, received the memo. Eliot Buthane, a lawyer representing the group, said that they approached the CRL in the hope that together they could forge a way forward to deal with what he called a crisis.
Mkhwanazi-Xaluva called for a revolution in the way South Africans and the government deal with fake pastors. She said that every time she raised these issues she is confronted with the response that there is freedom of religion. "Every right in the Constitution has limitations," she said. She also said she has received death threats because of her work on these churches, and now she has to have bodyguards.
"The majority of the people who are in these churches are women. And that is not by accident. Women are being targeted deliberately. These pastors claim to be talking to God and that God tells them that these women need to sleep with them," said Mkhwanazi-Xaluva. She said that false prophets need to be ushered out of their professions with the use of legislation.
Ashoms said that people continue to ask him if is he is afraid for his safety. "People have come to my house twice before to threaten us and I had to move my wife to another place for her safety. But this is a cause for which I am ready to die, because I really believe in it," said Ashoms.
Protesters we spoke to said they were reasonably satisfied with the response from the CRL but said that if nothing was seen to be done they would mobilise a larger protest at the Union Buildings directed at the president.
Dodgy people are suing us. Please support us by contributing to our legal costs and helping us to publish news that matters.
© 2018 GroundUp.


This article is licensed under a Creative Commons Attribution-NoDerivatives 4.0 International License.
You may republish this article, so long as you credit the authors and GroundUp, and do not change the text. Please include a link back to the original article.