Blikkiesdorp families want to move again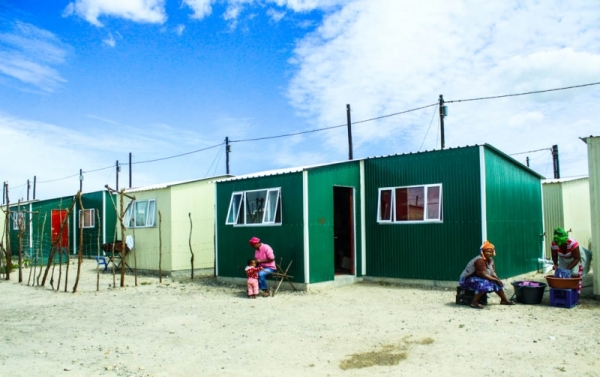 Some of the families who accepted an offer from the City of Cape Town to move from Blikkiesdorp to Wolwerivier in September, say they want to move again.
Seven Blikkiesdorp families moved to the Wolwerivier relocation area near Melkbosstrand in September. They joined residents who had been moved from the Skandaalkamp informal settlement. At first, their arrival was met with opposition from residents of the overcrowded area, who said they had not been consulted and had hoped to be allocated the houses themselves.
Tensions in the community have now died down, but the Blikkiesdorp families are disappointed with their new location.
Sindiswa Blaai, one of the people from Blikkiesdorp, said there was no work in the area. Many of those who had moved used to work in Khayelitsha, Delft or Bellville, but transport to and from Wolwerivier cost up to R65 a day, she said. Many people could not afford to pay that amount and stayed home.
"We want to move out from this place again," she said."The City should come and tell us where we should go, but this time we want a permanent place."
Her family had already moved three times, she said.
"Most of us lost jobs when we relocated to this place," said another woman who preferred to remain anonymous. "Transport from here back to Delft or Bellville is very expensive and to be in time for work one has to wake up as early as 5am to catch the 6am taxi to Du Noon."
"Our children are currently not going to school. There is no school nearby. We are not sure if even next year they will go to school again," said a mother who was hanging clothes on a makeshift line.
She said representatives of the City of Cape Town had visited Wolwerivier. "The community here does not invite us for any meetings so how are we to survive in such an environment."

Wolwerivier. Photo by Masixole Feni.
There are still a lot of unoccupied houses. Groundup visited one unoccupied house.There was one room that could be divided into two and a toilet.
Asked about security in the area, Blaai said she had not seen any police patrols.
"The last time we saw police is when there was tension between us and the Wolwerivier residents," said Blaai, referring to confrontations in September. "[And] the private security just sleep in their houses."
The area now has poles for electricity, but power is not yet available. Residents use candles for light and paraffin for cooking.
Community leader Magdalene Minnaar said relations between the Blikkiesdorp families and other residents had improved and the community was quiet now.
"There is no more tension between us and the relocated families. We greet each other when we meet."
"We understand Rome was not built in one day so we give the City of Cape Town a chance to work and integrate us with the relocated families. We do hold meetings with the City to discuss the way forward."
Some of the families who accepted an offer from the City to move from Blikkiesdorp to Wolwerivier in September, say they want to move again.
Dodgy people are suing us. Please support us by contributing to our legal costs and helping us to publish news that matters.
© 2016 GroundUp.
This article is licensed under a
Creative Commons Attribution-NoDerivatives 4.0 International License
.