Big Issue vendor goes the extra mile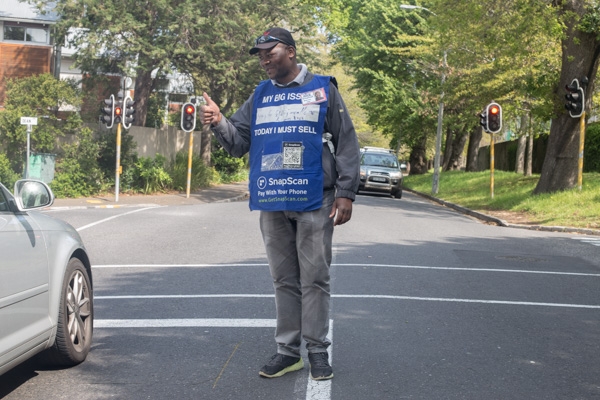 Simphiwe Mabuwa (45) goes beyond the call of duty as a Big Issue and Funny Money salesman at the intersection between Newlands Avenue and Dean Street in Newlands. Over the five years he has worked in the area, he has also taken on the role of community watchman and good friend to many passers-by.
He is hard to miss as he saunters proudly along the middle of the road, smiling broadly, one hand wrapped around a stack of the Big Issue and the other waving at familiar faces. He has come to know his customers by their number plates and greets them as they drive by. Whenever a new edition of the Big Issue comes out, Mabuwa phones some of his customers and offers to deliver it to them at home. As for those who purchase at the robots, Mabuwa has learnt that if he does not leave his shack in Nyanga by 5am, he misses the morning customers and can end up selling only one copy for the whole day.
Mabuwa describes how he wins customers. "It's all about having a positive mental state and getting people's trust. You have to give your customers time to get to know you and it makes it easier when they let you talk to them. I'm not bothered when someone winds up their window or pretends to be speaking on their phone when I approach them. I just smile and move to the next car."
"I'm not bothered when someone winds up their window or pretends to be speaking on their phone when I approach them."
Despite his optimism, Mabuwa is frank about the challenges that he faces. "Many people know me, but I have fewer than 100 customers who buy from me in a month. The problem is that people have their vendor and won't buy from anyone else. Also, often people don't carry money on them. The Big Issue now has Snapscan, so people can just pay that way, but I have noticed that not many people have the app."
Mabuwa's approachable nature has gained him unexpected temporary work opportunities through some of the motorists he has met over the years. "I got a job packing coffee beans for Rosetta Roastery in Woodstock every Tuesday through one of my customers. I have also started invigilating exams at a local high school. I have enjoyed the invigilation and want to see if I can find more of this work with other schools or colleges."
Mabuwa remembers witnessing a hijacking in broad daylight and directing the victim to his police friends who stand at the minister's house at the top of the road. "It's funny, because when I first moved to sell in Newlands, the police beat me up. Now they are my friends. I know everyone around the area. I have residents' and police phone numbers. If I see any strange activity, I inform the police."
Mabuwa grew up in Butterworth in the Eastern Cape and moved to a shack with his mother in Nyanga in 1990. He speaks fondly of his mother, who has since moved back to Butterworth, as the person from whom he learnt his sales tactics. "My mother owned a sewing machine, so she would sell clothing to people in Nyanga and Claremont. She was always patient and never worried if we did not make enough money that day."
In 2004, Mabuwa married Zingiswa, who packs books for Paarl Media two to three times a week. His older son Likha (9) attends Bonga Primary School. Mbali (5) attends Makazi Creche. Likha always picks his brother up after school and they wait at their aunt's house nearby until their parents finish their day's work.
"When I first moved to sell in Newlands, the police beat me up. Now they are my friends."
With a matric certificate and a course in Informal Business Management to his name, Mabuwa hopes to achieve further qualifications. He sold gas for Afrox and did electrical signage, although it is hard for him to find electrical jobs, because he does not have a licence. "I'd like to get the Trade Test Certificate, so that I can work in an electrical company, because I really like that type of work. I'd also like to study marketing management, since I am used to making sales and I know a lot about customers. I just don't have the funds for a qualification right now."
Dodgy people are suing us. Please support us by contributing to our legal costs and helping us to publish news that matters.
© 2016 GroundUp.
This article is licensed under a
Creative Commons Attribution-NoDerivatives 4.0 International License
.