Beware these fake claims about Covid-19
We debunk nonsense being spread about the pandemic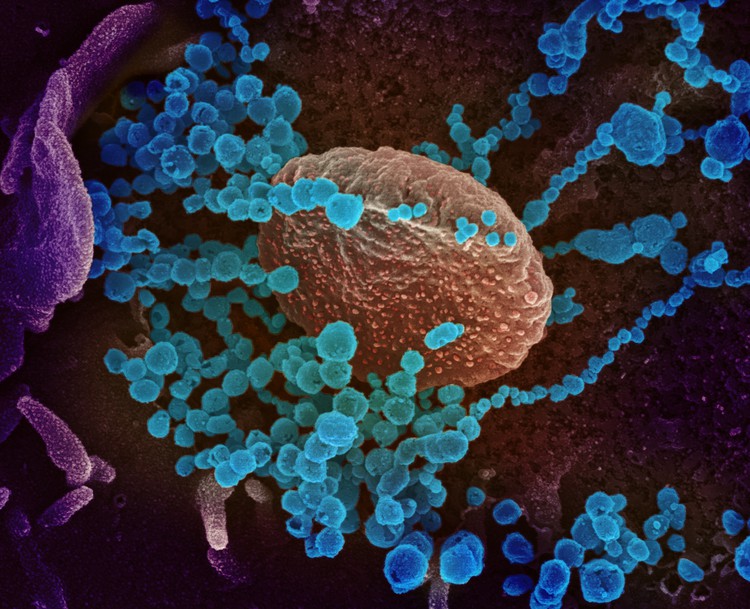 Many untested and false claims are being made about Covid-19 and spread on social media. Here we list and debunk claims that appear to have gained traction among some South Africans. We will try to keep this page updated, debunking the latest nonsense.
False: Rashid Buttar's conspiracy theories about Covid-19
True: Humans did not create the coronavirus that causes Covid-19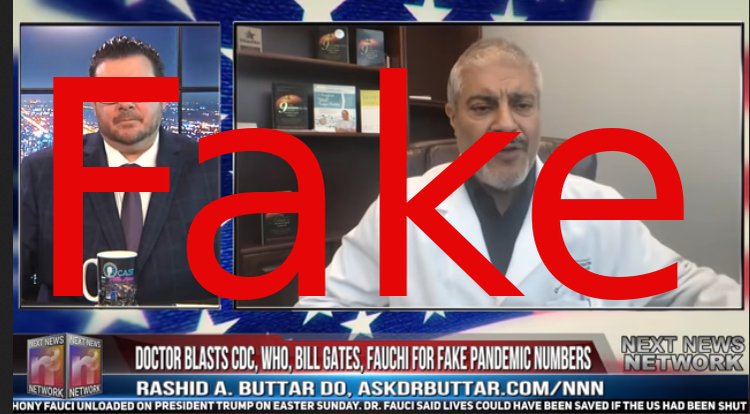 A WhatsApp message linking to a video interview with Rashid Buttar by a fake news organisation called Next News Network has circulated widely in South Africa. Buttar is a discredited osteopath who promotes false conspiracy theories about Covid-19. One of his false claims is that the coronavirus (SARS-CoV-2) that causes Covid-19 was artificially created. Scientists have actually looked into the possibility that the coronavirus was artificially made. Writing in the world's most prestigious scientific journal, Nature, they concluded: "It is improbable that SARS-CoV-2 emerged through laboratory manipulation of a related SARS-CoV-like coronavirus."
You can find a comprehensive debunking of Buttar here and here.
False: Bill Gates is involved in a Covid-19 conspiracy
True: Gates is trying to find solutions to the Covid-19 crisis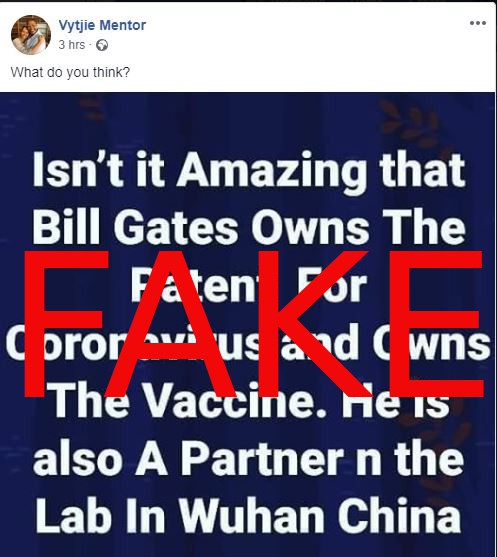 Former ANC MP Vytjie Mentor has been actively sharing misinformation about COVID-19 on her Facebook page, even though her claims have been widely debunked by credible fact-checking organisations.
Bill Gates is one of the main targets of her misleading posts. One claim is that Gates owns the "patent" for COVID-19 and is "partner" in the laboratory in Wuhan China where conspiracy theorists claim the virus was created. This claim has been widely debunked, including by FullFact, a British fact-checking organisation.
Another post on Mentor's Facebook page is about a manufactured controversy claiming that several girls in India had died after the Bill and Melinda Gates Foundation funded a study to see if human papillomavirus (HPV) infections could be reduced by providing cost-effective vaccines to impoverished communities.
An Indian government investigation later found that seven girls involved in the trials had died, but none as a result of the vaccine, according to Snopes. The study found that one girl drowned in a quarry; another died from a snake bite; two committed suicide by ingesting pesticides; and one died from complications of malaria. The causes of death for the other two girls were less certain: one possibly from pyrexia, or high fever, and a second from a suspected cerebral hemorrhage.
There are criticisms to be made of the Gates Foundation, but these are not them. And there is no doubt that Gates is genuinely making an effort, sometimes successful, to alleviate infectious diseases across the world.
Mentor also shared a post claiming that the COVID19 "accidentally leaked" from a laboratory in Wuhan, the Chinese city at the epicentre of the outbreak of the virus in China. Although the claim that the virus was created in a laboratory has been shot down by researchers, it continues to do the rounds on social media.
False: Hydroxychloroquine is known to be an effective treatment against Covid-19 (as of April 2020)
True: Clinical trials are underway to test hydroxychloroquine against Covid-19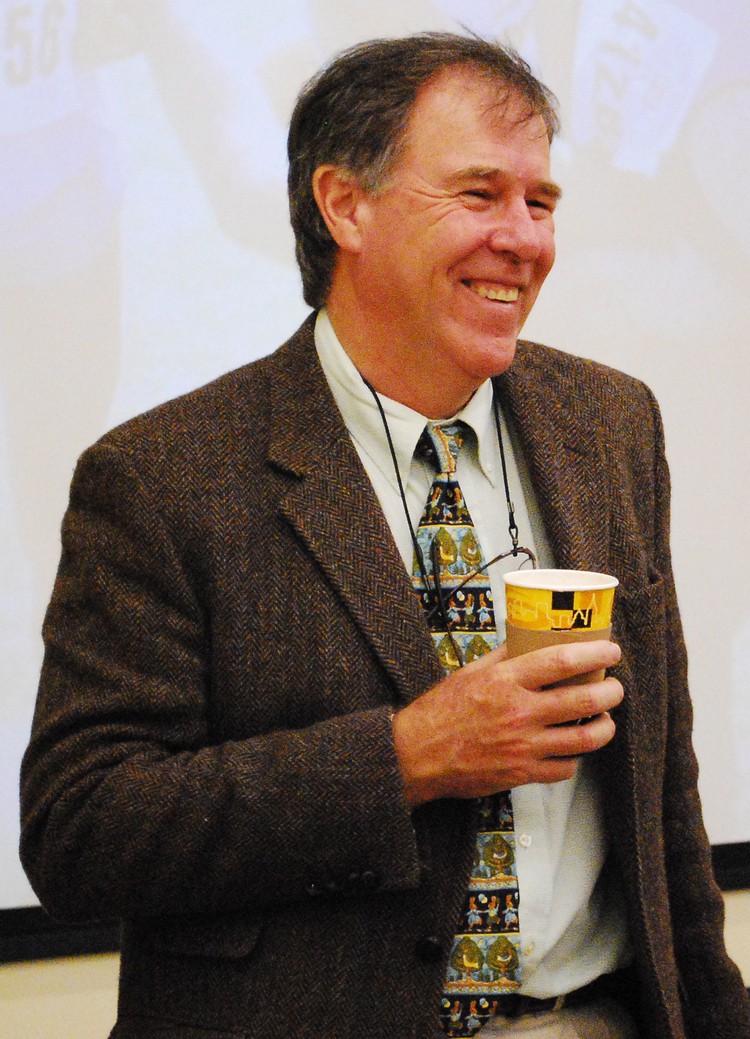 Professor Tim Noakes in a radio interview made several false or misleading statements about Covid-19. We have debunked them in this article.
False: It's unsafe to eat salad
True: If you wash fresh fruit and vegetables before eating them they are safe, irrespective of Covid-19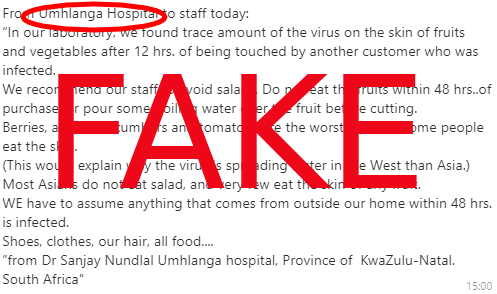 A message circulating on WhatsApp falsely warns of the dangers of eating salad - and also cautions against eating fruit "within 48 hours of purchase".
The unsigned message claims to originate from a doctor friend at Umhlanga Hospital. It falsely says: "our laboratory … found trace amount of the virus on the skin of fruits and vegetables after 12 hours of being touched by another customer who was infected." It goes on to suggest that the virus is spreading faster in the West "than in Asia as most Asians don't eat salad".
It ends with very bad advice: "We must assume that anything that comes from outside our home within 48 hours is infected."
It's all nonsense. (And Asians, like Africans, Europeans, South and North Americans, Australians and nearly everyone else in the world, do in fact eat salad.)
A nearly identical message, with its poor grammar replicated, did the rounds on the other side of the globe last month, but it was attributed to "a trusted (unnamed) source in Hong Kong today".
So it's clearly a fake message that's been repurposed for South Africa.
Wash your fruit and vegetables before eating them. This is good advice irrespective of the Covid-19 epidemic. And you can eat them immediately after purchasing them if you wash them.
False: Testing swabs are contaminated with Covid-19
True: Testing swabs are perfectly safe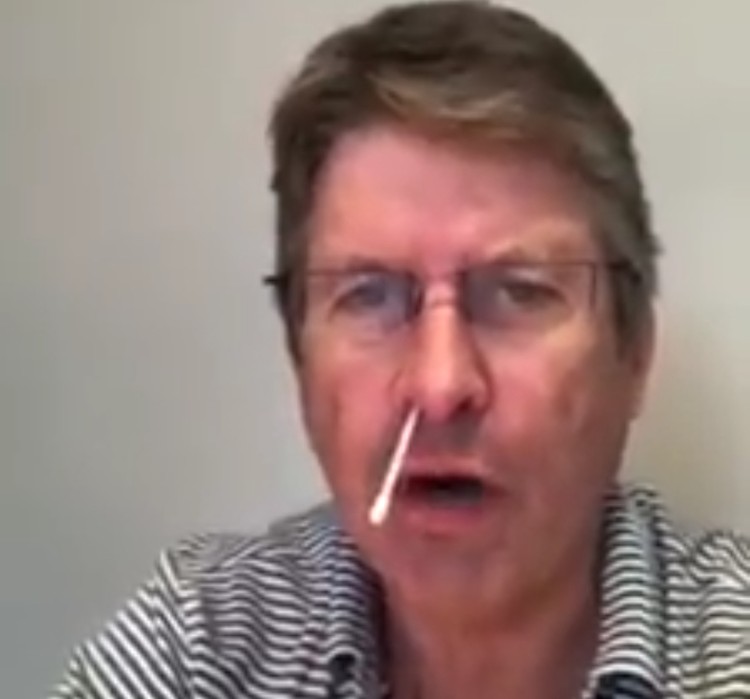 A video in which a Cape Town man, Stephen Birch, sticks a cotton bud up his nose while falsely proclaiming that contaminated coronavirus test kits are being used to spread the virus has gone viral.
Testing swabs used in South Africa are sterile and are not contaminated. It's perfectly safe to have a Covid-19 test.
According to Algoa FM a criminal charge has been laid against Birch for contravening South Africa's national disaster regulations.
In the video, Birch quotes a story in a British newspaper claiming that virus testing kits destined for the UK were found to have been contaminated. Even assuming the story is true, in its original version published by the The Telegraph it is clear that the problem was found and rectified before any kits were distributed. Also it is irrelevant to what's happening in South Africa.
In his video Birch irresponsibly asks people not to participate in the new door-to-door testing campaign that has been launched in South Africa.
Birch is a conspiracy theorist. His latest video missive on Facebook warns of the dangers of 5G without quoting any credible source - much like he did with the "contaminated" test kits video. There is no proof that 5G is a health hazard. That scare emanates from flawed research that has been seized on by people who believe it is true and regularly quote it as "proof".
False: Alkaline diets help against Covid-19
True: Alkaline diets don't help against disease and may even be dangerous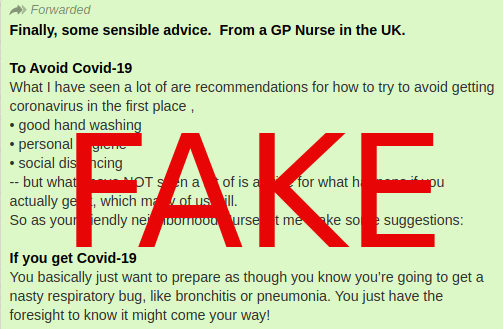 A message being circulated on WhatsApp claims to finally be "some sensible advice" from a UK nurse. The message indeed does contain some common sense good advice, like washing your hands. But then it devolves into nonsense. In particular it claims that the pH for the coronavirus varies from 5.5 to 8.5 and that "to beat coronavirus" you need to eat alkaline foods about the virus's pH level. There is not a shred of evidence to support this claim.
Your blood's pH is about 7.4 and nothing you eat will change it. If it does, you'll need a fast trip to the emergency room to save your life. For more on why high alkaline diets are not what they're cracked up to be, read this article.
False: Coronavirus is man-made
True: Scientists have analysed the coronavirus that causes Covid-19 and concluded that it evolved in animals, probably bats or pangolins
We do not know if the former Libyan leader Muammar Gaddafi actually said what this image being circulated on WhatsApp ascribes to him. But beyond reasonable doubt the coronavirus that causes Covid-19 evolved naturally in animals and spread to humans unintentionally. Scientists have actually looked into the possibility that the coronavirus was artificially made. Writing in the world's most prestigious scientific journal, Nature, they concluded: "It is improbable that SARS-CoV-2 emerged through laboratory manipulation of a related SARS-CoV-like coronavirus."
False: Barack Obama has recommended against using vaccines
True: Barack Obama supports the use of vaccines
---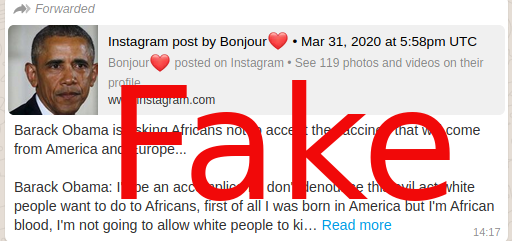 A WhatsApp message falsely claims that former US President Barack Obama is asking Africans not to accept vaccines from Europe and America. The claim is entirely false. Obama has never said any such thing. Vaccines in the South African public health system are safe, manufactured and tested across the world and save lives. At the time of writing (6 April 2020) there is no vaccine for Covid-19.
Barack Obama supports the use of vaccines as this article explains.
---
Dodgy people are suing us. Please support us by contributing to our legal costs and helping us to publish news that matters.