The Auditor-General Problem
|
Daniel Hofmeyr and Zackie Achmat
Opinion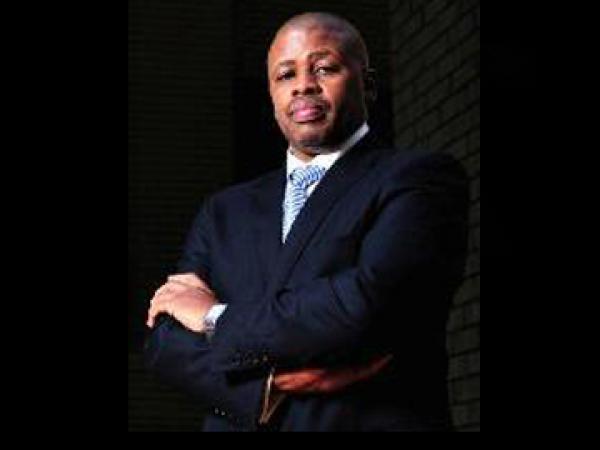 The Auditor-General's (AG) report on the use of consultants and contractors demonstrates some very important facts. It shows that government is operating in an environment where financial and other controls are lacking. This not only creates an atmosphere in which corruption blossoms, but also allows for those contractors appointed in good faith to take chances and not perform their contractual obligations properly.
The AG audited a sample of 8 out of 45 national departments and only 124 contracts worth R5.5 billion were audited. Findings were made against all 8 departments: Correctional Services; Defence; Environmental Affairs; Health; Police; Rural Development and Land; Transport and Water Affairs.
The Department of Defence spent the most on consultants, a total of 31% of the total expenditure audited.
The Department of Defence
In 1986, the South African Defence Force troops (SADF) was occupying our townships and fighting wars with neighbouring countries. At that time the SADF entered into an agreement with a private company to provide consultancy services to its air-force division. This open-ended apartheid-era "contract" with private consultants is still in existence almost 20 years since the ANC took power, without ever being reviewed or renewed.
Over three years, about R860 million has been paid to this company. Of this R860 million, over R130 million was paid over without any supporting documentation or ever being accounted for. The Department also concluded a contract providing for 72 cleaners to do maintenance at a military hospital however, only 34 cleaners were provided. The government thus spent almost R8 million on a contract where only half the agreed cleaners were provided.
Additionally the Department paid almost R2.5 million to skilled and general labourers without ever verifying that the labourers actually worked the prescribed hours, or any hours at all.
The Department of Police
Given the recent focus on police inefficiency in the media, some alarming contracts were pointed out in the report regarding SAPS.
In 2004, SAPS entered into a R92 million information technology (IT) contract that aimed to set up of an online fire-arms control register. Since entering the contract four addendums have been added, increasing the contract price to over R400 million. SITA's Supplier Selection Authority recommended that the tender be awarded for R100 million.
The IT system was scheduled for completion in March 2006. To this day it has still not been completed. Apparently, the SAPS are now investigating the contract.
Underestimating the cost of a contract is clearly demonstrated by the Auditor-General when the SAPS wanted to refurbish the Nyala vehicles. The contract was concluded for R80 million rand but more than double the amount (R170 million) was paid out to the consultants. SAPS had no capacity to adequately assess the cost of refurbishing the vehicles and they allowed consultants to do additional work without quotations or authorisation.
General Findings
Apart from the specific findings against the departments, the AG also made general findings.
In appointing consultants or contractors needs assessments, planning and deliverables were often not done.

20 contracts worth R320 million were awarded without any competive process.

Two contracts worth R859 million were open-ended.

Six contracts worth R111 million were signed only after the work had begun, while others were not signed at all.

No adequate record exists motivating the need for awarding another 63 contacts worth nearly R2 billion

42 contracts worth R3 billion were made because government lacked capacity but more than half of the contracts worth R1.8 billion did not include skills development or transfer. Where such contracts requiring skills transfer or development existed, they were ineffective.

For 21 projects worth nearly R2.4 billion, contracts and payments were not properly monitored.
Systemic problems
These findings illustrate at least three systemic problems with the use of consultants and contractors.
First, the Auditor-General's evidence shows that the need for external capacity does not neccesarily always exist. For example, almost R2 billion out of the R5.5 billion audited there is no adequate motivation based on whether there was a need for outside capacity or record of proper appointment.
Second, when consultants or contractors are needed, the state departments very often do not follow lawful procedures in appointing such contractors or procuring services. Last, state departments appear to have little or no capacity or desire to monitor consultants or contractors.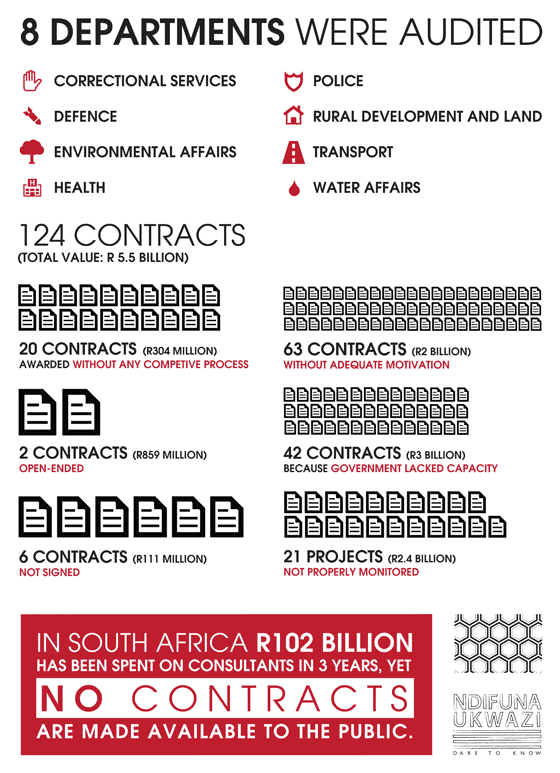 Graphic: Fritz Jooste (fritzjooste.com)
The Problem of the Auditor-General, Parliament, Government and Civil Society
The Auditor-General's Office (AG) is one of the most important institutions of government and democracy created by the Constitution to oversee public finances. Since the foundation of democracy, the AG has out-performed most public and private bodies in detailing and making public financial mismanagement and possible cases of corruption.
The auditor-general, however has no prosecuting powers and it serves only as a vital source of information to Parliament and to the public. The legislature is supposed to ensure that corrective and punitive action is being taken, but to date there has been a major problem with implementing the AG recommendations.
The AG's reports to Parliament are always met with much hand-wringing and noise, thereafter, it all goes quiet until the next report.
Civil society is therefore compelled to act. We must ensure that Parliament takes action where the President, Cabinet Ministers and Treasury fail in their duties. In order to do this we need access to the relevant contracts, specifically the names of the private actors contracted with, what they have been required to do and the relevant time frames.
It is for this reason that we demand that all public private partnership agreements and contracts be published in full and be made available online by the relevant national departments and public entities. They must be made available at all public libraries and at the offices of relevant departments.
Section 75 of the Municipal Finance Management Act already requires this and much more from local governments, though this legislation is barely adhered to. It is ironic that this openness is not extended explicitly in the Treasury Regulations or the PFMA.
Civil society and the media must ensure through organisations such as Corruption Watch that action is taken against those responsible for financial mismanagement and those who are guilty of financial misconduct. Immediate public access to key agreements, contracts, tenders that impact on public services or the public purse must be a priority for all organisations especially those of us who are a part of the Right to Know campaign.
The writers are with Ndifuna Ukwazi.
© 2016 GroundUp.
This article is licensed under a
Creative Commons Attribution-NoDerivatives 4.0 International License
.