Anti-Zuma protesters released
Eight #UniteBehind members arrested for trespassing will appear in court in December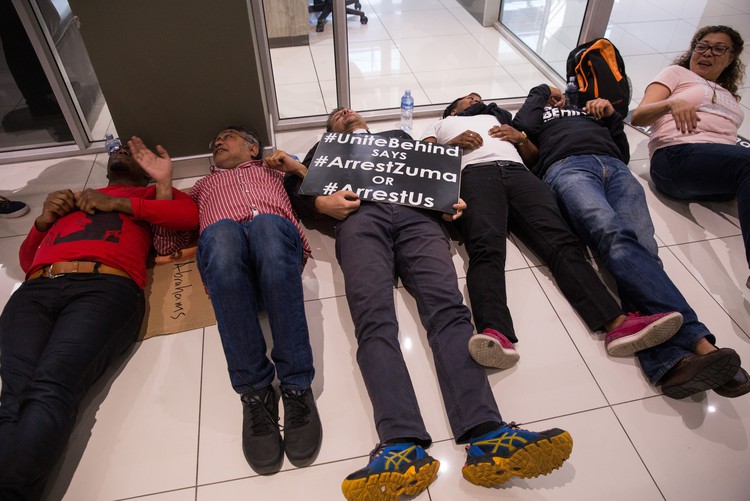 The eight #UniteBehind Coalition members who were arrested for trespassing at the National Prosecuting Authority office (NPA) during a demonstration on Wednesday, appeared at the Cape Town Magistrate's Court at around 11am on Thursday morning.
The coalition members had occupied the NPA offices at around 1:30pm on Wednesday and demanded to see President Jacob Zuma's warrant for arrest. They refused to move. At around 5:30pm police arrested eight members of the group.
The eight are: Zelda Holtzman, June Esau, Naeem Frances, Zukiswa Vuka, Alan Storey, Zackie Achmat, Benson Ngqentsu and Sipho Citabatwa.
Daniel Linde, the group's lawyer, said they were told they were going to be released, without bail, on the same day. However, Linde said the members were kept in the police station overnight.
"A lot of them [the members] need to take medication every night and because we were told that they were going to be released on the same day, we didn't arrange for their medication to be brought to the police station," said Linde.
Holtzman said they were processed at the Cape Town Central Police Station for about 12 hours before they were taken to the Cape Town Magistrates' Court's holding room.
Police refused their request for their medication to be brought to them. Holtzman said this was in "violation of human rights".
Holtzman said, "The State Prosecutor proposed that one of the conditions for our release be that we will not be allowed to enter the NPA offices without their [NPA] permission. We rejected this condition and the judge also ruled against it."
She said they were released on a warning, without conditions, and are set to appear again in court on 5 December.
© 2017 GroundUp.

This article is licensed under a Creative Commons Attribution-NoDerivatives 4.0 International License.
You may republish this article, so long as you credit the authors and GroundUp, and do not change the text. Please include a link back to the original article.