Another Metrorail nightmare
Stuck train results in delays and overcrowding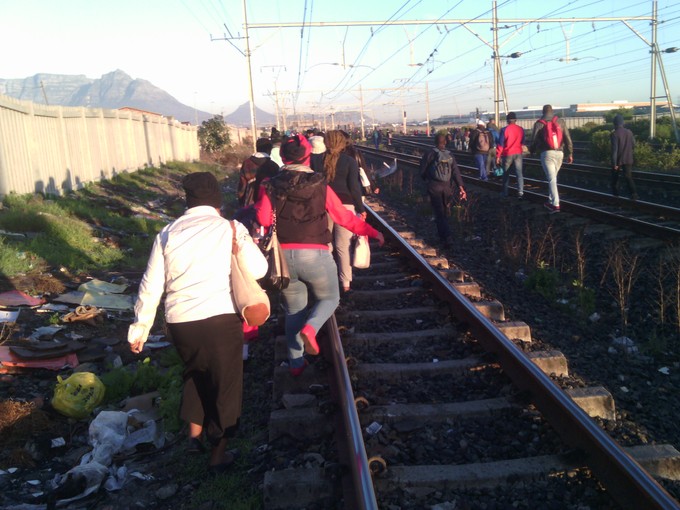 As usual, I left home at 6:30 am this morning to walk to Nyanga Junction train station. I arrived at about 7 am. I boarded the 07:30 am train to Cape Town. It got stuck midway between Netreg and Bonteheuwel train stations.
After about 20 minutes passengers became impatient. They jumped off the train and walked about 700m to the Bonteheuwel train station.
Among the passengers were school students carrying bags at their back.
Metrorail announced that the delays were caused by a train that had failed at Bonteheuwel train station. Indeed, at the station there was a stuck train.
One train to Cape Town arrived but I could not squeeze in. Some passengers went to the extent of asking the Metrorail person at the back of the train who is responsible for blowing the whistle to allow them to stand in his compartment.
At 08:24 am I managed to jump onto a train to Cape Town. I arrived at work in Rondebosch by 9 am.
I usually aim to be at work between 08:00 am and 08:30 am, and I leave early to account for unforeseen Metrorail delays.
Dodgy people are suing us. Please support us by contributing to our legal costs and helping us to publish news that matters.
Letters
Dear Editor
Every morning the train is either late or cancelled, and all they ever says is they apologise for the inconvenience.
Why can the corporate world not get involved and sort out this problem for good?
Also they must please tell us on which trains they have security guards because I am travelling on the Cape Flats line for 15 years now and there are never any of our trains. We see them in the evening when they leave for home and that is at 4 pm with their bags on their backs (Sechaba Security).
© 2016 GroundUp.

This article is licensed under a Creative Commons Attribution-NoDerivatives 4.0 International License.
You may republish this article, so long as you credit the authors and GroundUp, and do not change the text. Please include a link back to the original article.