Angy Peter application to have case thrown out unsuccessful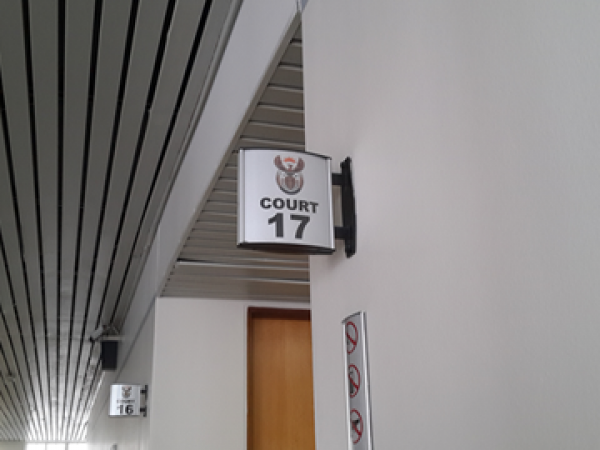 Advocate William King for the defence applied under Section 174 of the Criminal Justice Act to have the case against Angie Peter quashed. The section allows for a case to be discharged if after the prosecution has outlined its case, there is a lack of evidence. But on 18 June the application was dismissed.
Advocate King requested that the judgement be explained, but Judge Robert Henney offered no explanation the following morning.
Angy Peter explained the defence's version of events. She and her husband, Isaac Mbadu, are accused of the kidnap and murder of Rowan Du Preez, murdered in October 2012. Two other men, Azola Dayimani and Christopher Dina, are accused of kidnapping and assaulting Du Preez.
On the night of 11 August 2012, a television set was stolen from Angy Peter and Isaac Mbadu's family home. This was the start of a series of events that led to Du Preez being kidnapped and necklaced. He died from the burns.
Angy Peter took the stand yesterday. She stated that on the night in question, when Du Preez was kidnapped and assaulted, she was at home in bed with her family. She stated also that she was pregnant at the time.
Advocate William King spent time leading Peter through her personal history with Du Preez. They met in 2010 when he was being assaulted by community members for an alleged theft. Peter intervened and stopped the assault.
Peter is a founding member of the Social Justice Coalition (SJC) formed in response to the xenophobic violence of 2008. The SJC has been involved in human rights and social justice activism in Khayelitsha.
Peter described Du Preez as a criminal and a gangster. She said he was a member of the Hard Livings gang, but tried to change his life. In 2011 he joined the SJC.
After Du Preez was arrested in February 2012, Peter met with him on a weekly basis. She said she was trying to help him to move away from gangsterism and crime.
After her TV was stolen in August 2012, she spoke to Du Preez to find out if he knew where the TV was. She ascertained that he'd stolen the TV and sold it to a 'Ta Tobz'. The TV was then in the possession of a 'Ta Ager'. She later discovered that 'Ta Ager' was in fact a colonel in the SAPS. She knows his name, and that he is stationed at the Mfuleni Police Station in the Crime Intelligence division.
Angy Peter says that she contacted the Provincial Commissioner's officer, General Arno Lamoer, though no help was forthcoming.
She then contacted the Independent Police Investigative Directorate (IPID), the body tasked with investigating police criminality and corruption. IPID instructed Lieutenant Colonel Redelinghuys to investigate the matter. Peter said she met with Redelinghuys, who said that he did not tolerate police corruption and assured her that he would address the matter.
According to Peter, Du Preez's friends contacted her and warned her, saying that she should be careful as 'Ta Ager' may kill her. After she discovered 'Ta Ager' was a police officer she moved herself and her family to a safe house.
Peter said that as far as she knew, no case had been opened against 'Ta Ager' and that Du Preez was released without charges. Du Preez had been arrested for the theft of the TV and was released by Redelinghuys.
Advocate King and his legal team had formally opened a case against Ta Ager. The status of this case is unknown.
Dodgy people are suing us. Please support us by contributing to our legal costs and helping us to publish news that matters.
© 2016 GroundUp.
This article is licensed under a
Creative Commons Attribution-NoDerivatives 4.0 International License
.