ANC members tire of waiting for imposed ward councillors to resign
Residents of King William's Town and Qunu protest against councillors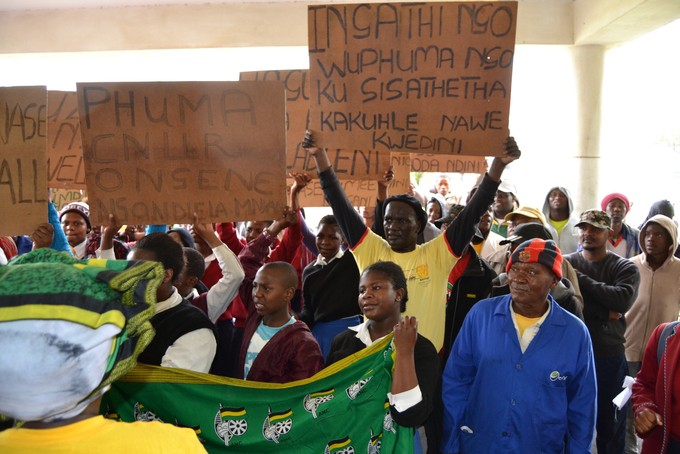 Angry ANC members in the Eastern Cape have accused the provincial leadership of dragging their feet about removing ward councillors imposed on voters.
This comes after ANC members were told to vote for ward councillors on the promise that they would resign the day after the 2016 local elections held in August.
Three months later, talk of removing ward councillors has evaporated. Now, ANC members say they will take matters into their own hands.
Last week, more than 100 disgruntled ANC members from ward 39 marched to Buffalo City Metro Municipal Offices in King William's Town to hand over a memorandum to the mayor's office demanding that their ward councillor, Bongani Dyonase, step down. They gave him seven days to resign.
They accuse Dyonase of giving municipal jobs to his friends and family, and of sowing division in the ward. The protesters say he lacks a political background. Thobekile Sobopha was their preferred candidate.
Community leader Dumisani Moni said they won't rest until Dyonase goes. "This is very simple: the ANC must deliver what they promised us or all hell will break out. We are tired of waiting for them. All we want now is for the ANC to give us a date for by-elections and Dyonase to resign within seven days," said Moni.
"We followed all the channels. Provincial executive is aware of this. We sent them a number of letters telling them to remove Dyonase, but they are dragging their feet," he said.
Another ANC member, who did not give his name, said if provincial leaders failed to make Dyonase resign, they would close King William's Town down.
"We will close all entrances to town and we will make sure everything stands still until they take us seriously," he said.
Buffalo City mayor Xola Phakathi's spokesperson Ayabulela Ngoqo said they received the memorandum and are busy looking into it.
"The mayor is going to have a meeting with all those involved, including the political party and see how we can solve this," he said.
Ward 19 also wants councillor out
Meanwhile, ANC members in Qunu Village, ward 19, under King Sabata Dalindyebo local municipality, have vowed to continue with their protest unless their ward councillor, Unathi Diniso, is changed as promised.
Sporadic protests started in August when schools and clinics were closed and the N2 was blocked with burning tyres.
A protest earlier this month blocked the busy N2 between Mthatha and Butterworth. Milton Mbekela Senior Secondary School was vandalised during the protest.
One of the protest leaders, Phikolomzi Habe, said during the nomination process for ward candidates the elections were between Mntunzima Thwala and Bantu Habe. Voters were surprised when they were told to vote for Diniso.
Habe said the ANC had forced Diniso on them.
Eastern Cape Department of Education spokesperson Malibongwe Mtima confirmed that schools in Qunu village had been targeted by protesters. He also confirmed that Milton Mbekeni was vandalised by protesters.
Attempts to get ANC Eastern Cape to comment failed.
Dodgy people are suing us. Please support us by contributing to our legal costs and helping us to publish news that matters.
Letters
Dear Editor
My name is Phikolomzi Habe, one of the people quoted in your article.
I want to correct some misleading information. The article says that according to Eastern Cape Department of Education spokesperson Malibongwe Mtima, Milton Mbekela SSS was vandalized by protesters. This is not true. Criminals stole a computer and then later vandalized Milton Mbekela to confuse the police into thinking that it had something to do with the strike.
© 2016 GroundUp.

This article is licensed under a Creative Commons Attribution-NoDerivatives 4.0 International License.
You may republish this article, so long as you credit the authors and GroundUp, and do not change the text. Please include a link back to the original article.