ANC and the subversion of democracy: history repeats itself
There's nothing new in the imposition of candidates against the will of the majority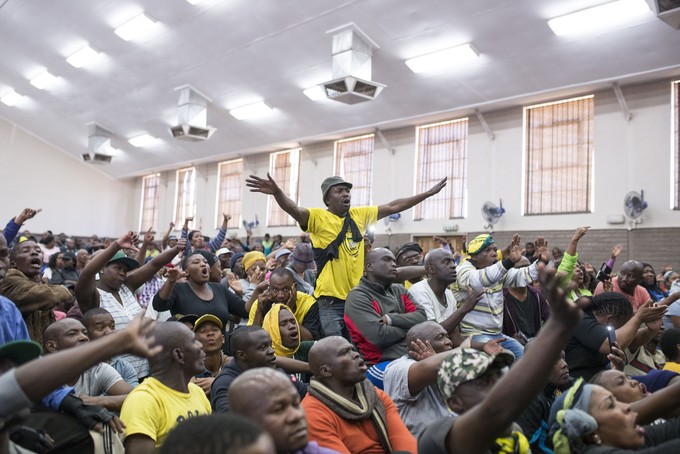 There is nothing new about the ANC imposing candidates and leaders against the wishes of the majority of members. A long history of this practice extends into the exile years. I know, because I was once involved in just such a fracas, in 1981.
The difference is in the open defiance and violence seen in areas such as Tshwane over the past week. However, this was also complicated by the emergence in recent years of a culture of patronage coupled with the fact that, for many, the only way out of poverty is to get a family member or friend onto a party list for election.
Such conditions did not apply in the exile years. And, for obvious reasons, in camps controlled by the ANC, the opposition was restricted to verbal and written complaints that, when ignored, usually subsided into grumbling and apathy.
But there always seemed to exist a grassroots demand for democracy within a movement that was nominally, and in pubic relations terms, committed to the principle. So there were occasions when the membership was allowed to nominate and elect individuals to leadership positions. In 1981 in the East African region, comprising the small ANC presence in Dar es Salaam and Morogoro and the large contingent at the school, a construction and logistics site at Mazimbu was given the opportunity to nominate a "slate" of ten members for a regional political committee (RPC).
Mazimbu, containing workshops, the construction section and the Solomon Mahlangu Freedom College (Somafco), comprised hundreds of ANC members organised into units. It was, by far, the largest ANC grouping in the region. And unit members, after debating the issues, were unanimous in nominating ten names.
This list, which I was also on, was headed by General Twala, a plumber from KwaZulu Natal who was one of the survivors of the 1962 influx into the ANC military wing, uMkhonto weSizwe (MK). For weeks we heard nothing, but I then discovered that a list had been approved that contained none of the names nominated by Mazimbu.
The approved list was lying on the desk of the head of the construction section when I called in to discuss something about the school. As a former "hot metal" journalist I had learned to quickly read upside down text, so I was able at a glance to see that the approved RPC list contained none of the Mazimbu nominated names. Heading the list was the name of the wife of the construction chief.
Having confirmed that this was the approved list, I took the matter to my perhaps appropriately named unit, Inkululeko (Freedom). The members were horrified and I was delegated to travel to Dar es Salaam to take the matter up with the leadership in "Dar".
When I lodged my complaint I was told that Twala, highly respected by the Mazimbu members, was "an illiterate" and inappropriate. But there had been a mistake in leaving my name off. It would be reinstated on the official list. When I pointed out that this was contrary to every democratic principle, I was informed that members could not be allowed to vote for whom they pleased; if they did "they will vote for Trotskyists, anarchists and all that rubbish".
On behalf of the majority of ANC members at Mzimbu, I would not compromise. So the ANC simply did not then elect a regional RPC. A year later, this incident seems to have influenced a report by the then national commissar into why I had resigned from Somafco. He noted that I was "a plotter, a snooper a provocateur and anarchist who was very influential" and he was glad to be rid of me.
Fast forward to 1989 and the Dakawa "development centre" north of Mazimbu. There, again with majority support, there was a demand "that the Freedom Charter be immediately implemented in Dakawa so that our place should serve as a model for a future democratic and non racial South Africa".
This was followed by a crackdown, with "our own democratic procedures" being seen as a "loophole" that allowed discontent. Yet, more than a year earlier, the head of the Vocational Training Centre at Dakawa, Wintshi Njobe, had warned that the "authoritarian structures" in the camp were the cause of discontent. He recommended: "…more democratic procedures in the management of life of people living there".
As an eventual concession to democracy, an election was held in September 1989. It involved delegates from all ANC sections in Tanzania.
Sidwell Moroka was elected as chairperson and Mwezi Twala as organising secretary. But both were former leaders of the 1984 mutiny in Angola that had demanded both democratic control and a return to fight in South Africa. They were subsequently jailed in the notorious Quadro prison camp before being released and sent to Dakawa.
Although they and the other leaders of the mutiny had been cleared by an ANC investigation of being "enemy agents", this accusation again surfaced. In any event, the leadership simply dissolved the elected RPC. When there was a protest against this, the members were told it could not be challenged: it was an order from the NEC (National Executive Committee).
There are distinct echoes of this reasoning in the justification for the imposition of some current ANC candidates. But while some dictatorial practices, in the conditions of exile, may perhaps be justified, they should have no place in a parliamentary democracy.
Dodgy people are suing us. Please support us by contributing to our legal costs and helping us to publish news that matters.
© 2016 GroundUp.

This article is licensed under a Creative Commons Attribution-NoDerivatives 4.0 International License.
You may republish this article, so long as you credit the authors and GroundUp, and do not change the text. Please include a link back to the original article.