Allegations of abuse at Kimberley prison
But report also finds much that works well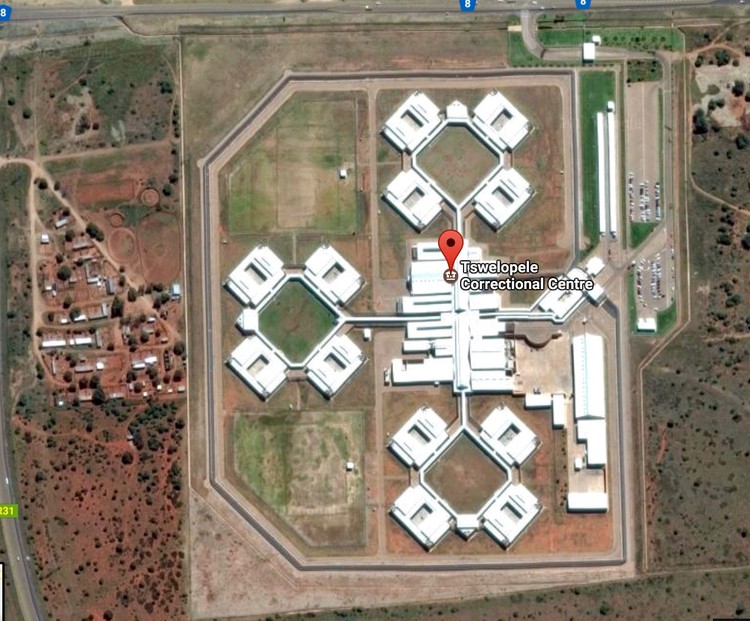 A report by Justice Edwin Cameron describes serious problems at Tswelopele Correctional Centre in Kimberley, but also finds some positive aspects to the prison. GroundUp requested the report after an allegation of assault was reported to us by a relative of one of the inmates.
Any judge is allowed to inspect a prison. Cameron and three law clerks visited the prison in October 2016. This visit was spurred by allegations by prisoners of assault.
The report describes findings of an investigation by the Judicial Inspectorate of Correctional Services (JICS). It found that the contract for the CCTV security cameras expired more than a year ago and 99% of the camera recording system doesn't work, the general maintenance contract expired more than two years ago, warm water isn't available, and inmates can't freely use the toilet in the hospital wing at night if an official doesn't open the cell doors. This means inmates "are forced to make use of plastic bags and bottles to relieve themselves." Numerous allegations of ill treatment in one of the prison's units were also made.
But the report also found aspects of the prison working well. It is not overcrowded. In one unit visited, condoms are available, and almost all inmates are tested regularly for HIV. There is a mobile library and cells have televisions and radios. Prisoners can make phone calls during the day. The quality of the food is satisfactory. The prison also produces bread for Kimberley. Many of the prisoners are studying for matric or with UNISA. Cameron wrote that Hendrik Johannes, the head of the prison, and his staff were informative, professional and experienced. "Overall, the centre is in good condition and, though there are design problems, such as the lack of access to hospital ward bathrooms at night, the building itself is new and clean and functional."
The report also tells this story: "During our visit, a long-term insider, nicknamed Klaargelag ("Done Laughing"), presented a poem about HIV awareness, which he performed. His performance was dramatic, energetic and unforgettable. The offenders' response to Klaargelag's presentation was jubilant and evidently appreciative."
Inhumane treatment at K2
Much of the report deals with a unit called K2. The complaint GroundUp received — which we are continuing to investigate — is about an inmate who was in K2. Prisoners are threatened to be sent to this unit if they complain and once in the unit, inmates who are pursuing degrees can't continue studying and their exercise is limited. Also, prisoners said they are often intimidated by Johannes before they are transferred to K2. Further, they can only make phone calls during the weekend and these calls count as visits.
The JICS report found that treatment of prisoners in K2 is inhumane. K2 appears to be the place where "behaviourally difficult" prisoners are sent.
During the visit to K2, 15 inmates presented Cameron with complaints of assault against Johaness or other officials. Also, "several inmates stated that Johannes assaulted offenders in his office before they were sent to the unit". Although Johannes offers reasons for why force may have been used against inmates, nowhere in the report does he deny using force.
Prison officials were accused of using excessive force in incidents in November 2015. In the first a prison official was stabbed. The JICS report found that subsequent "use of force" by officials when transferring the culprits to K2 was "justified". However, a few days later prison officials assaulted inmates using tonfas. The JICS report found that this was "irrational and was employed as a punishment against inmates who were associated with the stabbing of the prison warder".
The prison doctor informed Cameron that minor injuries because of assault were treated.
Johannes told Cameron that "the use of K2 as a 'delinquent' unit may end" and that the centre may have to deal with offending inmates in their respective units to avoid K2 being overcrowded or making it a "centre for crime".
Cameron recommended that "a new system be implemented to relocate prisoners to K2". He suggested Johannes consider closing K2 altogether, which Johannes responded positively to. However, this would require a new disciplinary system to be implemented in the prison to replace the current policy of transferring delinquent prisoners to K2.
Cameron's report states that "disciplinary procedures against the officials implicated must be implemented" and recommends that "there should be decisive departmental follow up on the JICS recommendations regarding" the November assaults. It also says that the Centre should set deadlines to report on its progress.
Facts about Tswelopele Correctional Centre
Located about 5km west of Kimberley's Big Hole

Can hold 3,021 prisoners

As of October 2016 had 2,574 prisoners

186 serving life-sentences, all of whom are classified medium risk

321 prisoners are on antiretroviral treatment for HIV.

Between 420 and 450 staff, but it is supposed to have 600, including about 390 security staff, 14 nurses, nine social workers, 21 teachers, a psychologist and a doctor

Consists of three blocks with four units each (i.e.12 units), each with a gym and small yard

Has a hospital, as well as a bakery that produces bread for Kimberley
Dodgy people are suing us. Please support us by contributing to our legal costs and helping us to publish news that matters.
Letters
Dear Editor
South African Prisoners Organization for Human Rights (SAPOHR) once again welcomes the findings of constitutional court Judge E. Cameron and about damning human rights violations at a prison that should have been a New Generation prison.
These findings reiterate his earlier findings that confirmed a United Nations reports late last year (2016) about human rights atrocities that were and still remain the order of the day in Pollsmoor Prison. Human rights abuses of inmates from Cape Town to Mpumalanga (Barberton Prison) often goes unnoticed and unreported. It is and remains the belly of the beast.
Prisons the world around should not be in the business of punishment and torture. Imprisonment is punishment enough.
"In Prison, an individual is subject to isolation, confinement in a control unit, violent, torture, gangsterism, gang rape, guard brutality, organized black and white supremacy and life of boredom and useless toil."
No wonder when a person ends up in prison, one comes out hardened, daring and violent. A perfect example was the hijacking of the Deputy Minister of Correctional Services & Justice, Thabang Makhwetla, by repeat, habitual and dangerous offenders, some who are out on bail.
© 2017 GroundUp.

This article is licensed under a Creative Commons Attribution-NoDerivatives 4.0 International License.
You may republish this article, so long as you credit the authors and GroundUp, and do not change the text. Please include a link back to the original article.