Allegations of abuse in clothing factories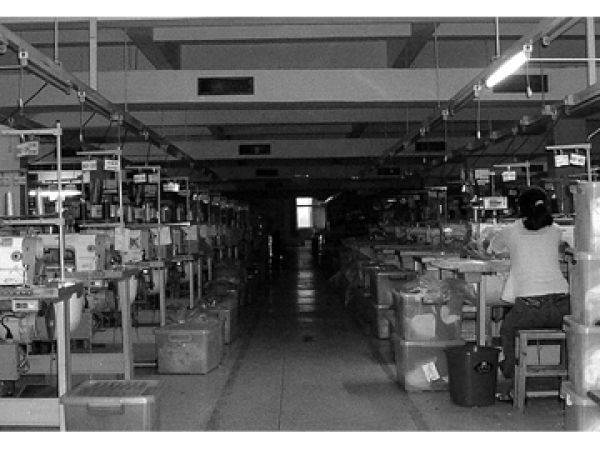 Workers in Kwazulu-Natal clothing factories have made allegations of abuse against factory owners in affidavits provided to GroundUp.
Locked in a factory overnight, wage deductions for going to the toilet, managers watching you during your toilet breaks to make sure you are not slacking off, docked more than a day's earnings for taking a day's sick leave, having to walk home in the dark across open fields because no transport is provided, attacked by a factory owner's dog, invasive body searches - these are some of the allegations made in affidavits by clothing factory workers in KwaZulu-Natal. The affidavits were collected by the Southern African Clothing and Textile Workers Union (SACTWU).
The wages for factory workers vary. Many workers regularly earn less then R300 for a 45-hour week. One Newcastle machinist was paid R774 for two weeks in which she worked six overtime shifts and two Saturday shifts for a total of over 116 hours, giving her an average of R387 for those two weeks, or less than R7 per hour. Other weeks, however, her wages amounted to R324 and R235. She does not know how to account for these discrepancies. Like many other factory workers, she does not receive payslips detailing how her wages are calculated.
This confusion is compounded by unstandardized wage deductions for "offences" such as talking during work, or spending too long in the toilets. According to one worker, an old lady in her factory stopped using the toilets altogether because of these penalties.
Workers also have their wages deducted for taking off sick. One worker said, "If we are sick, we have money deducted from our wages even if we can produce a certificate from a doctor. The deduction for being sick for one day is more than the wage I earn in one day."
Even in factories where a quota (or piece) system is used, lack of clarity over the calculation of wages leads to workers not understanding how or why they earn what they do. One such worker described her frustration with this uncertainty, "I was assigned a target of 1,500 garments. I managed only 1,000 garments for that day and as a consequence the management informed me that the three hours of pay will be cut from my wage as I chose not to do overtime. Since I do not receive a payslip, I do not know how much money three hours worth of deductions is. That was never clear to me."
One affidavit describes how workers from Lesotho live on the factory premises in shipping containers and alleges that a worker died in these containers. Many foreign workers work without legal documentation. Another affidavit described a case in which the employer offered to provide some foreign workers with work permits restricted to employment in the factory for R800 but they had to refuse because of cost and the restrictive nature of the permits.
Factory workers have many concerns for their safety. Those who work overtime have no safe means of getting home and often have to walk home through an open field after dark. Those who stay in the factory overnight also face danger. One worker expressed worry over the state of her colleagues who worked the 7pm to 7am shift, "About 7 or 8 workers work the night shift and they are locked in the factory for the entire shift. The employer simply locks the workers in the factory for the night, without leaving a key that can open the factory door for workers or for the supervisor to use in emergencies. There were two fires recently and the workers did not manage to get out on their own."
In both of fire incidents, the workers had to wait for the employers to come and unlock the factory doors.
Bathroom facilities are a recurring theme. Toilets are not regularly cleaned. They are also not stocked with toilet paper. Instead, one affidavit alleges, workers are provided with fabric cut-offs to wipe themselves. As these cut-offs cannot be flushed, they accumulate in a bucket kept next to the toilet. This adds to the filth. According to one worker, "no one with a choice would use those toilets."
Factory workers often feel as though their privacy is violated. During night shift, one worker said that the doors on toilets are replaced with glass so that the supervisor can make sure that employees are not sleeping in toilets.
Another worker described how employees are searched at the end of the day to see that they have not stolen any garments. According to her, female members of management regularly perform the invasive searches. "They search everywhere, including underneath our breasts. In doing this search these women touch our private parts, including our vaginal areas. This is very humiliating. When they search us during our menstruation periods, they demand we remove and show them our pads as proof that we are not hiding some small garment in our panties. We are forced to openly display our menstrual blood. This happens all the time."
© 2016 GroundUp.
This article is licensed under a
Creative Commons Attribution-NoDerivatives 4.0 International License
.