Agents threaten to close down police call centre
Call centre agents say salary increase was agreed to in 2013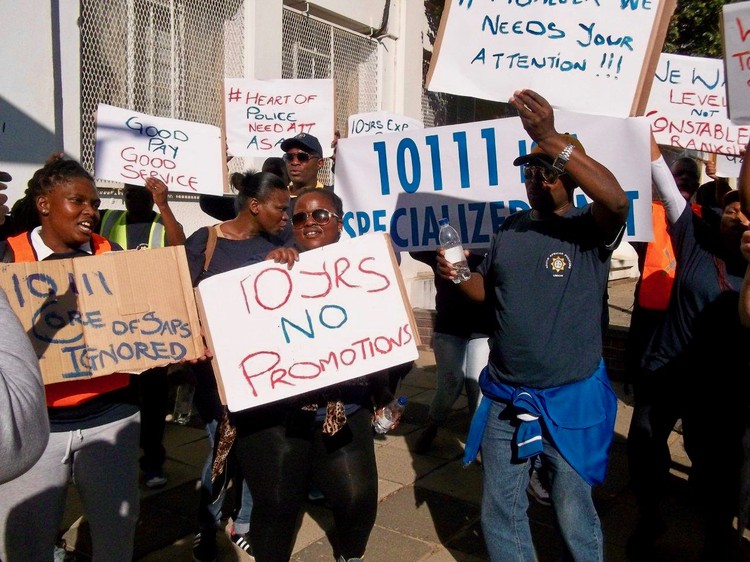 On Tuesday, about 40 police call centre agents demonstrated outside the Western Cape Police offices in Alfred Street, Cape Town, demanding a salary increase and better working conditions.
Placards read: "We say no to exploitation by SAPS" and "10111 is a Specialised Unit". They sang songs and toyi-toyied.
Helen Fritz of the South African Police Union said the workers wanted their salaries to be increased from level five to level seven. "In 2013, we had an agreement with police management that their salaries would be increased to level seven. Nothing has happened since then," she said.
Police call centre agent Zimasa Mzimkhulu said, "We work six to six shifts [6am to 6pm; 12 hours] and we struggle to get transport to work and back to our homes. As a result, we use trains, which are unreliable."
The call agents want management to provide transport.
Mzimkhulu said the headsets they used were threadbare and they sat on broken chairs at the offices in Maitland. "The management never even visit us to see the conditions in which we work," she said.
"If the bosses continue to neglect us and fail to respond to our demands within 14 working days, we will shut down the call centre," she said.
Call centre agent Mthobeli Matyolwana said conditions at the SAPS centre were poor in comparison to call centres for SARS and Home Affairs.
"Our toilets are blocked and they smell," he said.
The workers handed over a memorandum of grievances and demands to Western Cape Deputy Police Commissioner Mzwandile Mzamane. "We will see how to respond to your demands and grievances that fall under our purview," he said. "We will escalate the memorandum to the national office."
Dodgy people are suing us. Please support us by contributing to our legal costs and helping us to publish news that matters.
© 2017 GroundUp.

This article is licensed under a Creative Commons Attribution-NoDerivatives 4.0 International License.
You may republish this article, so long as you credit the authors and GroundUp, and do not change the text. Please include a link back to the original article.