After seven murders in two weeks, Manenberg residents march for peace
|
Zintle Swana and Thembela Ntongana
Brief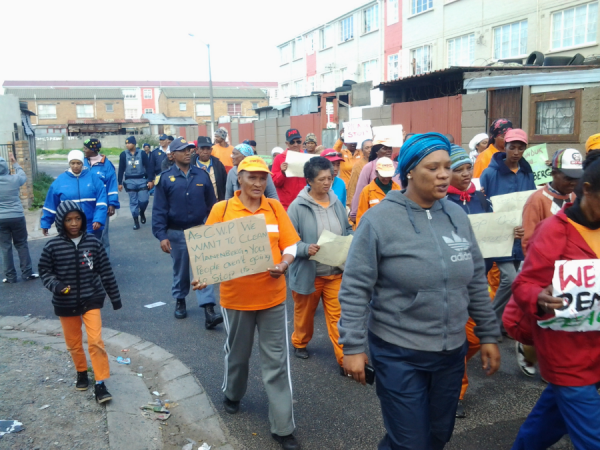 About 100 residents marched through the streets of Manenberg today in the hope of putting a stop to the gang violence that has claimed seven lives in two weeks.
Kashiefa Alexander, who lives in the street where three of the seven men were killed, says she can't have family over anymore for Ramadan.
"As the community we feel that we should put a stop to it because the innocent also get killed. I have a three year old grandchild, I had to send him away," said Alexander.
Six of the deceased men are Donavan Erusmus 17, Byron Minnaar 34, Denver 35, Shaheed Abrahams 43, Dawood Fortune, and Remario Bos. One man's identity has not been released yet.
Rene Lukas, a youth member of Manenberg Development Coordinating Structure (MDCS) said that the purpose of the march was to get the community involved in helping the police but sadly most community members did not attend.
A number of organisations took part in the march, namely Tambo Manenberg (TAMA), Community Works Programme (CWP), Western Cape Religious Leaders' Forum, the South Africa Police Services (SAPS) and MDCS.
Washeed Sookool from the Western Cape Religious Leaders' Forum said, "The thinking behind the march is that people are scared. People feel helpless. People want to do something. Children can't play. And marching is doing something."
Ward councillor Junaid Hoosain could not be reached for comment.
Dodgy people are suing us. Please support us by contributing to our legal costs and helping us to publish news that matters.
© 2016 GroundUp.
This article is licensed under a
Creative Commons Attribution-NoDerivatives 4.0 International License
.