Activists hold mock trial of Zuma
While there was much laughter, Brett Herron's testimony was haunting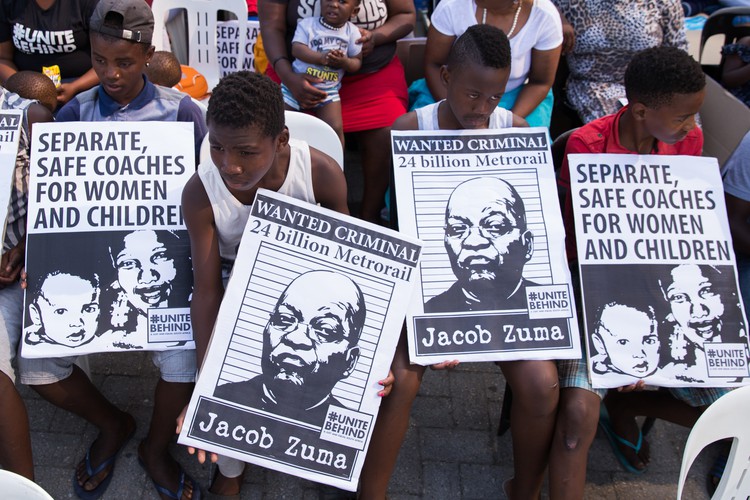 Hundreds of #UniteBehind supporters gathered outside the Cape Town train station on Thursday afternoon, calling for the arrest of President Jacob Zuma and for the trains to be fixed.
A mock court hearing was held with activists as judges, train commuters as witnesses, and Zackie Achmat as the prosecutor. "Zuma", the main defendant, faced numerous corruption charges. He was played by veteran UDF member Zelda Holtzman.
There was a special guest appearance by Mayoral Committee Member for Transport and Urban Development Brett Herron, who played himself.
"Today we're going to ask Jacob Zuma to plead guilty or not guilty " said Achmat. "Zuma" faced charges for his alleged role in corruption at the Passenger Rail Agency of South Africa (PRASA), Eskom and South African Airways (SAA). Achmat said he faced 783 charges of corruption.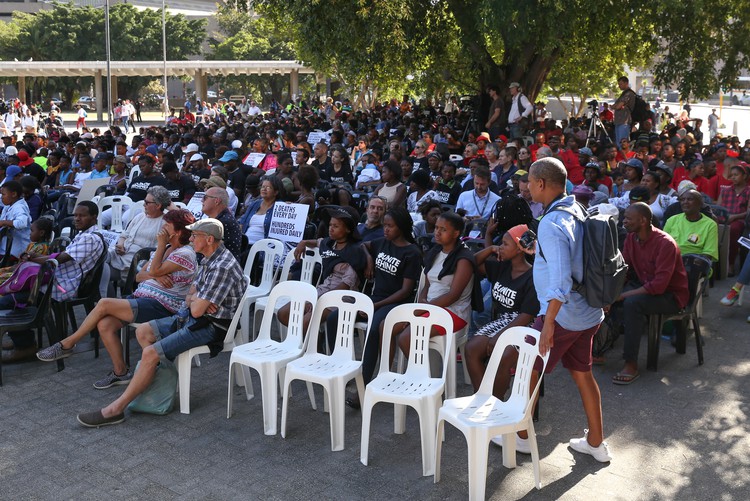 Achmat referred to the 2015 Public Protector report, "Derailed". "R15 billion [in contracts] was investigated and what we found is that Jacob and his friends got R2.5 billion through corrupt contracts. That would be 25 full train sets in Cape Town," said Achmat.
Zoliswa Dlamini, a commuter, testified as a witness. Dlamini lives in Khayelitsha, but worked in Epping. She had to start work at 7am and had to leave home at 5am to catch the first train. Sometimes the trains were so full that she was unable to get off and ended up at the wrong station. This made her late for work. Dlamini said that her bosses never understood this because they used a different mode of transport. She lost her job.
The second witness was commuter Portia Isaacs from Elsies River. She described how she waited from 5am to 6:30am for a train, but it never arrived. Commuters then had to take taxis. "You work out your budget. You buy a train ticket. Then at the end of the day you must spend money in order to get to work," she said. Getting on the trains is dangerous and tough because the trains are full. And if it rains you get wet because the windows are broken", she said.
Holtzman (playing Zuma) was then called up as the defendant. "Everything is Zuma. People like the name Zuma. If it rains, they blame Zuma," said Holtzman, imitating the president's slow speaking voice and his famous laugh: "He he he". Achmat then probed Holtzman on his numerous corruption charges. Holtzman avoided the questions by referencing off-point statements. Most of the crowd appeared to enjoy Holtzman's impersonation.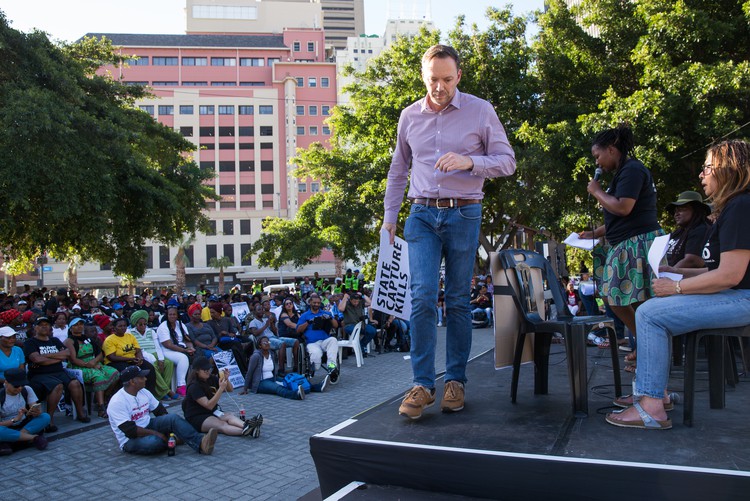 Herron then took the stage. At 5am this morning, he said, he took the train from Khayelitsha to Cape Town to experience what commuters go through. He explained that one train was so full that he couldn't get on it. When he arrived at Nyanga station, he learnt that a man had been electrocuted on that same train. A life was lost "because our train system is failing. And our train system is failing because Zuma and his friends have stolen the money that could've been used to fix the trains," he said. "A young man died today because he didn't want to be late for work. So he got on top of the train like many many, many people do everyday and as a result he's dead now." Herron said that the experience he had on the railway would live with him forever.
The court ended with a guilty verdict being handed down to "Zuma". A real police officer then came forward to make a mock arrest which was followed by cheers and celebration.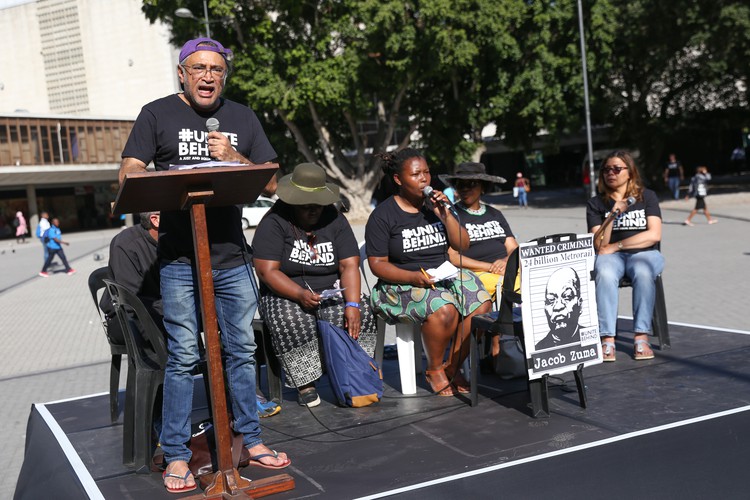 © 2017 GroundUp.

This article is licensed under a Creative Commons Attribution-NoDerivatives 4.0 International License.
You may republish this article, so long as you credit the authors and GroundUp, and do not change the text. Please include a link back to the original article.