Abahlali to contest forced evictions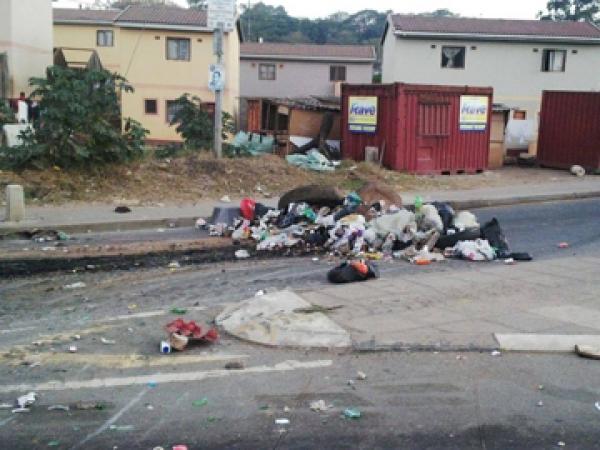 Shackdwellers' movement Abahlali baseMjondolo plans to take legal action after the forcible eviction at the weekend of residents of two informal settlements near Durban.
More than 100 shacks in Cato Crest's Marikana Land Occupation and Lamontville's Madlala Village were destroyed by the eThekwini municipality over the weekend, leaving about 300 people homeless, according to Abahlali.
Residents have begun the familiar process of rebuilding their homes.
The demolitions took place in spite of a 6 June Constitutional Court order.
The municipality's Land Invasion Control Unit began the evictions on 21 June, demolishing 18 shacks in Cato Crest. On Sunday morning, 22 June, the unit arrived armed and without court orders, according to Abahlali president S'bu Zikode.
"Of course they did not want to engage or communicate with any of the residents, even when asked if they had any court orders or documents authorising them to tear the shacks down," Zikode said. "But the residents know their rights."
Immediately people began taking pictures and video to record evidence of the attack, but, Zikode said, members of the unit confiscated some of their phones and even held residents at gunpoint.
"They were very brutal. Even when there were women and children in the house, they would continue to tear the houses down, disregarding the people's belongings," he said.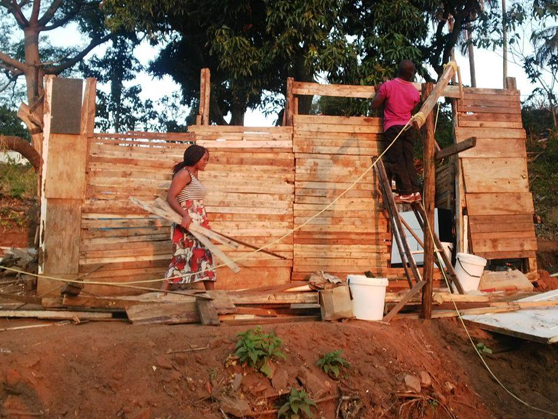 People have to rebuild their homes yet again at Cato Crest after demolition squads descended on the informal settlement. Photo courtesy Abahlali baseMjondolo.
After numerous attempts to contact the municipality spokesperson, GroundUp was unable to obtain more than the promise of a forthcoming press release.
Nadbo Mzimela, General Secretary of Abahlali and a resident of Cato Crest, said a resident had been hospitalised after being wounded by a rubber bullet.
The demolition teams were brutal and heavily armed, using tear gas to disperse the crowds, according to Zikode. He referred to the demolition agents as "Blue Ants", employees of the municipality come to tear the shacks down. He said members of the South African Police Service were also present.
"They had no reason," Mzimela said, and he claims that the incident was a violation of the Constitution and residents' human rights.
"They could not provide us a court order, so it was clear the evictions were unlawful and done in breach of the Constitution," Zikode said.
Immediately after the evictions, residents blockaded roads and began what Zikode refers to as a "normal" rebuilding process. He said similar evictions had taken place in Cato Crest 12 times. "It has happened already. People rebuild their shacks because they have nowhere else to go," Mzimela said.
Evictees have been sleeping with friends and neighbors while trying to reconstruct their homes.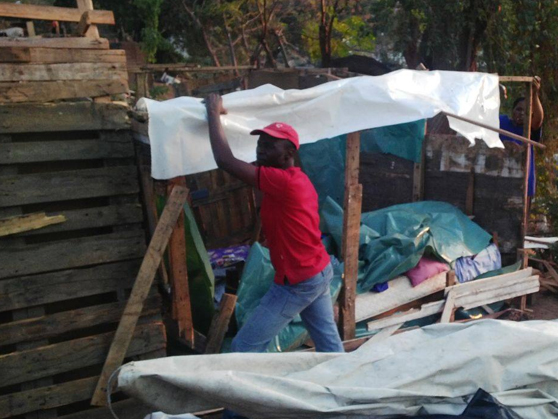 People have to rebuild their homes yet again at Cato Crest after demolition squads descended on the informal settlement. Photo courtesy Abahlali baseMjondolo.
Mzamo Majozini, chair of Abahlali's Cato Crest branch, said the authorities should talk to residents and the municipality should pay for the damage it has caused. Abahlali has been collecting information from residents about the belongings that were destroyed. Until the evictions are stopped and a settlement is reached, "we will continue to block the roads, to fight," he said.
Yesterday, evicted members of the community took to the streets in protest. No arrests were made, Mzimela said.
Zikode expects more evictions soon.
In Madlala Village in Lamontville, Durban, approximately 50 shacks were demolished. According to an Abahlali press release, one of the demolition team said the team was aware of a recent court ruling in favor of Madlala Village residents, "but that they were working according to the ward councillor's instructions to demolish these homes."
Without a court order such evictions are illegal, yet not without precedent. In 2009, Kennedy Road residents celebrated a Constitutional Court victory, but that too was followed by similar attacks.
"We celebrate victories in court with caution as we know what comes next," said Abahlali.
The 6 June Constitutional Court case of Zulu and 389 Others v eThekwini Municipality and Others concerned the interpretation of a 28 March 2013 order the Durban High Court issued to the KwaZulu-Natal MEC for Human Settlements and Public Works. This order allowed the municipality to "prevent any persons from invading and/or occupying and/or undertaking the construction of any structures" on land within its jurisdiction, and to remove materials placed on those lands, according to the Socio-Economic Rights Institute of South Africa (SERI). The order was used to justify the violent Cato Crest evictions in 2013.
In June, the Constitutional Court declared that using the order for evictions was unacceptable, although the municipality denied that it had done so. Judge Van der Westhuizen found that the order violated the Constitution and was invalid. However, the majority judgment did not pronounce on the order's legality, and the case awaits further proceedings in the High Court.
Meanwhile, Mzimela claims that the municipality decided to take matters into its own hands. "They victimise people instead of preventing them from being victimised," he said.
Zikode said it was surprising that the municipality had not waited for the High Court's judgment, and that the Constitutional Court decision had been undermined.
"We want to hold them in contempt of the court, and to make sure they abide by the Constitution."
Abahlali will take legal action in response to these evictions, Mzimela emphasised. "We will first try to engage with the municipal legal team and see if there are any negotiations that we can have," he said. "I can promise one thing – that we will take further steps."
SERI, which represented Abahlali in the 6 June court case, would continue to provide legal support, he said.
In the long term, Zikode said, the municipality should find an alternative for the residents it repeatedly evicted. Until then, "we will challenge any evictions that continue to take place."
He spoke of the persistent housing crisis that the shack dwellers had faced. People were being excluded from government housing developments because of party affiliation, among other things, he said, and being told to return to the Eastern Cape or to find their own way.
Abahlali said "this is a war on the organised poor who are standing up for their rights." And the war has been a bitter one. The Zulu judgment cites appellants' claims that their homes had been illegally demolished 24 times by the Municipality Land Invasion Control Unit since September 2012.
Zikode said that Abahlali's endorsement of the DA in the elections could be a reason why the most recent evictions had attracted more attention than past evictions. The DA's political clout could be helpful, he said.
He believed that the timing of the municipality's actions in Cato Crest and Madlala Village was significant. "Just a few weeks after the Con Court ruling, they want to show people they are in charge, in spite of what the law says. Nobody can stop them from doing anything."
Abahlali is creating a branch in Madlala Village and on Sunday 22 June launched a new branch in the Dermet community of Shallcross, a Durban suburb, where residents faced a series of evictions and subsequent court action in 2012.
© 2016 GroundUp.
This article is licensed under a
Creative Commons Attribution-NoDerivatives 4.0 International License
.