Abahlali marches in support of land expropriation
"We want government to give us title deeds for the land that we are already occupying"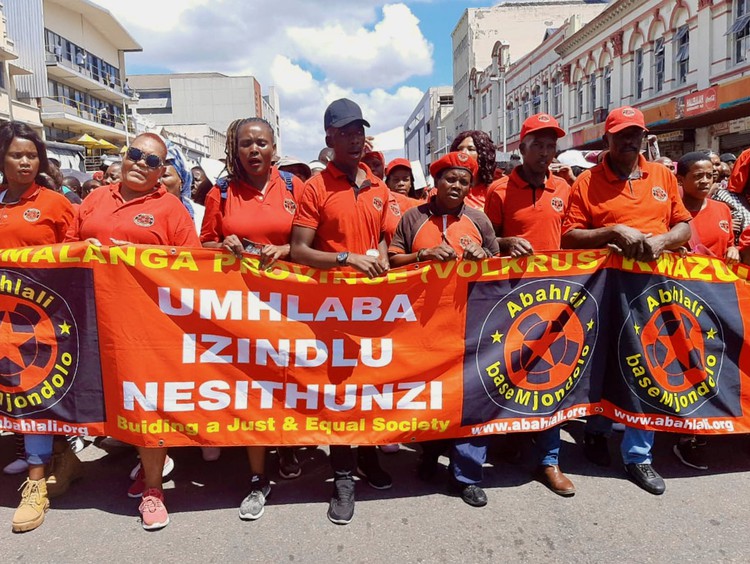 Abahlali baseMjondolo Movement (ABM) marched in support of land expropriation without compensation and amending the Constitution on Monday.
Protesters handed over a submission, in the form of a memorandum, on the Amendment to Section 25 of the Constitution. Deadline for public comment is Friday.
About 1,000 supporters marched from King Bhekuzulu Park to Durban City Hall.
ABM's Zanele Mtshali said that the movement wanted land to be given to the grassroots. "We don't want land that we are not going to use. We want government to give us title deeds for the land that we are already occupying as Abahlali baseMjondolo. The land must be expropriated to the right people," she said.
The organisation said that it is been mobilised by its own suffering and hopes for a better future. "It is time to take seriously that access to land is a serious problem in our country, that land was stolen from our ancestors and continues to be allocated and managed in the interests of elites and private profit, and that all this has impoverished us, and continues to impoverish us," it said in a statement.
"It is time to take seriously that housing in Durban is a mess that has not just terrorised our communities but made us homeless. It is time to take seriously that raising questions about land and housing has led to us being murdered with impunity. In municipalities like eThekwini we have been murdered in broad day light," ABM stated in its memorandum, handed to City official Leonard Masinga.
Masinga said he would give the memo to the relevant people.
Since its formation in 2005, ABM has called for the right to well-located land and decent housing for all. In 2005 it marched for the expropriation of land.
"We do not agree that land must be taken from white elites and be given to black elites. This will not make a fundamental change to the deep inequalities and oppression that exist in this country. We cannot trust the ANC or any of the political parties in Parliament to ensure that land is distributed to the people on a fair and democratic basis. There is no party in Parliament that represents the interests of the impoverished, that refuses corruption, that is committed to revolutionary democracy, and is willing to be lead from below," said ABM's statement.
"Land should be made a 'right' and not a form of property. We also do not agree that the state must own the land on behalf of the people because the state itself in its current form cannot be trusted. Land must be distributed to the people, and managed, on a democratic basis, from below," said ABM.
"We note, also, that Section 26 of the Constitution guarantees the right to housing, however, that right becomes impossible without the right to land. These proposals must apply to all land both in urban and rural areas, and to residential, agriculture and commercial land."