Ten years ago this Eastern Cape woman was told to move her shack to make room for her RDP house. Now she's 74 and still waiting
Nompumelelo Watani is still waiting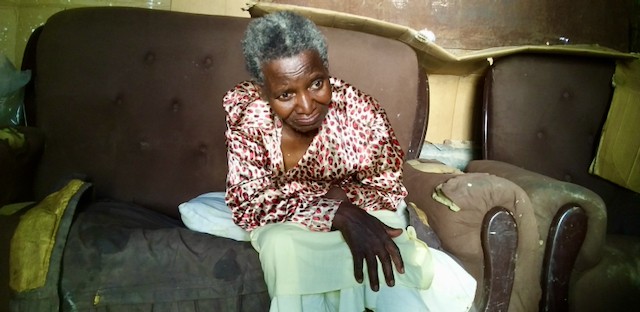 Ten years ago Nompumelelo Watani was told to move her shack so that her RDP house could be built.
No house has been built for her to date.
Instead, she has been forced to move her shack for a second time to make way for a tarred road.
She is now 74 and uses a wheelchair.
Nompumelelo Watani from Mdantsane's Gomora informal settlement lives in a one-room shack with her three grandchildren and her unemployed daughter.
She is 74 and uses a wheelchair. Her shack is located a few metres from a sewage drain and next to a rubbish dump. The shack is made of old zinc sheets full of holes and leaks when it rains.
She gets electricity through an illegal connection to a streetlight. She shares a toilet with five other households.
In 2012, Watani and other residents were told by then Ward 17 Councillor Phumla Yenana (ANC) to move their shacks to make way for RDP houses.
At the time, Watani had a two-roomed shack. "I had to hire people to help me move my shack … When I think about it I just cry. I'm the first person who started this informal settlement, 23 years ago … I'm a voter, but this government does not care about us old people. I've seen young people being given houses while I'm waiting," she says.
Then in 2019, Watani and a number of other residents were told to move their shacks again. They were told the construction company had to build the streets first, then the RDP houses.
"We did not ask questions. I had to find another place to move my shack to. Yenana said it will take a few months. I opted to rent in a backyard because I could not find an open space," she said.
Months became years and Watani could not keep up paying R500 in rent as a backyarder.

"I had to find another place … This is the only place I could find – next to the sewerage. At least, it's not far from the toilets," she says.
The move reduced her shack in size. "I lost most of the material with this move. My furniture is also broken."
Her daughter, Thozama, says she is unemployed and has no money to help her mother. She says her mother is stressed and is often ill.
"When it rains, we hardly sleep … We must take the water out. My mother always cries because her shack was better before this moving up and down," she says.
Former councillor Yenana said the delay was caused by the firing of Siyavuna Trading which was meant to do the construction. The Johannesburg-based close corporation left hundreds of RDP houses unbuilt in Walter Sisulu, Francis Mel, Hani Park, Winnie Mandela, Mahlangu, Gwentshe, Mathemba Vuso and Daluxolo informal settlement.
Municipality spokesperson Bathandwa Diamond said Watani is a beneficiary of the 75-house Mathemba Vuso project, and her subsidy has been approved.
Diamond said roads and stormwater infrastructure in the project had been completed. She said the Housing Development Agency (HDA) would appoint a contractor this month to build water and sewage infrastructure and the houses. The project should be completed in 12 months.
Current Ward 17 Councillor Veliswa Mrwebi (ANC) said she is aware of Watani's living conditions and has informed Eastern Cape Premier Oscar Mabuyane about this.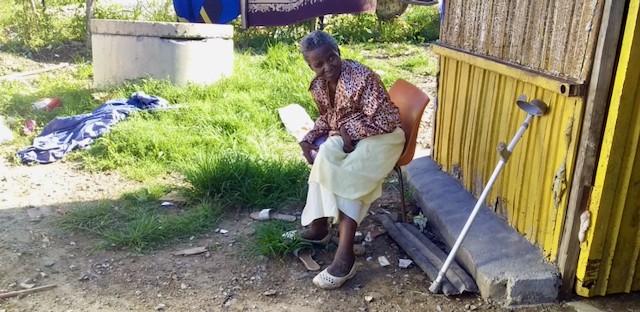 Dodgy people are suing us. Please support us by contributing to our legal costs and helping us to publish news that matters.
© 2022 GroundUp. This article is licensed under a Creative Commons Attribution-NoDerivatives 4.0 International License.
You may republish this article, so long as you credit the authors and GroundUp, and do not change the text. Please include a link back to the original article.
We put an invisible pixel in the article so that we can count traffic to republishers. All analytics tools are solely on our servers. We do not give our logs to any third party. Logs are deleted after two weeks. We do not use any IP address identifying information except to count regional traffic. We are solely interested in counting hits, not tracking users. If you republish, please do not delete the invisible pixel.