64-year-old Duncan Village resident has to walk 1km to the toilet
"It is not the municipality who tells people to start the informal settlement; they do it at their own risk" says councillor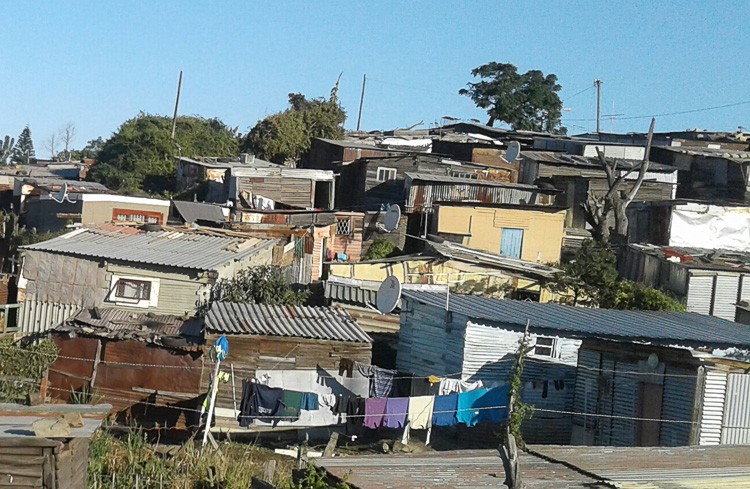 Madlamini Sokhulu, 64, has been living in Holomisa informal settlement in Duncan Village, East London for more than 25 years. The toilet she shares with more than 20 others is over one kilometre away and is usually blocked. So she uses a bucket which she empties outside her shack.
Sokhulu told GroundUp that she was one of the people who started the informal settlement in 1990. She said the community had been promised they would be moved while RDP houses were built for them. But nothing had been done.
"I think the municipality has forgotten about us. They only remember us when they want our votes," she said.
"At night I do not go to the toilet because it is far and I have heard people crying about being robbed while going to the toilet."
Other members of the community also told GroundUp the area was always dirty, with blocked toilets, broken sewage pipes and garbage piled up next to the shacks.
Community leader Athini Klass said there were 10 toilets for more than 1,000 households.
Some people had been living in the informal settlement for more than 20 years. Klass said when she was growing up older people in the settlement were talking about the RDP houses they were going to receive.
"Even now the councillor is still feeding our grandparents empty promises. Always during elections or when officials go to our area they tell us the same lie, that they are going to move us to another place to make way for RDP houses but that is not happening," she said.
Lindiswa Funda told GroundUp she had received little help from the municipality after a fire destroyed her shack. Funda said the municipality dumped fire victims at a community hall with one kilogram food parcels and never returned.
"It was early this year. About 15 houses were affected," she said.
The fire victims spent two nights at the community hall and then left to rebuild their shacks.
Ward 2 councillor Ntombizandile Mhlola said community members must be patient.
She said RDP houses would be built but not anytime soon.
"Holomisa is not part of this year's budget and also not on next year's budget," said Mhlola.
She said the municipality could not assist residents with building materials after fires. They would have to find their own materials, just as they had before the fire, said Mhlola.
"Remember it is not the municipality who tells people to start the informal settlement: they do it at their own risk," she said.
© 2017 GroundUp.

This article is licensed under a Creative Commons Attribution-NoDerivatives 4.0 International License.
You may republish this article, so long as you credit the authors and GroundUp, and do not change the text. Please include a link back to the original article.