600 land occupiers facing eviction in Port Elizabeth
"We will not leave this place after suffering so much"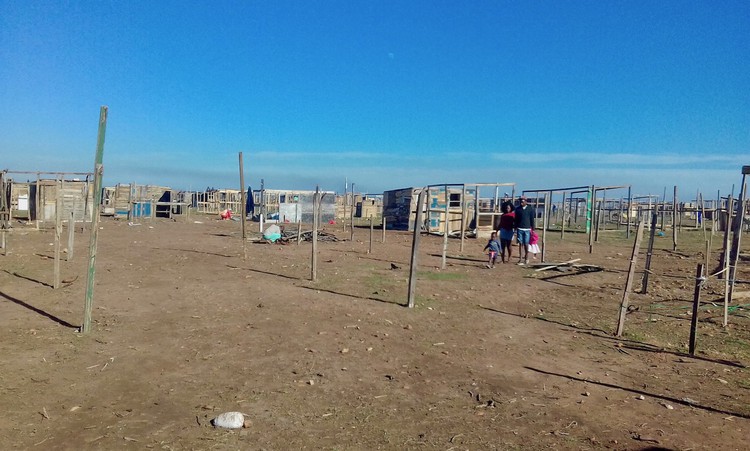 More than 600 residents of Endlovini informal settlement in Wells Estate, Port Elizabeth, have been living in scantily built structures for nearly five months. They have been evicted three times since December. They say their ward councillor is intent on evicting them and as a result they are afraid to complete building their homes for fear of losing their building materials.
Endlovini committee leader Thabiso Msuthu, 28, said, "People have lost all their belongings [in the evictions] … We are now collecting building materials from the nearby refuse recycling plant. People, including school learners and the elderly, are sleeping in half-built shacks … We are exposed to rain and cold weather."
"The furniture that was confiscated by the Office of the Deputy Sheriff was never returned. We made follow ups and we were told that the goods were dumped at the dumping site. We are desperate and powerless. We will not leave this place after suffering so much."
Musuthu said, "Our plea to our councillor is that he should sympathise with us and provide land for us. Instead, he is doing the opposite. He told us at a recent community gathering that he would make sure that we get removed from this area."
Pumla Gotyana, 50, who lives with her family of four, all of them unemployed, is among the many backyarders from Wells Estate who could no longer afford their rent and moved to the informal settlement. Her daughter, Vuyiseka Mkontwana, 30, said, "We were paying R1,200 a month."
Gogo Nompumelelo Mgudlandlu, 62, said, "I live here with my daughter. We are originally from Chris Hani and we came here in January hoping to have land of our own. But we ended up losing our property after the police destroyed our shacks and confiscated our furniture. I lost property worth more than R7,000. I will never manage to have even a bed again."
But the ward councillor, Mvuzo Mbelekane, said the municipal land was illegally occupied.
"Honestly, if I had my way I would give them land but that land is earmarked for various developments including a high school because there is no secondary school here. Also, we need some shops and recreational area. I also told them that unlike before where councillors had the power to allocate land to residents, the current administration stopped that. My hands are tied," he said.
Nelson Mandela Bay Municipality Chief of Staff Kristoff Adelbert said, "All evictions are dealt with through the courts and the sheriff. The sheriff is responsible for labelling personal belongings before relocating the family. All personal belongings correctly moved should be at the Sheriff's office in Albany Road."
© 2017 GroundUp.

This article is licensed under a Creative Commons Attribution-NoDerivatives 4.0 International License.
You may republish this article, so long as you credit the authors and GroundUp, and do not change the text. Please include a link back to the original article.