21 at 21: The coming of age of a nation
|
Melanie Verwoerd and Sonwabiso Ngcowa
News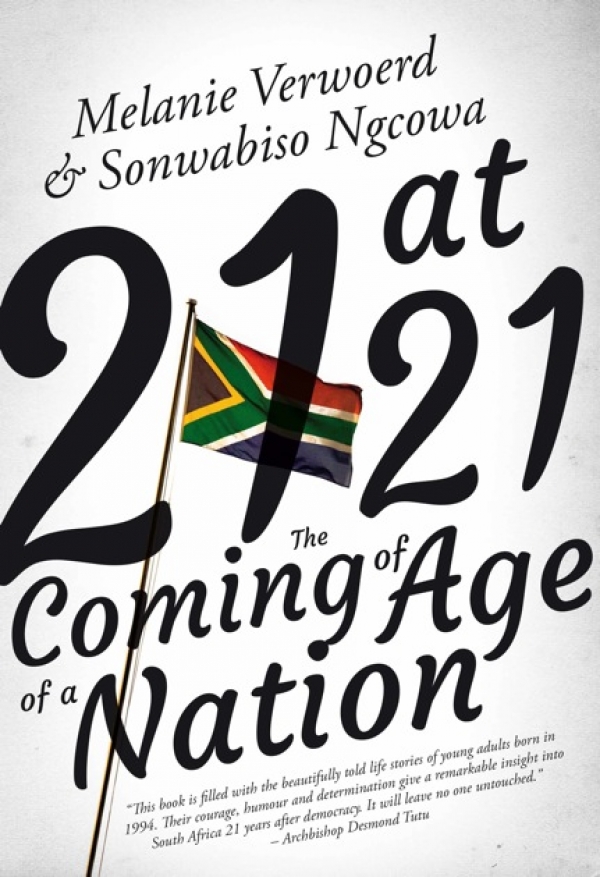 In their newly released book, 21 at 21: The Coming of Age of a Nation, Melanie Verwoerd and Sonwabiso Ngcowa write that the term 'born free' is highly contested. 'Many young people refuse to be labelled in this way, not least because of the level of poverty they still experience. As one 'born free' put it to us, "How can we be called born free when we live like this?"'
To mark 21 years since the dawn of democracy in South Africa, Verwoerd and Ngcowa travelled across the country collecting the life stories of young people born in 1994.
'We wanted to know how life was different for those born post-1994, who did not grow up under official apartheid. On a personal level, we wondered whether their dreams and expectations differed from when we were their age. On a political and public level, we were intrigued about their opinions and aspirations. It was always important to us to allow these young individuals to define themselves, instead of us trying to define them. So we have endeavoured not to impose ourselves or our judgements on their stories,' they write.
The book is not a survey, but a compilation of personal narratives that reflect the complexity of our society and its diversity.

Sonwabiso Ngcowa and Melanie Verwoerd
Extract:
There is Yonela, a rapper and artist. She is also gay. As a child, she was academically very successful and won a national rap competition. She was even invited to perform at parliament. But, then, her older sister disappeared. After a year of searching, they received devastating news. Yonela today lives in fear of her own life because of her sexual orientation. Yet she is a fearless activist who uses her music and art to deal with her fear and anger.
Marcellino lives in Heideveld on the Cape Flats, known for its gangsterism and drug abuse. He moved schools seven times in his life and had no positive male role model, yet he was and remains determined to be a success. He teaches music to underprivileged children. He speaks movingly about raising his siblings from the age of seven – picking the little ones up from crèche, cooking dinner for them, bathing them and then putting them to bed, before doing his own homework and waiting for his mother to come home from work at 9pm.
Wandisa has already spent almost two years in Pollsmoor prison for killing a woman when she was sixteen. Although she grew up in very religious circumstances, her story is one of parental neglect. She talks honestly about what led up to the event, the unfortunate night of the killing, her time in prison and meeting her victim's family. Wandisa is slowly putting her life back together and dreaming of a future working with children.
Joost grew up in the all-white Afrikaans enclave of Orania. Now studying at North-West University, he gives a fascinating insight into life in this secluded community with their own public holidays and even their own currency. He talks frankly about the philosophy underpinning Orania, how he adjusted to the multicultural environment of the university, and the reactions he gets from fellow-students when they hear that he is from Orania.
Ishmael is a devout Muslim who grew up in Australia after his father and his family emigrated to Australia because of their anti-apartheid beliefs. Practising their faith became increasingly difficult in Australia. Eventually Ishmael's parents decided to return to South Africa in 2013. Ishmael talks passionately about his faith, about his ambition to play professional cricket and his challenge to fit in and find a sense of belonging.
Eliezer was born four months before the beginning of the 1994 genocide in Rwanda. His parents fled the bloodshed with their eight children and eventually made it to Mozambique from where they crossed the border into South Africa. They found shelter with a Dutch Reformed Church minister in Johannesburg. As a qualified accountant, his mother found work at a local supermarket and his father founded a church, whilst finishing his doctorate in theology. Then tragedy struck. Eliezer's older brother was murdered in a late night attack. A few months later, his father died from cancer. Despite these hardships, Eliezer is now studying mechanical engineering at Wits and has big dreams for his future in South Africa.
Kgothatso and Kgotso are twin brothers from Diepsloot, Soweto. They happily grew up with their great-grandmother and grandmother. One day they met Rosemary Nalden from Buskaid, who encouraged them to join her music school. This would change their life. Today, they both play string instruments in the Buskaid String Orchestra. They have played the world, including the Royal Albert Hall in London. They are now both finishing degrees and have big dreams.
Zelda, an attractive, well-spoken young woman we met in a park in Goodwood, is a cross-gender sex worker. She told us about her battle with her sexuality, and how she went from a private school to living in a plastic structure under a bridge. Her life is constantly in danger. Yet all she wants in life is to have a sex change, get married, adopt children and be a housewife.
Aviwe first lost his mother through death. Then, two years later, his father, whom he remembers showing him no love, also died. He tells how tough it was growing up on the streets of Port Elizabeth. The streets have no ubuntu. He failed grade ten and dropped out of school when he had to look after his very sick grandmother. He has a deep-seated anger. One day, he took the decision to take his own life.
Andisiwe is a passionate ballet and contemporary dancer. An opportunity to go to London three years ago was taken away from her by what looks like a case of corruption at the Department of Home Affairs. She could not get a passport. Her identity appears to have been stolen. She lives with her unemployed mother and her sister who works at a restaurant. She failed matric, but has plans to go back to school.
Phumelelo was introduced to the adult world very early in life. At thirteen, he already started having sex. He is a hard-working individual who supports his three-year-old daughter. He lives in Soweto with his mother. His father died when he was in grade eight. But he found love in music. He now plays in a string orchestra. He has been to a number of countries.
Tswarelo's father was part of the African National Congress's military wing, Umkhonto we Sizwe. His father was in exile and received his military training in Russia. Tswarelo's mother was a primary school teacher. She died on the day Tswarelo went to school for the first time in grade one. Left with his grandmother and older brother, he remains grateful for the values he was taught by his grandmother. He is enrolled at university to study law.
Siviwe lives with his mother, younger brother and older sister. Even after making his girlfriend pregnant while in grade twelve, Siviwe is still determined to reach his dream of becoming a sports scientist. When it comes to schools, he has experienced the worst of the worst and the best of the best. He started crèche at a village school in the Eastern Cape and went on to one of the better schools in Cape Town – Rosebank College.
Nosiphe and Nosimphiwe are twins from a family of eleven. Their mother died three years ago; the year before that their older brother died after he was attacked in a shebeen. The twins both fell pregnant and had babies while still in high school. They did not finish their education. Both say their future dreams are not cancelled by becoming mothers, but are merely postponed.
Ziyanda dreams of being a secretary. She grew up in the township of Masiphumelele, south of Cape Town. After grade seven at a public primary school in Ocean View, one of her teachers suggested that she go to a school for children with special needs, since she has a birth defect – her one leg shorter than the other. She is now at home and unemployed.
Jaime is a student at the University of Stellenbosch. She has two mothers and a good relationship with her father. She speaks about how she is aware that she got a better start in life than many black children in South Africa, especially those in townships.
Noluvo's parents were living in Khayelitsha when she was born. She remembers walking her father to the taxi stop when she was six years old. He had told the family that he found work in Johannesburg. He never returned. She moved in with her mother's employer in St James when she was still very young. Throughout her school life, she has been in English medium schools and has to contend with being called a coconut in Khayelitsha. Noluvo is studying to be a chef. She has a one-year-old daughter whom she adores.
Siphosethu is a young businesswoman. After completing her fashion design diploma she went on to start her own business. She runs her clothing design business from home. Her hopes and dreams are to have her own clothing boutique and a hair salon.
Their stories and others are told in 21 at 21: The coming of age of a nation by Melanie Verwoerd and Sonwabiso Ngcowa. ISBN: 978-0-9946702-0-5
Dodgy people are suing us. Please support us by contributing to our legal costs and helping us to publish news that matters.
© 2016 GroundUp.
This article is licensed under a
Creative Commons Attribution-NoDerivatives 4.0 International License
.