115 households in Despatch left in the cold while municipality and Housing Development Agency shift blame
"Every morning I wake up and sit on that cement foundation just to get the sun"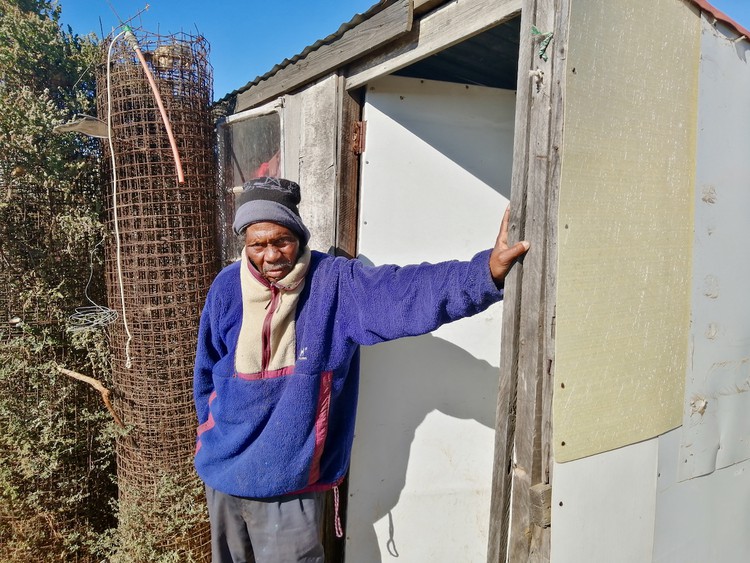 A blame game between the Housing Development Agency (HDA) and the human settlements department of Nelson Mandela Bay has left 115 housing beneficiaries in Despatch out in the cold.
The project in Khayamnandi Extension to relocate backyard shack dwellers and people from wetland areas started in 2013 and was meant to be completed in 2018. But shoddy work by contractors has left the project incomplete.
At 4am on Monday morning, the fed up housing beneficiaries barricaded the Old Uitenhage Road with rocks and burning tyres. After waiting years, they want their 40m² RDP houses to be built now. Residents, whose houses have been completed, joined the protest.
Protest leader Simphiwe Stout said, "We were relocated to these municipal sites in 2015 … We built our shacks next to the toilet and cement foundation while waiting for our RDPs [houses] to be built.
"In 2017, 446 cement foundations were tested and 115 failed the test. But 331 passed the test and were approved for construction of RDPs."
Stout said the housing officials said they would retest the failed sites, but they rejected this offer.
"Then we were promised that they would be demolished and rebuilt." But nothing happened, said Stout.
"We live in tiny shacks … They are leaking and we built them as temporary shelters, hoping that the construction of our houses would be done quickly," he said.
Kholisile Molusi, who is 77, said, "I arrived here in February 2016, but young people who arrived here after me live in their houses now. I watched all other houses being built and I was never told why my cement foundation was being skipped by contractors who were building houses here. I only knew now when the residents protested."
"I am trapped in this one-room shack. Most of my furniture has been damaged because this shack is leaking and cold. Every morning I wake up and sit on that cement foundation just to get the sun," he said.
Ward Councillor 41 Simphiwe Tyukana (ANC) said there is money to build the outstanding houses, but "the main problem we have now is to get funds to replace the 115 cement foundations that failed the test".
Spokesperson for the municipality Mthubanzi Mniki said, "HDA has to answer; the municipality is no longer involved in that project."
Provincial HDA manager Thembikile Fono referred all questions to the project manager.
The project management, who gave his name as Irvin, said his seniors should answer.
"The 115 cement foundations failed the test because the concrete strength could not meet the building requirements … They were built by the municipality way before we got involved in that project," he said.