Zimbabweans rush to stockpile food ahead of new currency
Fears of runaway inflation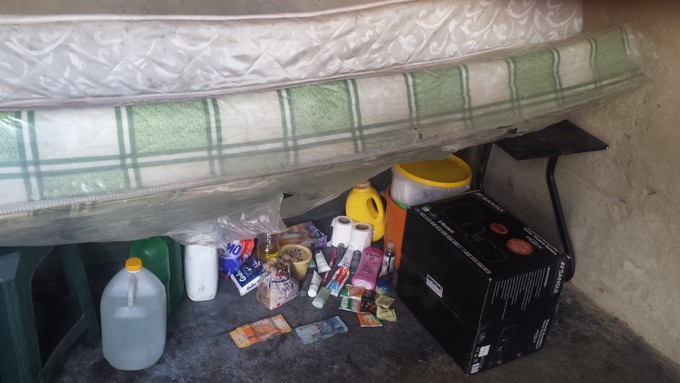 Fearing that the new currency to be introduced later this month will trigger a new round of runaway inflation, Zimbabweans are rushing to stockpile oil, sugar, samp and other food.
The new currency, Bond Notes, is to be introduced by Zimbabwe´s central bank later this month to supplement the basket of dollars, rands, pounds sterling and euros already recognised as official currency. The notes are backed by a US$200 million loan from the Africa Export-Import Bank and in principle holders of the notes can change them into dollars if they choose.
But Zimbabweans are sceptical.
They fear the currency will lead to a round of inflation like that of 2008.
Maidei Nhamo*, 40, teaches in a creche and is mother of two boys in Harare's Mt Pleasant suburb.
"I´m on a hoarding spree: piling up fish oil, samp maize, sugar, toilet paper and cake flour."
She remembers the painful years of 2005 to 2008 when city supermarkets like OK or Thomas Meikles had empty shelves, and traders roamed Harare streets, hoping to catch a bread or maize delivery van, buy in bulk and re-sell for a steep profit on the thriving "black market."
"With Bond Notes currency coming, the food black market of 2008 will follow," says Nhamo.
She summons her sons, fetches extra hands to stash away boxes of tinned beans and tubes of dishwasher under her bed. "We women these days think of nothing more than filling home food stores. Bond Notes alarm us. I don't want to be hungry again."
Nhamo hopes to exchange her tinned beans for packets of flour with women from her Anglican Church mothers' group in November. "The butter trade is returning to Zimbabwe. Better for us to exchange, say, a 50kg sack of maize for a goat than receive worthless Bond Note money."
The big retailers have noted the trend, a floor manager at Pick n Pay said. "This October we are limiting litres of fish oil we can sell to a single customer to 20 litres a day. We suspect hoarding behaviour among certain shoppers."
Fani Kwame*, 37, who has been blind since the age of five, fears that the new notes will wreak havoc on his life. His sight was destroyed by sleeping sickness when he lived in rural Chirundu near Zimbabwe's border with Zambia.
Now the father of one daughter, he begs for soap, coins and money in Harare. He has learned to distinguish by feel between the different currencies well-wishes throw into his tin, from US dollar and Chinese yen notes to South African rand coins, Botswana pula coins and the occasional euro coin.
"Our country is bewildering. We use five foreign currencies and none of our own," says Kwame. "As a seasoned blind beggar, by feel of hand I can now distinguish between a South African ten rand note, which has a thin texture, and a US one-dollar note whose material is a bit sturdy."
"If they introduce new Bond Notes how on earth will we blind beggars be able to distinguish between pulas, dollars, rands, euros, yen and Zambian kwachas?"
"Seven currencies in one country? It will sow confusion. Pickpockets on Harare's streets will steal from our begging tins or insert metal lids into our hands saying it's the new currency. We are blind. We don't see."
But not everyone is opposed to the introduction of the new currency. Chenjerai Twara*, 33, is delighted.
A graduate of Zimbabwe´s A Level school system, Twara has never worked in a formal job all his life. "I am a black market currency trader. It pays! I am happy about the coming Bond Notes currency. They will distort the market. We are back in profit."
Working from Harare´s illegal currency exchange spot"Copa Cabana Mall", Twara spends his day selling euros, rands or dollars to traders, tourists and travellers skipping out of Zimbabwe to buy wares for resale.
"I am a runner. I work for an influential politician who supplies me with wads of these dollars and pays me a stipend every week. I have been doing this since 2007."
He says the stability of Zimbabwe´s economy under the coalition government of 2009-13 briefly threw him off his perch. Foreign exchange became available in the banks, affecting the business of the illegal traders.
He grins and smokes a rotting Shamrock Irish cigarette, then rapidly counts out a wad of dirty South African rands for a nurse who is hopping on a bus to Pretoria.
He pockets her worn-out US dollars. "These Bond Notes are a godsend. Whoever is handling them is a genius. Teachers, lawyers, dentists – believe me, they will be running to us, to the street for forex."
"We are back in business!"
Blind beggar Fani Kwana* spits and curses the tarmac road ahead of his metal guide stick.
"It´s always the crooks and connected who will smile again. We have lost. We have."
© 2016 GroundUp.

This article is licensed under a Creative Commons Attribution-NoDerivatives 4.0 International License.
You may republish this article, so long as you credit the authors and GroundUp, and do not change the text. Please include a link back to the original article.