Zimbabweans in Cape Town protest against state crackdown
"I would like to know if Emmerson Mnangagwa uses bond notes to book his air tickets and accommodation?"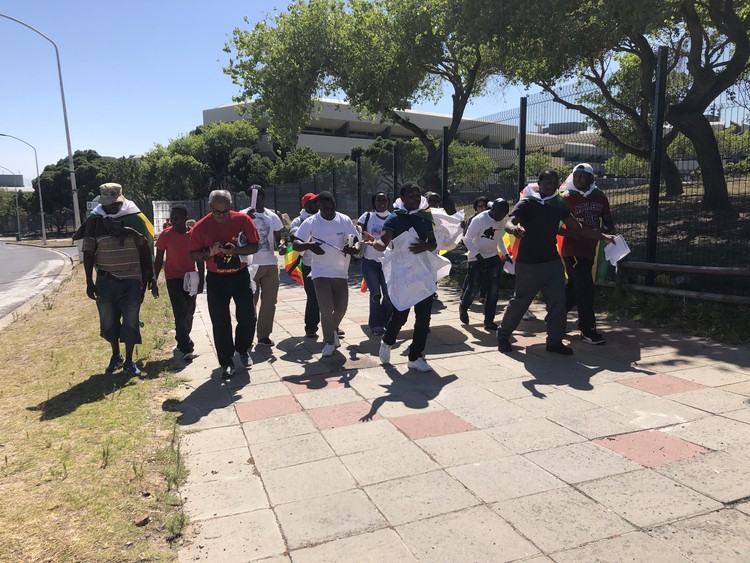 About 40 Zimbabweans living in Cape Town marched from the Grand Parade to the Zimbabwean Consulate protesting against their government's crackdown. The crackdown follows protests that started on Monday after a massive fuel hike. The Cape Town protest will continue at the consulate till Saturday.
Protesters also accused the Zimbabwean government of shutting down Facebook, Twitter, Whatsapp and email access. Since the protests started, Zimbabweans outside the country have been struggling to get hold of their families.
Amnesty International has reported that about eight people were killed and 200 people were detained since the beginning of the protest.
Protesters held placards saying, "I didn't ask to be killed but for bond notes to be removed in favour of US dollars." They sang and danced to war songs that criticised the government of President Emmerson Mnangagwa. The consulate closed quickly upon the arrival of the protesters.
A 33-year-old woman who refused to be named said she is a domestic worker. She asked for time off today so that she could participate in the protest. She said that she is grieving because police and soldiers are moving from house to house beating ordinary Zimbabweans who are standing for their rights.
"My family is being beaten because they refused to use bond notes. At the black market when they go to change money they are asked for a higher exchange rate [than the official one] yet the government insists that bond notes are equivalent to US dollars. I would like to know if Emmerson Mnangagwa uses bond notes to book his air tickets and accommodation?" she said.
She said that her sister is working as a teacher and earns about 300 bond per month. "Without my help from here she and the children would die because prices of basic commodities are escalating daily. How is she supposed to work when a taxi went up from 1 bond note a trip to 5?"
Reuters reported on Monday that inflation in Zimbabwe has gone up to 42%.
She said that SADC has let Zimbabweans down. She is homesick but she can't go back to Zimbabwe because she has to stay here and support her extended family in Zimbabwe by sending money and groceries.
Tinashe Chifamba, a political leader representing MDC Alliance denounced Mnangagwa and his vice president Constantino Chiwenga before he addressed the protesters. He said that right now Zimbabweans don't know who their president is because the constitution does not allow the acting president to deploy the army yet currently the army is in the streets of Harare terrorising the masses. "We would like to know who really is running Zimbabwe? Now that the president is in Russia our biggest question is who deployed the army? … We are afraid of our own government. We are being persecuted and our human rights are being abused," he said.
Dodgy people are suing us. Please support us by contributing to our legal costs and helping us to publish news that matters.