Zimbabwean police spike motorists
Officials use dangerous method to stop traffic offenders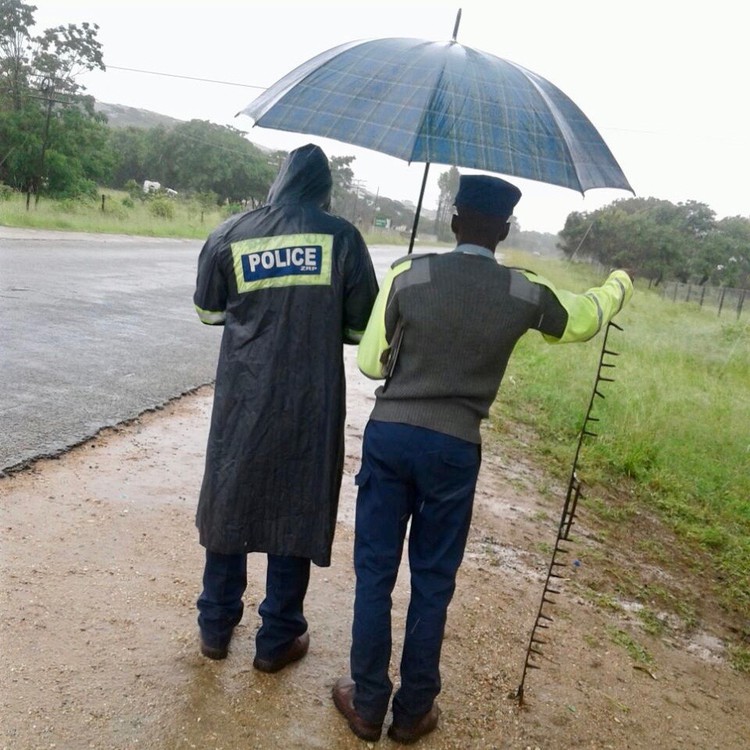 Zimbabwean police are employing two-metre-long iron bars bristling with spikes to deflate car tyres in an attempt to stop motorists alleged to have committed a traffic offence.
The country has few camera traps and traffic police get around on bicycles.
Police wait in ambush. When they spot mishika-shikas (family sedan, usually a Toyota or Nissan, converted into informal taxis in the cities) speeding or not obeying the traffic rules, they throw the spikes in the road towards the on-coming vehicle at the last moment. The driver must either swerve, risking the car rolling, or run over the bar and have all four tyres punctured.
The mishika-shika charge 50 US cents for a ride and are a popular means of illegal public transport. They are often owned by civil servants supplementing their incomes in a struggling economy and where the expected 2016 bonus for civil servants has not been paid.
Dadai Taguta, 30, a pirate taxi operator in Harare, says he had to replace his tyres nine times in 2016. "Police see money when they see illegal taxis," he says. "These iron spikes are a danger to passenger safety." He predicts there will be a bloody accident in Harare one day.
In November 2016, a minibus carrying 14 passengers overturned as a result of the practice, says Lorraine Sibanda, chair of the Zimbabwe Chamber of Informal Economy Associations.
Ngoni Katsvairo, Secretary of the Harare City Taxi Operators Association. said the minibus rolled off the road in Harare's Willovale Surburb when police threw spikes in front of it.
Commissioner General of the Zimbabwe Republic Police Augustine Chihuri denied that his officers used spikes to ambush motorists. "I insist, spikes are only deployed at roadblocks to deter lawless taxi drivers," he said.
© 2017 GroundUp.

This article is licensed under a Creative Commons Attribution-NoDerivatives 4.0 International License.
You may republish this article, so long as you credit the authors and GroundUp, and do not change the text. Please include a link back to the original article.