Young entrepeneur delivers medicines in Khayelitsha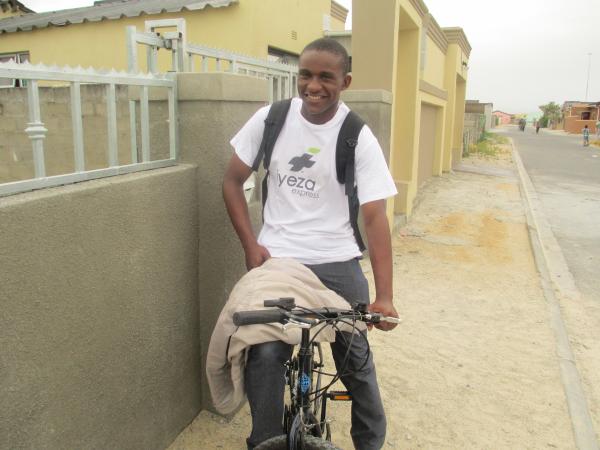 Sizwe Nzima is just 21 years old but he has already co-founded a business called Iyeza Express that delivers chronic medicines by bike to patients who are unable to stand in long queues at clinic pharmacies.
GroundUp: Tell us about yourself?
Nzima: I am a passionate, energetic and motivated young entrepreneur who has always had big dreams. I was born and bred in Khayelitsha. I was raised by my grandparents as my mother lived in Johannesburg. I went to Battswood Primary School, which was a huge opportunity for me to study at a multi-racial school. I finished primary school and went to Harold Cressy High School, which is in town. My grandparents have always wanted the best for me.
GroundUp: How many of you are in the partnership?
Nzima: I am helped by my two partners, Wandisile Nqeketho and Siyabulela Daweti. They are responsible for managing other projects such as a recycling company, Ilima Cleaning and Recycling, and the 18 Gangster Museum [a museum that shows young people the problems with gangsterism - editor]. I am also a partner in these other businesses. We are all friends and we are also social entrepreneurs and that is what makes us connect more. We believe that business is not just about money but there are many things which can be solved through business practice such as social problems. Our motive is to always come up with innovative ideas which can be transformed into business practice with the intention of solving social problems in the community.
GroundUp: Iyeza Express is a great initiative. How did this idea come about?
Nzima: After high school, I pursued my career in legal studies but I was never able to get into university. I then went into went to the Raymond Ackerman Academy to pursue my business career. This was where the idea came about. I used to collect medication for my grandparents for more than 3 years but never looked at it as a need. The idea came about when we were in our innovation lecture. I saw a newspaper article about how public hospitals were struggling to keep up with the large number of patients who comes to collect chronic disease medicines.
It was quite easy for me to test the idea because I had been collecting my grandparents' medicines. I realised that this was a huge problem and I come up with a solution to deliver medication from the hospital to the client's doorstep, charging a low R10 delivery fee. This was an opportunity for me to solve the problem which I and many people had been experiencing by using a sustainable business model. I found out how much of an effort it is for people to get their treatment.
GroundUp: How many people are you serving at present?
Nzima: The business has been operational for five months now and we have more than 40 clients in Khayelitsha and we have two young gentlemen who we have employed. We are growing every month as many people have requested to use our service in other areas in Khayelitsha and outside.
GroundUp: Are you on good terms with clinic pharmacies?
Nzima: We are currently in talks with the health department and yes we are on good terms. We have just got permission from them to do a questionnaire to gather some data to assess the need of such a project. We are working with Pharmacies at clinics which make things easy for us.
GroundUp: How did you get permission to collect and deliver medication?
Nzima: We went to the hospitals and spoke to the facility managers and they said we need to take this matter up to the head managers. We then approached them and wrote a proposal. The proposal was approved. It was a long and very difficult thing to get but with perseverance, we knew that at some point we would finally get it.
GroundUp: Tell us about some of your clients.
Nzima: My clients are mostly people who are working and so they don't have the time to go to clinics to fetch medication. Some of them are old people who really struggle to get up early in the morning and go and stand in those long queues. There are also some young people who have responsibilities and don't have the time to go to clinics. While I am delivering to my clients, they also refer me to other people who would like to use the service because they have had a good experience.
GroundUp: Is the business thriving?
Nzima: The business is going well at the moment. We are looking at expanding to other areas in Khayelitsha and employing more people. We have had some ups and downs as a business but we learn from our mistakes and we are improving every day.
GroundUp: How would you like to see it grow?
Nzima: I am a person with big dreams. In the next five years I would like to see the business operating in the whole of Khayelitsha and maybe one or two outside areas such as Gugulethu or Nyanga. We have noticed that this is a problem faced nationally and we are aiming at operating nationally where people really need such a service like in the rural areas and other parts of the country. The sky is the limit.
GroundUp: Any word of advice for upcoming entrepreneurs?
Nzima: Success does not come overnight. There will be difficult times where you feel like nothing is moving. Use those times as your motivation. This means that you have to persevere. We all have the potential to achieve in life. It's just a matter of how much we want it, how far we are willing to go and what we are doing to get to where we want to be. We as the youth have the power to change the world into what we want it to be, so let's not doubt ourselves. We are the future of this world and all we need to do is to understand how to use this power in a good way, not by going into crime and drugs. I always ask myself this question, What makes all the successful entrepreneurs special compared to me? Because they are also human beings and we live in one world!
Dodgy people are suing us. Please support us by contributing to our legal costs and helping us to publish news that matters.
© 2016 GroundUp.
This article is licensed under a
Creative Commons Attribution-NoDerivatives 4.0 International License
.