Minister makes big promises about R280-million Baartman centre
Nathi Mthethwa says heritage site will turn tiny Hankey into "another Gauteng"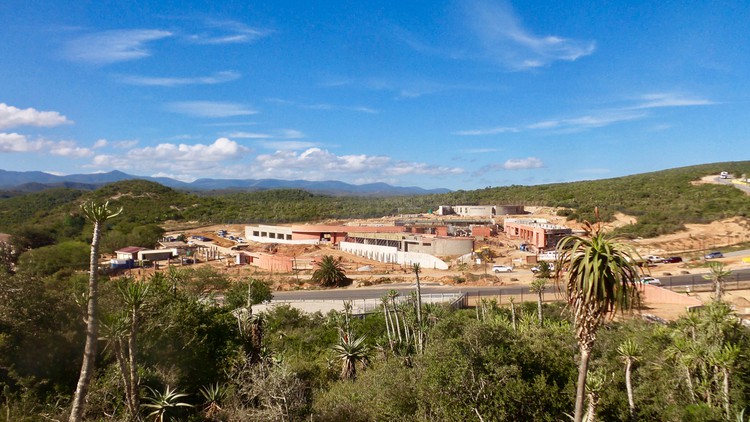 Government has pledged to complete the Sarah Baartman Centre of Remembrance in the Eastern Cape this year. Construction of the the world heritage legacy project began in August 2014 and the centre was expected to be operational by October 2016 at a cost of R164 million. The cost has now rocketed to R280 million, according to Hankey ward 9 councillor Sibongile Jujwana.
The centre is in honour of Sarah Baartman, a Khoi woman who was put on display in Europe in the 19th century. She was originally from the Gamtoos Valley, near Hankey.
Jujwana said Lubbe Construction (Pty) Ltd was replaced in December 2017 by Transtruct Building and Civil Contractors, after several protests by workers and angry residents delayed the project.
Workers had demanded R250 per day, arguing that they were doing work classified for the civil construction industry, not general construction as Lubbe had argued. Residents had also wanted local labour to be used, and not immigrants or workers from other provinces.
"This is a huge project that is expected to inject a new future in this area. Job opportunities are very few in the Gamtoos Valley except for a few citrus processing factories," said Jujwana.
"The construction phase was supposed to have created about 1,000 jobs, both skilled and semi-skilled, most of whom should have been from the Gamtoos towns of Hankey, Patensie, Loerie and Thornhill. This did no happen," he said.
There are currently 210 workers and 11 small contractors, six from Port Elizabeth and five from Kouga, according to Jujwana.
Raymond Drake, director of Thembela Architects, one of the subcontractors, said, "We expect to complete the project mid-year if there are no weather disturbances."
Hankey resident Mzwanele January, of Centerton township, said, "I want the place to be completed soon so I can get a job. I didn't get a job during the construction phase because there was a lot of nepotism and corruption. I am optimistic that the selection for applicants will be fair. There are no jobs in this area and all our hopes are pinned on the centre."
Gerald Klaas, of Loerie, said residents should form a job selection committee to oversee who gets employed. He said jobs such as tour guides, restaurant workers and security guards should be done on a rotational basis.
"This will give every person an opportunity to work. We want the process to be fair and transparent so that people will not end up protesting in anger after they are left out. This is a project that will change the lives of all of us because it will attract local and international tourists. Visitors will not come if they find us closing roads and burning tyres," said Klaas.
Jujwana said he was busy identifying a site to convert into a skills training centre. "We do not want to see our people missing this opportunity or losing jobs to people from outside the region because they don't have the requisite skills. The centre of remembrance should primarily benefit people of the Gamtoos Valley where Sarah Baartman came from."
Minister of Arts and Culture Nathi Mthethwa made a site visit on Friday and said his department will ensure that the centre is completed this year.
"This will be another Gauteng," Mthethwa told residents in the Vusumzi community hall, Centerton, after his inspection of the site. "We want to turn Hankey into a smart city complete with free wifi and shops that operate for 24 hours. It is up to the residents to have skills so that when the place is opened, they will benefit."