Platinum mine tense after assassination of unionist
NUMSA's Malibongwe Mdazo was gunned down outside the CCMA office in Rustenburg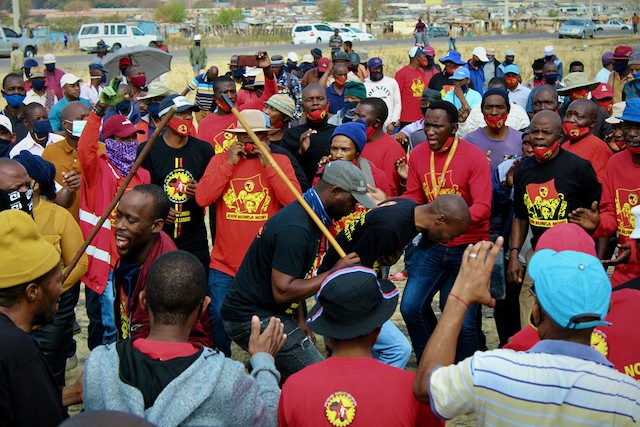 NUMSA is in a CCMA process to seek recognition as the majority union at five companies contracted to Implats in Rustenburg.
AMCU is the majority union at Implats.
On 19 August, Malibongwe Mdazo, a voluntary NUMSA recruiter was gunned down in front of the CCMA.
In June and July NUMSA called an unprotected strike that ultimately failed.
NUMSA alleges that workers were pressurised to join AMCU after many were dismissed for striking and consequently needed AMCU to assist them to get reinstated, but AMCU denies forcing anyone to join.
---
The assassination of a volunteer recruiter for the National Union of Metalworkers of South Africa (NUMSA) on the steps of the Commission for Conciliation, Mediation and Arbitration (CCMA) in Rustenburg, has sent shock waves through the union and unsettled workers on the platinum mines in the area.

Malibongwe Mdazo was gunned down on 19 August. His murder is seen as an attempt to stop NUMSA gaining recognition as the majority union at some platinum mining companies in Rustenburg.
NUMSA was at the CCMA seeking to be recognised as a union representing the employees at five companies which are contracted to Impala Platinum Holdings Limited (Implats), where the recognised majority union is the Association of Mineworkers and Construction Union (AMCU).
The five companies provide outsourced employees, known as contract workers, to work in some of the Implats shafts in Rustenburg, said Johan Theron, Implats spokesperson.
When he was shot, Mdazo and NUMSA representatives were at the CCMA for the conciliation process between NUMSA and Newrak, one of the five companies. The CCMA process entailed the verification of NUMSA membership forms to determine whether NUMSA had enough members to be recognised by the company.
According to a NUMSA organiser who was present when the attack took place, Mdazo was gunned down during a break between sessions. The next verification process was supposed to take place with Triple M, another of the five companies, he said. The session was postponed.
The NUMSA organiser, who referred to the two gunmen as izinkabi (hired hitmen) said, "They shot bullets into the air, forcing many of us to take cover, before firing multiple shots at Mdazo."
In a statement released by NUMSA on 19 August, its Secretary General, Irvin Jim, said, "The killers also shot and wounded [another] NUMSA member and a member of the public."
"NUMSA is very clear that the murder of comrade Mdazo is as a result of him recruiting workers at Implats, and we believe his work is the reason his life was taken," said Jim.
Following the incident, the CCMA initially told the SABC that a scuffle had broken out between AMCU and NUMSA members, before the shots were fired. But Jeff Mphahlele, AMCU secretary general, said there were no AMCU members outside the CCMA on the day of the shooting and no scuffle took place.
"I spoke to AMCU regional leadership in Rustenburg and they confirmed that the statement by the CCMA is not true. We have instructed our lawyers to act against this statement," he said.
On Tuesday, the CCMA acknowledged that they had made an error and published an apology to AMCU on their website.
Asked whether the CCMA's erroneous statement fuelled tensions between AMCU and NUMSA at Implats mines, Mphahlele said it did not.
"What creates tension is the intimidation and forceful recruitment of members from companies where AMCU is the majority," he said. Mphahlele accused NUMSA of using intimidation tactics to recruit workers and to force workers to join what he called a "wildcat strike".
A NUMSA-led three-week strike took place in June and July. According to Jim, Mdazo was one of the leaders of this strike. The workers were demanding higher wages, a living out allowance, medical aid provision for contract workers, as well as the recognition of NUMSA as the majority union.
But, because NUMSA is yet to be recognised, more than 4,000 contract workers were dismissed for participating in the unprotected strike.
Mphahlele said AMCU had to fight for a lot of the workers who participated in the strike to be reinstated.
NUMSA then accused AMCU of using reinstatement to force workers to sign AMCU membership forms. One contract worker, a member of NUMSA, who said he earned R5,500 a month, said he was given two options once the strike ended: to sign an AMCU membership form or to sign a final written warning.
"I signed the final written warning because I refuse to pay membership fees for a union that does not represent me. AMCU does not represent contract workers," he said.
Mphahlele denied that workers were forced to sign AMCU membership forms. "We fully support the recruitment of workers in a professional manner. After the strike, we spoke to the workers and recruited those who wanted to either rejoin AMCU or join for the first time," he said.
During meetings held by NUMSA on Sunday, Enock Manyoni, a NUMSA organiser, said, "The people who killed Mdazo wanted to derail NUMSA's efforts to be recognised as the majority union. There are people who do not want to see NUMSA as the majority union and we will not cower. We will continue in Mdazo's name."
The first meeting took place near Implats shaft 9 with well over 300 people in attendance. The second meeting took place near shaft 6 and the attendance was slightly lower.
According to NUMSA, the meetings were to address Mdazo's death and to update workers on the CCMA process.
With Mdazo's killers still at large, Manyoni told the crowd, "The person who killed Mdazo could be amongst us as we speak. We are not safe. We need the police to do their jobs, otherwise, we will have to defend ourselves."
The NUMSA leaders present at the meeting were guarded by bodyguards and left immediately after they addressed the workers. Many of those present also dispersed almost immediately, saying it was not safe for them to hang around.
Police are investigating the assassination.
© 2021 GroundUp. This article is licensed under a Creative Commons Attribution-NoDerivatives 4.0 International License.
You may republish this article, so long as you credit the authors and GroundUp, and do not change the text. Please include a link back to the original article.
We put an invisible pixel in the article so that we can count traffic to republishers. All analytics tools are solely on our servers. We do not give our logs to any third party. Logs are deleted after two weeks. We do not use any IP address identifying information except to count regional traffic. We are solely interested in counting hits, not tracking users. If you republish, please do not delete the invisible pixel.