Will there be justice for Athenkosi's killers?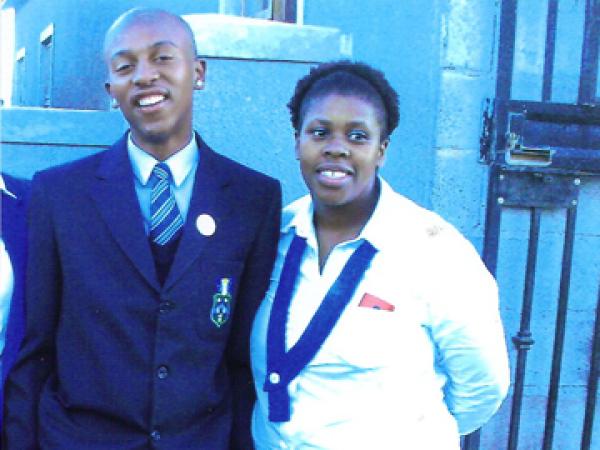 "I am scared. The criminal who murdered my brother is still roaming the streets," Nonkosi Nteyi told GroundUp, obviously distressed. "Worse, he is asking people for descriptions of each of my family members. Does he want to kill us as well?"
Athenkosi, fondly called 'Athi' by his family and classmates, was 19 years old and in Grade 10 at Thembelihle Senior Secondary School in Khayelitsha, when he was murdered on 1 July. He was an active member of Equal Education. The youngest of five children, "he was a baby of the house. The whole family loved to spoil him. He was sweet. He is on all my social networks' profile pictures. I miss my brother and I cannot rest or find closure," said Nonkosi.
On the day Athenkosi was murdered, he had visited his brother in Langa with a friend after school. They returned to Khayelitsha around 7pm by public taxi. On their way home, they were approached by two men who demanded their mobile phones. They gave them freely. The men then stabbed Athenkosi and his friend. The friend managed to escape, but Athenkosi was held by one of the men while another stabbed. The criminals stabbed harder when Athenkosi identified them.
Wounded, Athenkosi managed to walk to the home of another brother, in Greenpoint, Khayelitsha. His brother called an ambulance. On their way to the hospital, Athenkosi told his brother not to cry, and that he was stabbed by Oscar; he confirmed and repeated several times that it was Oscar. He also told the doctor and the nursing staff at Khayelitsha hospital that Oscar stabbed him.
According to the family, the police have arrested two suspects. The family believes that one of them carried out the stabbing, but the family does not believe that the second person committed the crime. In particular, they are concerned that the person called Oscar has not been arrested. Athenkosi's mother says, "Someone who was not involved or mentioned by my son is locked up in Oscar's place and we want to know why."
Despite repeated requests, the police have not given comment.
At the first court appearance, one of the accused was denied bail. The second court hearing was supposed to be on 10 July, but the case was not heard. The family is concerned they are not being kept updated. It was only after Athenkosi's brother specifically asked the police that the family was told the case will be next heard on 7 August.
The family are worried that the accused will be released. They say many murder cases in Khayelitsha are dropped even when there is evidence.
Athenkosi's sister says the morning after Athenkosi was murdered, the police found Anthenkosi and his friend's cell phones at Oscar's home, but the police still did not arrest him. Apparently, Oscar's girlfriend provided an alibi.
Athenkosi's sister is also disappointed in the school. "I expected them to send a few teachers and pupils [to the funeral] to extend their condolences but they did not. When my uncle went to inform them about Athi, they only said we should bring the school textbooks he owes and take his report."
Thando Dyamara, a member of Equal Education and a school Librarian, told GroundUp that he used to help Athenkosi with his school work. He loved the school library and enjoyed reading. "I hope the South African Police Services will not drop this case like the many cases they drop in Khayelitsha."
© 2016 GroundUp.
This article is licensed under a
Creative Commons Attribution-NoDerivatives 4.0 International License
.