Township residents march on Parliament as crime statistics are released
"We sleep hearing gunshots and wake up hearing gunshots"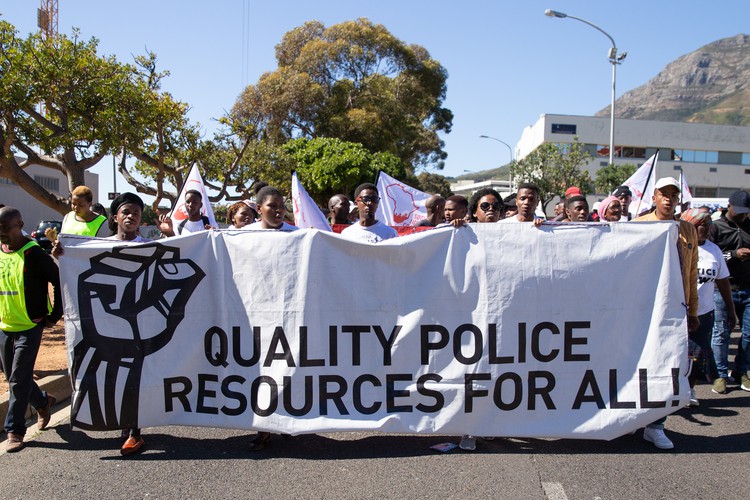 "We are prisoners in our own homes. Day and night we have to keep our doors locked. These thugs come into our houses in daylight to rob us and the police station is R8 away," said 69-year-old Judith Sikade from Marikana.
Sikade was one of about 100 activists and residents of Marikana, Khayelitsha and Bloekombos who took part in a march organised by the Social Justice Coalition (SJC) on Tuesday, the day when crime statistics were released. They marched to Parliament to hand over a memorandum to police Minister Bheki Cele and national commissioner Khehla Sithole demanding better policing.
Sikade has been living in Marikana since 2012. She told GroundUp residents had met police a number of times but there had been no solution to the problem of crime.
"When gun shot sounds no longer shock you, then you know there is a big problem. In Marikana we sleep hearing gunshots and wake up hearing gunshots. That is the life we have now, where you are not even safe in your own home,"
"You go to report a case and because the police station is so far, if you do not have a car or money to hire one or get a taxi, you are robbed on your way to the station and most likely be on your way back," said Sikade.
Nosiphelele Msesiwe, a member of the SJC from Khayelitsha, said the police did not come to the townships because of the lack of lighting and the limited road access. She said residents who called the police had to go to the nearest school, shop, or petrol station to meet them.
"We don't have what the suburbs have. It seems like we don't belong in the same South Africa as people staying in the suburbs. We belong in another country."
In the memorandum the SJC opposed the call for the deployment of the army. Instead they called for guidelines to assist the Provincial Police Commissioner in the reallocation of resources, for a strategy to target unlicensed liquor outlets and for station commanders to be called to account.
SJC Deputy General Secretary Mandisa Dyantyi said crime statistics should be released quarterly, not annually.
Dyantyi said one of the recommendations of the Khayelitsha Commission of Enquiry in 2014 one was for guidelines for policing informal settlements.
"We know that this has not happened. Still there is no guideline. When police are trained they are trained in policing a perfect suburb with street numbers.
"We have not seen a plan to develop these guidelines. About one and a half million households living in informal settlements are not planned for by SAPS," said Dyantyi.
On 22 August the Western Cape Department of Community Safety reported to the provincial parliament that the guidelines had not yet been drafted.
According to the crime statistics released on Tuesday, Nyanga police station still ranked number one with 308 murders from April 2017 to March 2018, 27 more murders than the previous year. Nine other Western Cape police stations were among the top 30 for murder, with Philippi East ranking third with 205 murders, Delft fifth with 195 and Khayelitsha sixth with 192 murders.
The memorandum was accepted by Sithole and the advisor to the Minister, Lennit Max.
Sithole said the Minister had declared crime against women and children as a high priority.
"As you are here you are a priority, we are hear to listen to you and take what you came to give us and respond within the given time," he said.
In response SJC Secretary General Axolile Notywala said the commissioner saying the people were a priority was a lie.
"The crime stats show clearly that people being killed out there are poor black people. We have been saying that and we even went to court. The minister paid money to three lawyers to challenge poor black people, and now acts surprised when poor black people in communities are being killed. When you tell us we're being prioritised, we are telling you that you're being disingenuous," said Notywala.
The SJC gave the police three months to respond to the memorandum.
Dodgy people are suing us. Please support us by contributing to our legal costs and helping us to publish news that matters.