"We close the doors when the gangs are shooting outside"
Manenberg library provides a safe haven for kids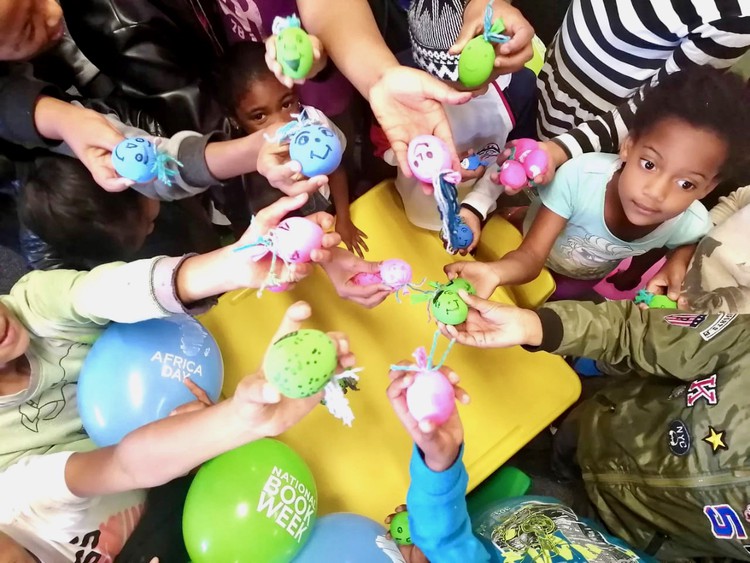 Multi-coloured balloons, knitting wool and the sound of children chattering filled the Manenberg Library , Cape Town, on Wednesday morning.
The suburb has been plagued by gang violence and deadly shootings. In the midst of this the public library has been a safe haven for children living nearby. The library hosts programmes and fun activities to keep children occupied and off the streets during the school holidays.
The programme kicked off on 18 June, when about 25 children enjoyed a session run by Tanya van Tonder from Four Paws, a non-profit which takes up animal welfare issues.
"The children enjoyed learning about the importance of treating animals with respect and how to care for their own pets. They also made little puppets and we gave them a snack," library staff told GroundUp.
The next day, the children were meant to be given a career expo, but staff say they were forced to suspend activities for several days because of shootings in the area. That week, one person died and three others, including a two-year-old, were shot and wounded after being caught in crossfire.
While the area remained tense this week, activities at the library resumed on Wednesday. By 11am, the library was abuzz with about 40 children, mostly primary school learners, who were making stress balls.
"We usually have about 100 children. But parents are still scared to send their children because of the shootings," said a staff member. After a small snack, the children were treated to a movie.
"It's hard for us because there are a lot of children who are just walking around because their parents aren't at home. We still let them come into the library, then we close the doors when they [gangs are] shooting outside. We try to keep the children busy with story telling or movies until things are quiet again," she said.
Staff say they rely on funding from the Friends of the Manenberg Library to buy bread, snacks and chips for the children.
"We try and give the children whatever we can. This is a community where most kids go without having anything to eat. Today, we have chips and lollipops to give.
"We hope things will stay quiet and more kids will come back," she said.