SA's nuclear shame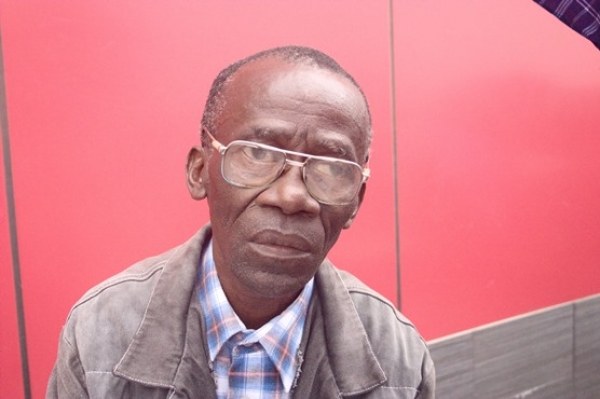 After decades of fighting for compensation, workers from Pelindaba employed in the apartheid nuclear programme have caught the attention of Public Protector, Thuli Madonsela. The workers allege that they were exposed to chemicals and radiation that made them sick. They want Madonsela to bring their lengthy struggle for compensation to a close.
Joseph Lebepe has had enough. "I give interviews. I speak to people. But nothing happens. Why must I speak to journalists when nothing happens?" he laments during an interview with GroundUp.
Slight and bespectacled, Lebepe speaks to GroundUp with the assistance of a translator from outside a relative's home in Atteridgeville, a township situated between Pelindaba and Pretoria. Born in 1951, the 63-year-old man looks considerably older than he actually is.
Recruited to work in the apartheid government's nuclear programme at Pelindaba, Lebepe is one of hundreds of workers who have spent decades trying to get compensation after allegedly getting sick from working at the Atomic Energy Board, now known as The South African Nuclear Energy Corporation (NECSA). GroundUp reported on the matter in an article headlined Apartheid's Nuclear Shame in June.
Lebepe was a handyman at Pelindaba from 1982 until 1985, and has been diagnosed with chronic obstructive airway disease. His eyesight is failing and he is extremely thin; he says he was much burlier in years gone by. Lebepe walks slowly and with a stoop; he says that nowadays he is too weak to walk any good distance. Like most of the Pelindaba workers who are seeking compensation, Lebepe was let go after he presented with symptoms of illness.
Decades have gone by and millions of rands of public funds have been spent on investigations, yet to date nothing has come of parliamentary probes.
But this could change now. On 29 September, Public Protector Thuli Madonsela met with workers in Atteridgeville.
"They interviewed all the people who are still alive," Alfred Sepepe, an organiser for the group of former NECSA workers, told GroundUp in a telephonic interview. "The Public Protector told us that she would be back at the end of November this year. She told us she wrote a letter to NECSA and that she wants an answer from NECSA by 6 October," Sepepe says.
"I told her she must help us.Ons is stukkend! (We are broken.) We have to go to doctors but we have no money to pay them. It has been too long. We need the PP's help," says Sepepe, who claims exposure to radiation at NECSA.
It has been three months since GroundUp published its story on Sepepe and hundreds of other workers, including Lebepe. Two of workers have died since. "I have to go to so many funerals. Since we last talked I have been to the funerals of another two people," says Sepepe. "Already we have buried eight of our comrades; for them the fight has been too long."
Sepepe says that Swartland Mahlangu, a man who was a permanent worker at the South African Nuclear Energy Corporation (Necsa), died on 25 June 2014. "Salomina Qube who was from the Winterveld, and who was a contract worker with Necsa died in July this year," he says.
"I am collecting the death and birth certificates," he says, adding: "My hart is seer" (My heart pains). "I see all these people are dying. No one in Swartland Mahlangu's family is working; he was the sole breadwinner," explains Sepepe. "The families, they come to me because they don't know what to do. These families are sending me details and information in the hope that I may be able to help them. This man passed and the family didn't even have money for his burial. It was terrible. They really struggled to bury this man," Sepepe says with some measure of desperation in his voice.
Madonsela issued a statement after her visit to Atteridgeville in which she said she assured complainants her investigation was underway and that the matter would be fully investigated.
Sepepe is hopeful that the Public Protector will bring the investigation to a close, but he's been to the Chapter Nine Institution's office many times, over many years since this case first hit headlines in the mid 2000s. This matter has been sitting with the Public Protector's office for some years now. An external expert was initially commissioned to prepare a research report, but the Public Protector wasn't happy with the outcome.
"The external investigator was unable to meet the rigorous investigation and reporting standards required," says Kgalalelo Masibi, the spokesperson for the Public Protector's office. "As a result, no findings have been made, as findings would only be contained in the final report."
In her latest statement on the matter, Madonsela says she told the complainants that while she was aware that their matter had been with the office for a while, the public hearings were a testimony that the investigation was underway.
The Public Protector called on other members of the public who were victims or knew anyone who had the same issue to approach the investigations team dealing with the matter. Nuclear activists predict that this could "open the floodgates" as they expect that hundreds more workers may now step forward.
© 2016 GroundUp.
This article is licensed under a
Creative Commons Attribution-NoDerivatives 4.0 International License
.