UCT unions demonstrate for higher wages
Members of the Academics Union and the Employees Union gathered outside the university's Bremner building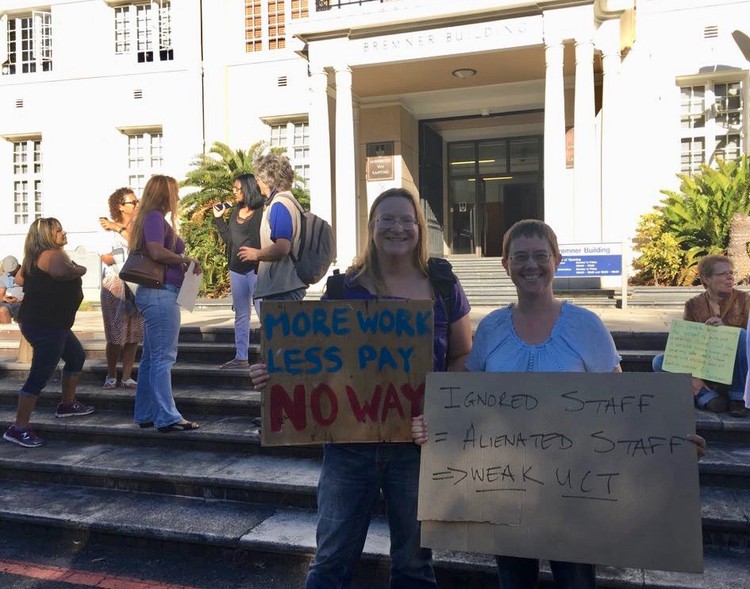 On Friday, around 50 staff, who are members of the Academics Union and the Employees Union at the University of Cape Town (UCT), demonstrated outside UCT's Bremner building, calling for an amicable resolution to salary negotiations.
After the demonstration, representatives from the two unions went into a meeting with UCT management which is being facilitated by the CCMA (Commission for Conciliation, Mediation and Arbitration) to break a deadlock in negotiations.
"We are not asking salaries to be raised ridiculous amounts," said Kelley Moult, vice-president of the Academics Union.
She said UCT was underpaying some academics even in terms its own pay policy.
Andrea Plos, president of the Employees Union, said both unions are actively trying to find solutions that uplift staff and don't necessarily cost extra money. But when these suggestions are submitted to management, Plos said they receive a response of "to be discussed" or "declined". "That is not negotiating," said Plos.
She said the deadlock comes after two years of "bashing our heads against the wall, trying to get things done that are common sense things that you would do in any large company".
Moult said that last year the union agreed to a lower than expected increase as a result of the student protests and other financial costs incurred by the university, but she said the university had undertaken to return to its pay policy rate by 2017. "This has not happened," said Moult.
She insisted that the staff were not opposing the students by demanding higher increases. "The narrative out there is, 'Are you asking for this when it costs students that?' It's not about that. Students and staff both have an important place in running this institution."
Plos said that instead of retrenching general administrative staff, such as secretaries, in one department and then employing new staff for the same position in another department, staff should be able to move between departments.
Elijah Moholola, Head of Media Liaison at UCT said, "The University of Cape Town is currently in wage negotiations with the unions. The negotiations are continuing. The UCT executive is committed to resolving issues and coming to an agreement. The executive is working extremely hard to ensure that the desired outcome it attained."
© 2017 GroundUp.

This article is licensed under a Creative Commons Attribution-NoDerivatives 4.0 International License.
You may republish this article, so long as you credit the authors and GroundUp, and do not change the text. Please include a link back to the original article.