UCT students launch rape awareness initiative
Campaign spreads from Stellenbosch and Rhodes universities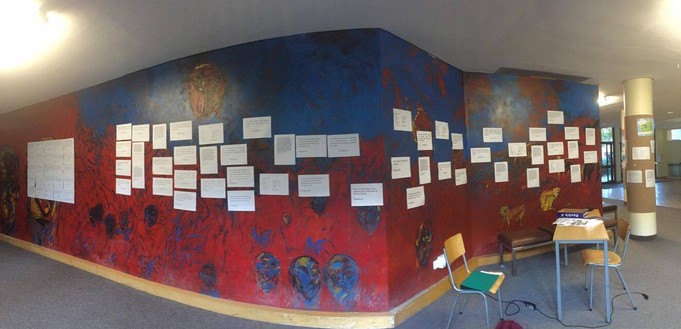 An awareness campaign about rape that began at Rhodes University and Stellenbosch University was launched on Monday at the University of Cape Town.
Chapter 2.12 addresses the way that management handles sexual assault and rape complaints.
The campaign's title refers to the section in the Constitution that affirms the right to freedom and security, including bodily and psychological integrity. The campaign is also a message to management that students will not remain silent about sexual assault and rape policies, said Priyanka Naidoo, a member of Chapter 2.12. Naidoo is a UCT senior studying politics and law.
Students put up posters on UCT's campus during a Chapter 2.12 event on Sunday for the campaign's official launch yesterday. One poster read: "A perpetrator of sexual violence got sentenced to 65 hours of community service at UCT. #Chapter212." Another read: "There is no such thing as 'a small violation of human rights.' #Chapter212."
Naidoo said she and Dela Gwala, another member of the campaign, had been approached by Chapter 2.12 members at Rhodes and Stellenbosch, who asked them to launch the campaign at UCT. The UCT campaign is a message of solidarity to the other campuses, Naidoo said.
Issues that the campaign focuses on are prevalent at all South African universities, she added.
University spokesperson Pat Lucas said from 1 January to 11 April, UCT's Discrimination and Harassment Office (DISCHO) had received reports of nine sexual assaults and nine rapes. The most recent report was on Friday, 15 April by the university when a student reported being raped the previous Tuesday in her room at a UCT residence.
Naidoo said that UCT's Chapter 2.12 was a continuation of other demonstrations on campus, including the Clothesline Project in March, when messages about gender-based violence were written on T-shirts and hung on a clothesline.
The launch of Chapter 2.12 at UCT comes after a review of DISCHO, which management responded to earlier this month. Chaired by Associate Professor Sally Swartz, the Review Panel aimed to see "if the DISCHO services were in line with UCT approved policies, to identify whether there were areas for improvement, and to feedback to Council on its findings," according to Vice-Chancellor Max Price in a news release.
The Review Panel found:
Sexual and racial harassment policies needed review because they had not been reviewed in many years.
There was a perception among DISCHO users and potential users that DISCHO discouraged users from seeking formal disciplinary action, instead preferring a mediation route to address complaints. DISCHO staff disputed this.
Managers should be trained, as there was a "worrying lack of awareness" about their responsibilities.
DISCHO did not have enough resources to do its work.
DISCHO released a response to the review on UCT's website.
Naidoo agreed that the DISCHO office did not have enough staff or resources to handle complaints properly.
Rorisang Moseli, president of the UCT Students' Representative Council, said university management should take active steps including more training for DISCHO staff and sensitisation workshops for UCT students and staff. Additionally, the UCT Tribunal should take "more punitive steps against perpetrators rather than sentencing them to community service," wrote Moseli in an email.
"The services offered by DISCHO have failed many students through the years. The lack of funds has resulted in understaffing and poor training."
He said some students felt further violated through the DISCHO process because the questions they were asked were "invasive" and "inappropriate".
This year UCT has decided to establish a Sexual Assault Response Team, a team of professionals who will work to address rape culture, sexual assault and gender discrimination, in addition to providing services focused on survivors. DISCHO staff will participate in the team.
Dodgy people are suing us. Please support us by contributing to our legal costs and helping us to publish news that matters.
© 2016 GroundUp.

This article is licensed under a Creative Commons Attribution-NoDerivatives 4.0 International License.
You may republish this article, so long as you credit the authors and GroundUp, and do not change the text. Please include a link back to the original article.