Uber drivers protest after hijacking
Cash system puts drivers at risk, they say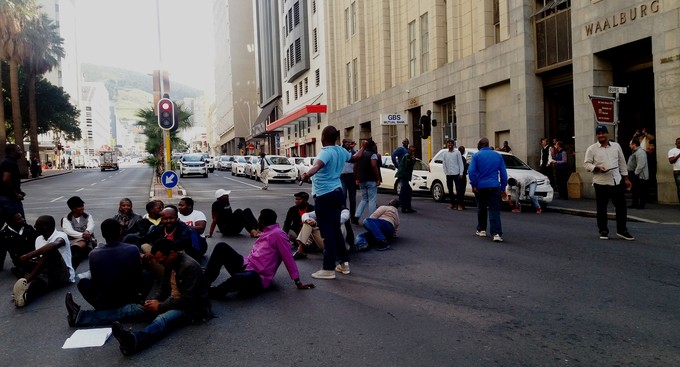 About 60 Uber drivers protested today outside the offices of the Western Cape government Offices in Wale Street, asking Premier Helen Zille's help in their dispute with their employer.
The drivers blocked Burg, Keerom and Wale Streets, blocking the MyCity buses.
The head of communication for the Uber Drivers' Guild in Cape Town, Joseph Munzvenga, 31, said drivers had written to Zille's office asking her to intervene with Uber management.
The drivers were opposed to the recent introduction of cash payments for journeys, saying it put them at risk.
Showing a video which he says was used to lure him into working with Uber, Munzvenga claimed the authorities protected Uber. The video shows Minister of Tourism Derek Hanekom taking an Uber ride.
Drivers were also at risk because the Uber system did not show drivers the details of passengers but passengers had information about the driver, said Munzvenga. Drivers had protested but Uber management did not listen.
"Uber drivers have become slaves on their continent," he said.
Munzvenga said Zimbabwean driver CN* was battling for his life in Somerset hospital after he was hijacked last Saturday in Mowbray while on duty. His car was found burnt and abandoned in Manenberg. "He has got burns all over his body."
"As Uber drivers we are demanding the company transfer CN to a private hospital, pay the hospital bill and meet his family's financial needs until he is fully recovered."
Samantha Allenberg from Uber said the company had been in touch with the driver's family to offer support. She said Uber would support the authorities in their investigation "however we can".
"Our thoughts are with the driver and we are relieved to hear his condition is currently stable."
Michael Mpofu of the Premier's office said Zille was overseas but meetings between the  Department of Transport and the Uber drivers were continuing. "The Department has maintained an open door policy in this respect. We would advise those who gathered to make use of this opportunity," he said.
* CN's full name was redacted  after publication at the request of his family. We emphasise that we are under no ethical obligation to remove his name, but have done so out of compassion for the family.
Dodgy people are suing us. Please support us by contributing to our legal costs and helping us to publish news that matters.
© 2016 GroundUp.

This article is licensed under a Creative Commons Attribution-NoDerivatives 4.0 International License.
You may republish this article, so long as you credit the authors and GroundUp, and do not change the text. Please include a link back to the original article.